In Brief
Scripps Research Breaks Ground in Florida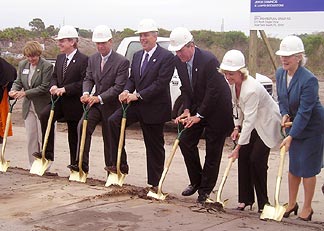 A groundbreaking ceremony for Scripps Florida temporary facilities was held Friday, February 27 on the Jupiter campus of Florida Atlantic University. This lab and administrative space is scheduled to open in late 2004. Permanent facilities, also in Palm Beach County, will be ready in 2006. Shown here with ceremonial shovels are: (Left to Right) Palm Beach County Commissioner Mary McCarty; TSRI professor Steve Kay; Florida Atlantic University President Frank Brogan; TSRI Executive Vice President, General Counsel
Douglas Bingham; Florida Governor Jeb Bush; Board of Palm Beach County Commissioners Chair Karen Marcus; and Vice President of Florida Atlantic University Jupiter Campus Kristen Murtaugh.
Boger to Speak as Part of Faculty Lecture Series
Professor Dale Boger of The Scripps Research Institute will speak on "Chemistry at the Chemistry-Biology Interface," on Wednesday, March 10, as part of the Faculty Lecture Series. The lecture will be held at 5 PM in the Timken Amphitheater, Scripps Clinic, 10666 North Torrey Pines Road.

Career Workshop: "Guidelines to Successful Postdoctoral Training at TSRI"
A seminar "Guidelines to Successful Postdoctoral Training at TSRI" will be held as part of the Career Workshop Series on Wednesday, March 10 from 1 to 2:30 PM in the Keck Amphitheater of the Beckman Building.
The seminar, which features presentations by Professor and Cell Biology Department Chair Sandra Schmid and Professor Ben Cravatt, will cover topics including: goal setting and expectations, time management, networking, education and opportunities to learn essential skills, and Scripps Research (and other) resources. A panel of successful present and former Scripps Research postdocs—including Matthias Jost of Biosite, Michael (Nick) Boddy of Scripps Research, Sean Ryder of Scripps Research, Lisa Hannan of Traffic, and Brian Moyer of Senomyx—will field questions.
The seminar is hosted jointly by Counseling and Postdoctoral Services, Society of Fellows, and Network for Women in Science at Scripps. All Scripps Research faculty, postdocs, and graduate students are welcome to attend. No RSVP required.

Emergency Team Responds to Report of Fire
Members of the Scripps Research emergency response team and the San Diego Fire Department responded to a report of a fire in the Beckman Building on Friday, February 20. The building was evacuated until later that afternoon when fire officials and the county HAZMAT team determined that the building was safe to reenter. No injuries outside of throat or eye irritation were reported.
The cause of the incident appears to have been combusted chemicals, which, per institute procedure, had been stored inside a hood within the room where they were located.
"Thanks to all members of the emergency response team for their quick and appropriate response," says Ben Morris, vice president of facilities services. "Thanks, too, to those who were evacuated for their patience throughout the day. This incident underlines the importance of following all Environmental Health and Safety procedures."

BioMedical Graphics Offers New, State-of-the-Art Digital Services
BioMedical Graphics is now offering three new digital services:
Digital Video Disc (DVD) duplication from VHS, SVHS, and digital tapes.
Laptop computer support (Mac and PC) for featured speakers/seminars.
Large format color prints, up to 44" wide, for poster sessions & banners.
For additional details, please contact BioMedical Graphics, x4-8233.

2003 Scientific Report and Skaggs Report Now Available Online
2003 Scientific Report is now available at http://www.scripps.edu/research/sr2003/; the 2003 Skaggs Report, at: http://www.scripps.edu/research/skaggs2003/.

Team Scripps Research/ScrippsAssists to Walk Against MS
Members of Scripps Research and ScrippsAssists have formed a team to participate in the Fifteenth Annual Multiple Sclerosis Walk, on Sunday March 14. The MS walk is a fun, non-competitive walk following a 5- or 10-kilometer route beginning and ending at the Embarcadero Marina Park North. Team Scripps Research/ScrippsAssists will not only raise funds for MS research and programs, but also will foster involvement in the Scripps Research and local communities.
Contact Crystal Anglen, at crystala@scripps.edu or x4-9974, to walk as a member of Team Scripps Research/ScrippsAssists. Registration and opening ceremonies begin at 7:30 AM. The walk begins at 8 AM. To make a donation, see any team member or go to www.mswalk.com. More information about the event is also available at this site.

Camille Wood Retires
Camille Wood, executive assistant to the vice president for academic affairs and dean of graduate studies, retired in early February after over 10 years at the institute. "I will always have special memories of the years spent at TSRI," she says. "Many wonderful times were had and lifelong friends were made. A huge 'thank you' to everyone who made my experience at Scripps a rewarding and memorable one."

Benefits Reminder: Vision Plan
Benefits Administration would like to remind participants in Scripps Research medical plans of the vision benefits offered through Medical Eye Services (MES). The coverage is as follows:
• One routine examination per 12 consecutive months,
• Up to $110 toward frames per 24 consecutive months,
• One pair of standard lenses per 12 consecutive months OR up to $100 toward contact lenses per 12 consecutive months.
Please remember to bring an MES claim form with you to routine eye exams and to purchase eyewear. A $10 co-payment will be required at the time of annual services.
MES packets are available in Human Resources. The packet includes an MES claim form, an MES Provider Directory (list of ophthalmologists, optometrists, and opticians), and a fact sheet. If you have questions or would like an MES packet, please contact Benefits Administration at x4-8487 or benefits@scripps.edu. Information is also available at the MES website.