Kim Jackson
Title: Senior immigration advisor
Duties: To advise international scholars and their principal investigators on how best to maintain legal status in this country. This involves tracking legal issues, conveying critical information to international scholars and their principal investigators, and maintaining liaison relationships with officials from several government agencies.
The State of the Field: "Nine-eleven precipitated sweeping changes in the way we do business. It is a tough time to be in the field. The Patriot Act reflects a new emphasis on security. In general, there has been a shift in focus from service to enforcement."
Changes have included:
A new Department of Homeland Security, which took over the duties of the Immigration and Naturalization Service (INS) when it was dissolved. Former INS responsibilities were divided into three separate directorates: the Bureau of Citizenship and Immigration Services (recently renamed U.S. Citizenship and Immigration Services), Immigration and Customs Enforcement, and Customs and Border Protection.
The Student Exchange and Visitor Information System (SEVIS). This electronic tracking and monitoring system replaced the previous paper-based system, integrating information from the databases of several government agencies to track the arrivals, activities, and departures of non-immigrants on F (student) and J (exchange) visas.
Visitor and Immigrant Status Indicator Technology (US-VISIT). This month, the federal government began implementing a system to monitor the arrivals and departures of all foreign nationals based on biometric indicators (i.e., photographs and fingerprints).
"While working in today's strict regulatory environment is challenging, I wouldn't want to be doing anything else. I like helping people and I am fortunate to work with so many talented researchers from all over the world."
Advice for International Scholars: "It is important to work closely with the International Office to comply with all the new rules and regulations. Consult with us as soon as possible about any prospective change in travel, employment, or activities in this country."
Education: B.A. in Middle Eastern Studies from the American University in Cairo—"a transformative experience that gave me a deep respect for other people and cultures." M.A. in Counseling with an emphasis on college student development from Pennsylvania State University.
Work Experience: International and/or student services for Pennsylvania State University, Johns Hopkins University, Albright College, Emery University, and University of California, San Diego.
Started at Scripps Research: November 2003 First Impressions of Scripps Research: "I'm loving it. It's an upbeat, positive place to work."
Extracurriculars: Reading fiction such as Barbara Kingsolver's Prodigal Summer and Sue Monk Kidd's The Secret Life of Bees, going to the movies (recent favorites include Dirty Pretty Things, Mystic River, and 21 Grams), and scrapbooking the life of her 3 1/2-year-old son.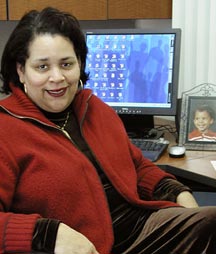 Scripps Research Senior Immigration Advisor Kim Jackson advises international scholars and their principal investigators on how best to maintain legal status in this country." Photo by Kevin Fung.