In Brief

Traffic Update
Construction continues on North Torrey Pines Road to install a sewer system serving the Torrey Pines Mesa. From Monday, October 13 to Saturday, October 18, work will be performed on North Torrey Pines Road from south of Muir College Drive to south of La Jolla Shores Drive, where traffic will be limited to one lane in each direction. In addition, trenching and boring will be conducted on Salk Institute Road from its west end to North Torrey Pines Road, where only one lane of traffic will be open.

Lunch & Learn: "How to Get Your Partner to Help Around the House"
Clinical psychologist Jeff Jones of the TSRI Counseling and Postdoctoral Services Department will present "How to Get Your Partner to Help Around the House," as part of the ongoing Lunch & Learn seminar series, on Wednesday, October 22, from noon to 1 PM. The seminar will address trends in housework, the "division of labor" in the household, and practical strategies for resolving the "housework hassles." The event will be held in the W. M. Keck Amphitheater, The Beckman Center for Chemical Sciences. For more information, contact Jan Hill, x4-2950.

TSRI Perk: Rental Car Discount
Looking to rent a car? Avis offers a discount for all TSRI employees. To take advantage of this discount, call the Avis reservation line at 1-800-331-1212 and reference TSRI's Avis Worldwide Discount (AWD) number: A708200. Rental can be for business or personal use. When making your reservation, also ask for any current promotions available. For more information, contact Benefits Administration, x4-8487 or benefits@scripps.edu.

TB Screenings, Hepatitis B Immunizations, Serum Draws, and Tetanus Vaccinations
On Monday, October 20, Wednesday, October 22, and Friday, October 24, personnel from Sharp Rees-Stealy Medical Group will be on-site to conduct TB screenings, Hepatitis B immunizations, serum draws, and tetanus immunizations. The clinics will be conducted at the Administrative Offices (3301 North Torrey Pines Court) on the P1 level from 11 AM to 2 PM. No appointments are necessary. TB screening requires a 48 to 72 hour follow-up. Individuals receiving the TB screen on Monday will need to return on Wednesday, and individuals screened on Wednesday, will need to return on Friday. Initiation of the TB screening process will not be available on Friday, but hepatitis B immunization, serum draws, and Tetanus immunizations will be available. To learn more about these programs, see the Environmental Health & Safety Occupational Medicine web page, which includes a map and patient information sheets.
Siuzdak Publishes New Mass Spec Book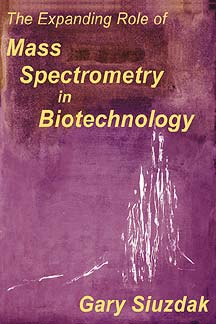 Gary Siuzdak of the Department of Molecular Biology and the Center for Mass Spectrometry has published a new book, "The Expanding Role of Mass Spectrometry in Biotechnology" (MCC Press, 2003). The book covers basic and advanced concepts in mass spectrometry, including mass spectrometry instrumentation, protein identification/protein structural analysis, carbohydrate and oligonucleotide analysis, pharmacokinetics, high-throughput screening, and the technique's new uses in clinical diagnosis.