New Graduate Students Arrive on Campus
By Mika Ono
Thirty-seven new students have arrived at The Scripps Research Institute (TSRI), ready to start their graduate work in TSRI's top-ranked programs. Most have already begun lab work and all will attend their first classes this week.
"We're excited that the new students, who together make up TSRI's largest class ever, are here," says Marylyn Rinaldi, graduate program administrator. "We look forward to getting to know them better and to seeing them develop as scientists over the next several years."
The students—who come from undergraduate institutions that include Harvard, Cornell, Columbia, Northwestern, Carnegie Mellon, Peking University, University of Laval, and several schools in the University of California system—were drawn to TSRI's program in Macromolecular and Cellular Structure and Chemistry (MCSC) or Chemistry by TSRI's outstanding faculty, interdisciplinary focus, and excellent reputation. To complete the programs, which is usually accomplished over five years, students must take a series of classes, pass qualifying exams, and write a doctoral dissertation offering an original contribution to their field.
For now, however, the new students are still working on getting settled—learning their way around campus, finding transportation and a place to live, and completing necessary paperwork. The Office of Graduate Studies supports the students in the transition, arranging for temporary housing, offering lists of nearby apartment complexes, and matching them with potential roommates.
To familiarize students with TSRI's support services, the Office of Graduate Studies sets up an orientation that includes presentations on the library, safety, benefits, intellectual property, research computing, biomedical graphics, counseling, and core facilities.
And to orient students to the research at TSRI, the office arranges an extraordinary series of presentations by investigators representing labs from across campus. MCSC students hear over 60 researchers in a series of five two-hour meetings. Chemistry Program students also learn about the work in their field by attending eight one-hour presentations.
"It's helpful for the students to get a broad overview of the science here—especially the MCSC students, who are required to complete rotations through different labs before they select their thesis project," says Rinaldi. "The presentations give the students ideas about which labs best match their research interests."
The graduate program student/faculty retreat, to be held this year at the Shelter Pointe Hotel and Marina on Friday, September 14, also offers new students an opportunity to gain insight into the research and culture at TSRI. At the retreat, all students (except first-years and those scheduled to defend their thesis) present their work in the form of talks or posters.
"We're doing everything we can to help the new students get off to a good start at home and at TSRI," says Rinaldi. "We want to clear the way for them to start making important discoveries."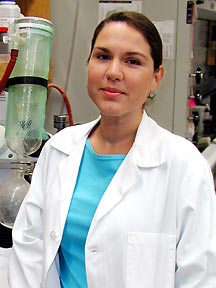 First-year student Rocio Carrera gets started in the Janda lab. (Photo by Jason S. Bardi)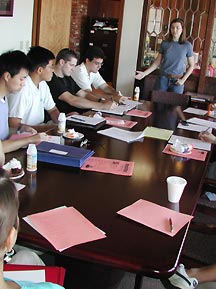 Graduate Student Anna Speers tells first-year students about the journal club. (Photo by Jason S. Bardi)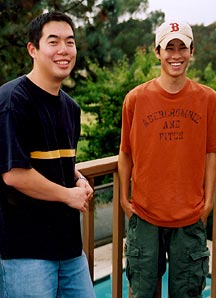 Tom Wu and Dan Calarese get to know other students at the graduate student happy hour, held every other Friday throughout the academic year. (Photo by Jason S. Bardi)