Front Row Lecture Series
October 17, 2019 | La Jolla, California
"Advancing Precision Medicines to Stop Cancer, ALS, Muscular Dystrophy and More"

Nearly all drugs work by attaching themselves to proteins. But not every protein can be touched with a drug. For over a decade, Scripps Research Professor Matthew Disney, PhD, has focused exclusively on developing approaches to target RNA with small molecules, rather than the usual protein targets. Disney will describe how he developed a computational approach to identifying druggable RNAs, and how he built small molecules to target them via genetic sequence-based design. His platform technologies for healing disease through a focus on altering RNA have opened new potential disease-modifying precision therapies in areas of unmet medical need. These include cancer, neurodegenerative diseases such as ALS, muscular dystrophy, viral diseases and much more.

register >>

 

EVENT DETAILS:
Date:
 Thursday, October 17, 2019
Time:
 4:00 p.m. - 6:00 p.m. PT
Location:
 Scripps Research Auditorium.
Click here
for venue directions and parking.
RSVP: This event is free and open to all. Please RSVP by clicking here or emailing frontrow@scripps.edu.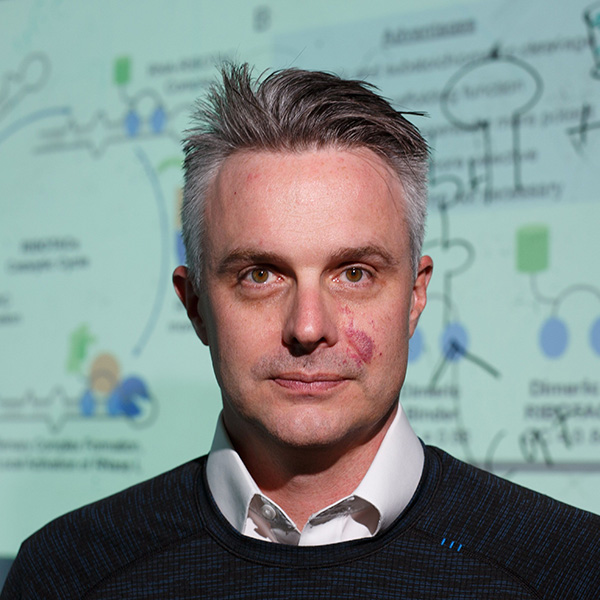 Matthew Disney, PhD 
Professor, Scripps Research
Innovative chemist Matthew Disney, PhD, has opened up the burgeoning field of RNA therapeutics, and with it, the potential for making treatments for diseases once deemed "undruggable." A professor at Scripps Research in Florida, he spent a decade proving that effective drugs could be designed to bind with protein-building machinery, rather than only proteins themselves. His success has had the effect of expanding the universe of anticipated druggable disease targets, and opened new paths for the design of precision medicines. Disney is a founder of Expansion Therapeutics in San Diego, CA and Jupiter, FL, which is focused on developing therapies for RNA-repeat disorders, including muscular dystrophy type 1. He is a recipient of the 2016 NIH Director's Pioneer Award, the BioFlorida Entrepreneur of the Year Award, and the Sackler International Prize in the Physical Sciences, Chemical Biology.
Disney earned his doctoral degree at the University of Rochester and conducted postdoctoral fellowships at the Massachusetts Institute of Technology and the Swiss Federal Institute of Technology in Zurich. He joined Scripps Research in 2010.
World-renowned scientists from Scripps Research step out of the lab and into the auditorium to share snapshots of their pioneering explorations with the public. Learn what makes a molecule lefthanded and why odors rewire the brain. Get a sneak peek at novel medicines headed toward the clinic. Each fascinating and informative talk will lead you to the edge of science and inch you to the edge of your seat.
We look foward to seeing you at our future Front Row Lectures. If you wish to RSVP now, please email frontrow@scripps.edu.
January 23, 2020
Lisa Stowers, PhD
Professor, Department of Neuroscience, Scripps Research
March 26, 2020
Donna Blackmond, PhD
Professor, Department of Chemistry, Scripps Research
Previous Speakers