Front Row Lecture Series
Wednesday, April 22, 2020 | 4:00 p.m. ET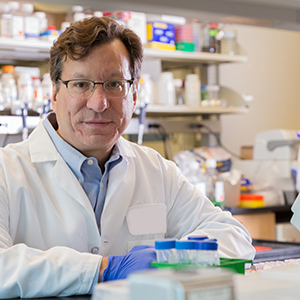 register ▶
"Addressing the Coronavirus Challenge"
How do scientists make vaccines and drugs against a germ that simply didn't exist months ago? Hear a progress report from one of the world's leading coronavirus experts now responding to the current global health crisis. Virologist Michael Farzan of Scripps Research, Florida and colleagues are developing vaccine and antiviral medicine candidates to protect against the novel coronavirus strain causing COVID-19. You won't want to miss these insights into how a virus so similar to SARS became so contagious and deadly.
SPEAKER INFORMATION:
Michael Farzan, PhD
Professor and Co-Chair
Department of Immunology & Microbiology
Scripps Research
REGISTRATION/CONTACT:
Click here
to register for the webinar. Webinar information will be emailed to you upon registration. For any questions, please call (561) 228-2084 or
frontrowfl@scripps.edu.
Advancing Precision Medicines to Stop Cancer, ALS, Muscular Dystrophy – and Coronavirus
Innovative chemist Matthew Disney, PhD, delivers the first pandemic edition of the popular Scripps Research Front Row lectures, via webinar. Watch as he describes his unique drug-discovery tools, now revealing new ways of attacking the RNA virus that causes COVID-19. Rather than targeting proteins, as most drugs do, Disney spent a decade developing an effective way to target RNAs involved in genetic diseases like ALS and cancer. That's proving important as the novel coronavirus spreads globally.

Presented: March 18, 2020
New Understanding of Brain Diseases: Toward Disease-Modifying Therapies
Alzheimer's, Lewy-body dementia, fronto-temporal dementia, Parkinson's and ALS appear to be very different diseases, yet they share something striking in common: an accumulation of "aggregates" or toxic, misfolded proteins. Professor Lasmézas is an authority on neurological diseases that are caused by protein misfolding and her lab is working on potential treatments for these diseases as well as prion diseases including Creutzfeldt-Jacob disease (CJD).

Presented: February 19, 2020
A New Model for Biomedical Research
Our understanding of what drives disease at the molecular level is expanding exponentially in this age of genomics and artificial intelligence. Yet we still face major challenges finding effective treatments for diseases ranging from cancer to dementia. How can biomedical research institutes bridge this gap? In the first lecture of Florida's new Front Row Lecture Series, Peter Schultz, PhD, a pioneering chemist and president and CEO of Scripps Research, shares his vision for ensuring that discoveries made in biomedical research institutes reach patients and improve lives.

Presented: January 22, 2020
To view all Front Row Lectures from the California and Florida campuses click here.
Previous Speakers