Scripps Research Florida creates $3 billion impact
As bioscience innovator Scripps Research thrives, it has seeded economic momentum, rising real estate values and important discoveries in Florida and Palm Beach County. A new study commissioned by the institute reveals that the initial 2004 public investment in Scripps Research has, 15 years later, generated a cumulative economic impact of $3 billion, a six-fold return on the public's investment. "There are very few investments that can deliver a return of this magnitude," said Scripps Research Executive Vice President Douglas Bingham. "This study proves that Florida taxpayers have seen outstanding results from their investment, not just economically, but also educationally and scientifically." Since the institute's permanent campus opened in 2009, Scripps Research scientists have published landmark discoveries in areas like cancer, ALS, Alzheimer's, autism and multiple rare genetic diseases, Bingham added, while providing 500 budding scientists from Palm Beach County and Florida Atlantic University's Honors College with unmatched training opportunities.
---
Attend a Lecture
Our scientists step out of the lab to share their discoveries. See the upcoming Front Row Lecture Series schedule here.
Subscribe to our newsletter and magazine
Enjoy award-winning science writing in Scripps Research Magazine. Sign up
here.
Support our science
There are many ways to make an impact. Find out more here or by calling (561) 228-2013.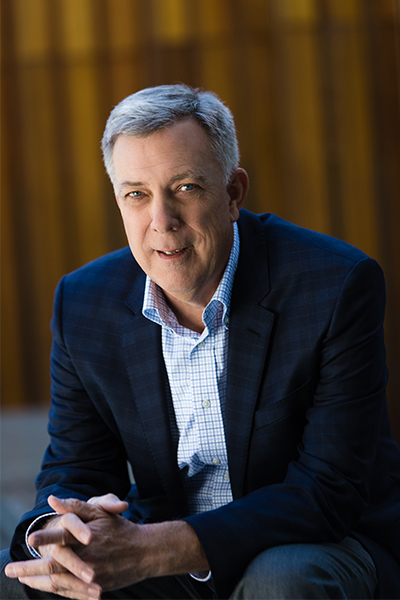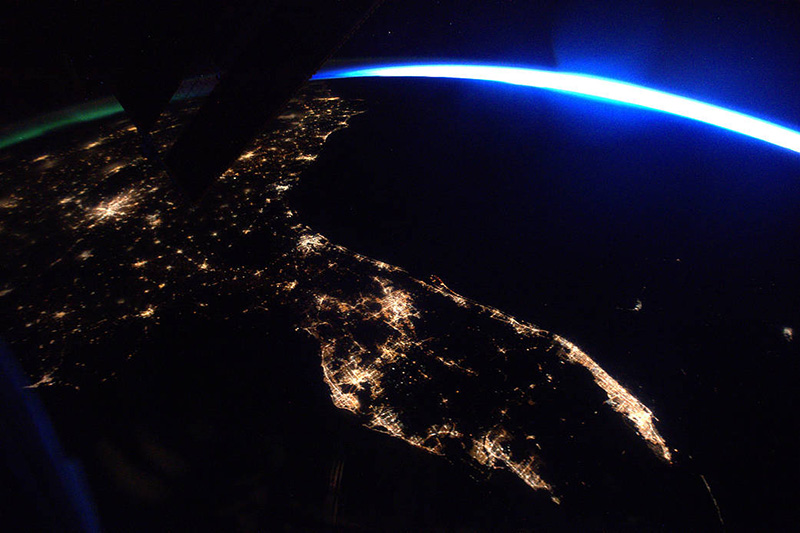 In 2003, Florida state leaders concluded that the state needed to diversify Florida's narrowly concentrated economy beyond tourism, agriculture and real estate.
With new federal economic stimulus dollars available, their search took them to La Jolla, California, where nonprofit biomedical research institute Scripps Research had launched in 1924. Scripps Research is an internationally recognized nonprofit whose mission is to advance scientific understanding, educate the scientists of tomorrow, and impact human health across the globe. Through the decades, the institute's scientists have produced seminal discoveries in the workings of the immune system, and made high-impact advances that are saving lives in many areas. Premature babies born with incompletely developed lungs, people with hemophilia, people with leukemia – thousands of people benefit. Over about 50 years, the institute has become the nucleus of a thriving bioscience, research and university sector in San Diego.
In Florida, just 15 years after the successful recruitment of Scripps Research to Jupiter, another cluster is building. The Max Planck Society of Germany, an institute focused on the study of the brain, opened its only U.S. institute next to Scripps Research. Florida Atlantic University, meanwhile, is building its neuroscience and neuropsychiatry research programs and adding a new research building. Meanwhile, corporate headquarters and multiple other life science companies are moving into the Donald Ross Road innovation corridor. In addition, Scripps Research, Florida has launched multiple successful biotech spinoff companies, including Expansion Therapeutics, Emmune, Deluge Biotechnologies and CuRNA.  
It's happening because of the great science at Scripps Research, Bingham said. The institute's innovative scientists are leading their fields with discoveries in infectious disease, immunity, cancer, neuroscience, cellular biology, structural biology and chemistry, and working toward potential new treatments for serious diseases thanks to the unique, state-of-the-art drug-discovery tools available on campus.
It is a testament to the commitment and drive of the talented people who work at Scripps Research, Bingham said.
"People come here to lead their fields and change medicine," Bingham said. "We provide them with the best possible tools and the freedom to discover, and we're constantly impressed by the results."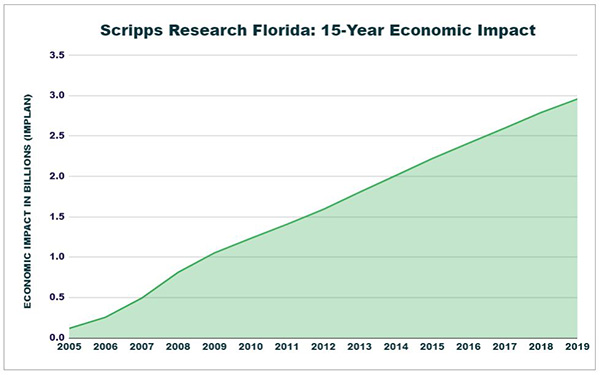 The tool used to assess the Scripps Research economic impact is called IMPLAN, short for Economic Impact Analysis for Planning. It's a standard analytical tool used by businesses and governments nationwide to gauge the potential and the impact of their economic development projects. IMPLAN is an open-source algorithm that uses dozens of data sets to calculate direct expenditures, indirect impact and induced spending. Direct expenditures are those spent by the institute on wages, services and supplies. Indirect impact refers to that of companies in the institute's supply chain. Induced spending refers to what employees spend on things like real estate, meals, taxes, and insurance, said academic research consultant Cary Thomas, the study's author. 
The study also looked at wages, revealing that the average salary of full-time employees of the institute is significantly higher than the median for Palm Beach County, one of Florida's most affluent counties, at $79,500 annually, compared to $57,256 county-wide.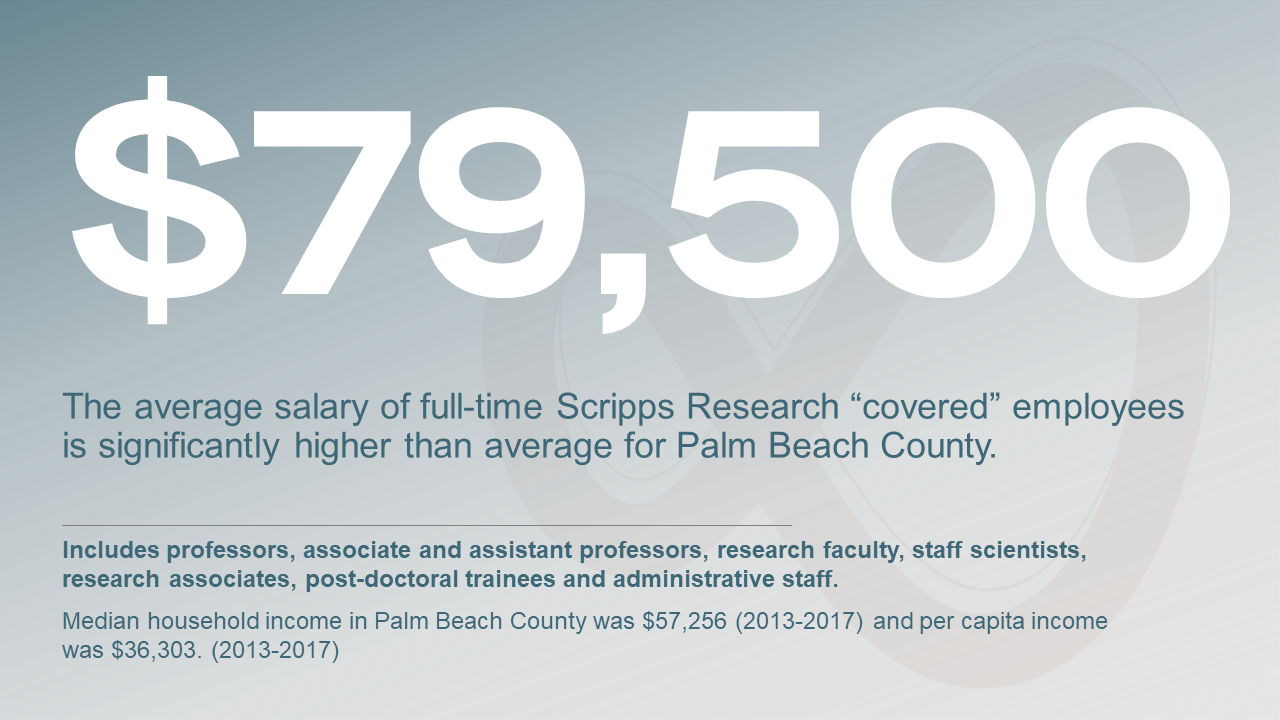 The overall $3 billion cumulative economic impact over 15 years represents a fairly conservative multiplier of 2.42 over a total of $1.2 billion directly spent by the Florida institute through its 15-year life so far, he said. Thomas' analysis was conservative by design, he said. It only considered the expenditures by Scripps Research, and did not assess the impact of the scientific discoveries, educational contributions, spinoff companies, or businesses that moved into the area to be near Scripps Research.
"We know the full impact is even greater than the IMPLAN study shows," Thomas said. "There are technology advances and spinoff companies, and the impact of those developments were not included in the study of Scripps Florida's economic impact."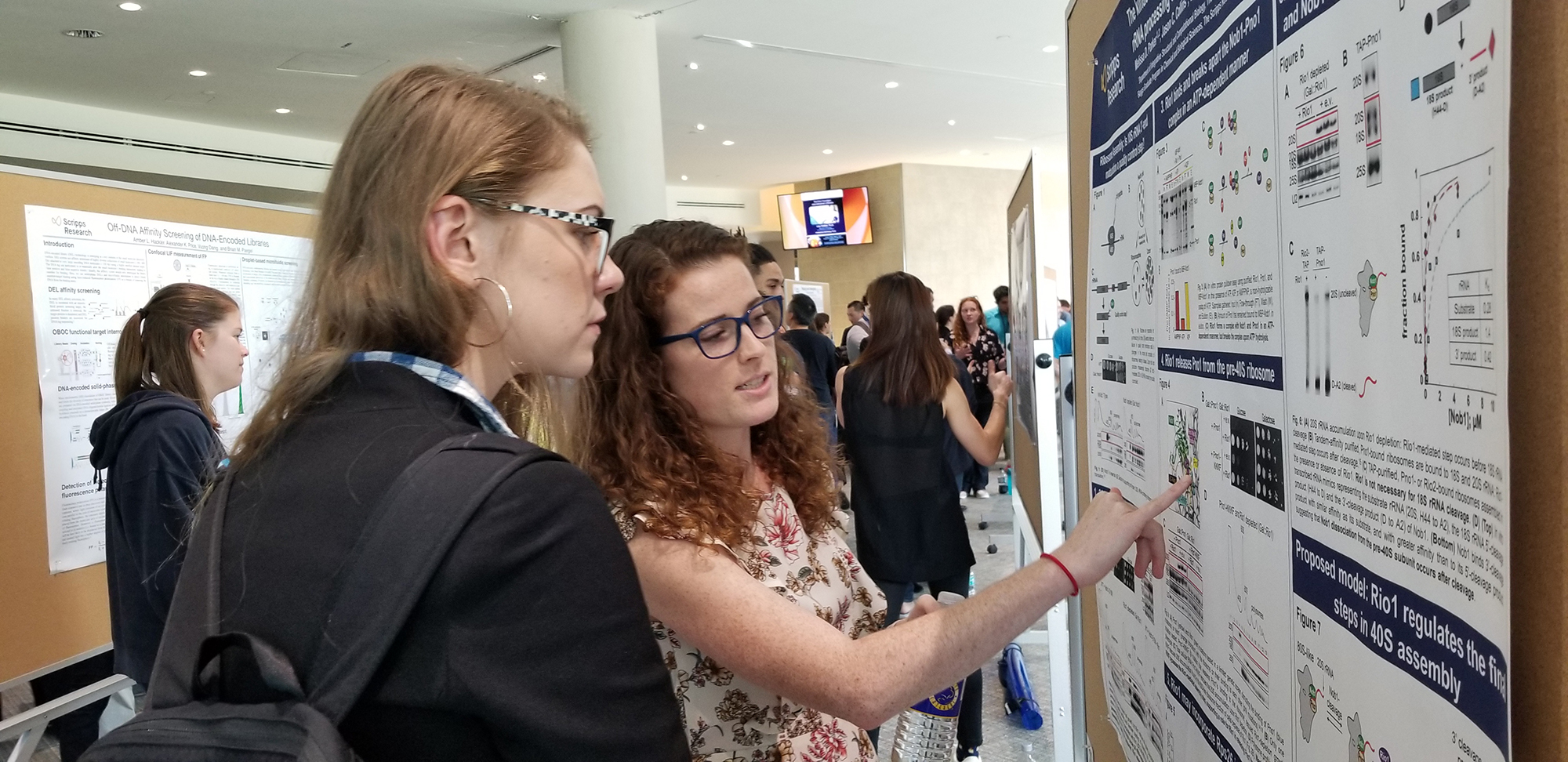 Since Scripps Research launched in Florida, its scientists have broken new ground in multiple disciplines.
Neuroscientist Ron Davis, PhD, discovered a mechanism that brains use to forget extraneous, unimportant information. To stay healthy, Davis explains, it appears our brains need to forget things like what we wore seven years ago on the fourth day in February.
"The idea is, constantly as we learn information, there is a slow process that whittles away memories, and it continues whittling them away unless another part of the brain signals the memory is important and overrides it," Davis said.
Chemist Matthew Disney, PhD, studied the worker molecules of the cell, called RNA, molecules that read DNA and then build what's spelled out in their genetic recipe. He wanted to know whether the RNA themselves contributed to disease, and if so, whether designing drugs to attach to them could provide a new route to cures.
A decade later, his idea has proven true. His lab has identified potential drugs for over 30 conditions, many of them rare and incurable, many involving dangerous cancers.
Disney's spinoff company, Expansion Therapeutics, has raised $60 million to develop innovative therapies for conditions including ALS and muscular dystrophy, and its R&D center is on Military Trail in Jupiter, Florida.
Bingham also noted that Florida students at many levels benefit from the institute's presence, by participating in career-advancing internships, a contribution likewise not included in the analysis. "This is an experience that has proven life-changing for many," Bingham said. "We are so grateful for the people of Palm Beach County and Florida for sharing our vision."
Bingham says his future goals for the Florida campus of Scripps Research are ambitious, but achievable. The institute recently added the Natural Products Discovery Center, a unique collection of nearly a quarter million microbe strains that may hold over 6 million new natural chemical entities, such as the next penicillin or statin. The challenge now is to develop rapid genomic screening technologies to exploit that irreplaceable asset so that it can become a searchable database for solving humanity's health challenges, as well as agricultural challenges like citrus greening.
The institute is also reinvesting and updating its scientific equipment and tools. A key one will be adding cryo-EM, a tool that allows scientists to create images and movies of key biological molecules at a near atomic-level resolution.
"This next year we're focused on creating the Scripps Research Molecular Imaging Center, featuring cryo-electron microscopy," Bingham said. "We will have the most advanced microscope in the state, and we expect it to enable us to recruit new faculty and attract new grants that were not available to us before."
Finally, Bingham said, he's focused on positioning the institute for success in perpetuity.
"We're a nonprofit, one that is four-star rated by Charity Navigator, by the way. So nourishing an endowment that enables success in perpetuity will be important."