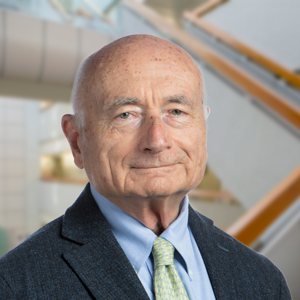 Peter Vogt, PhD
Email
---
Scripps Research Joint Appointments
---
Research Focus
Our work is directed at a basic understanding of genetic and epigenetic mechanisms that induce oncogenic transformation of cells. With this information, we conduct screens for small molecules that intervene with the activity of newly identified cancer targets. Our current research focuses on three families of cancer targets: protein and lipid kinases, transcriptional regulators and non-coding, antisense RNA.

Among the kinases, phosphatidylinositol 3-kinase (PI3K) has emerged as an important cancer target, because it is frequently mutated in cancer and because most cancers show increased PI3K activity. We have characterized the cancer-specific mutations in PI3K and continue to explore basic signaling mechanisms that involve this kinase. We are particularly interested in non-redundant, isoform-specific activities of Class IA PI3K. We are also engaged in the characterization of novel specific inhibitors that interfere with oncogenic PI3K.

We have conducted extensive studies on the oncogenic activity of transcriptional regulators, including Myc, Jun, β-catenin/LEF, and FKHR. Our work on gene transcription now centers on Myc. We have discovered small molecules with the ability to reduce the dimerization of Myc and Max and to interfere with its biological functions. Our current focus is a compound identified from a Krohnke pyridine library in a collaboration with Kim Janda at The Scripps Research Institute. This small molecule binds to Myc, inhibits Myc-induced oncogenic transformation in vitro and in vivo and extinguishes the Myc transcriptional signature.

The vast majority of the transcriptome is non-coding. Non-coding RNAs (lncRNAs) are critical in the epigenetic regulation of gene activity. We have discovered that Myc controls the expression of most lncRNAs. Using a screen based on CRISPR technology, we have now identified numerous lncRNAs that are required for Myc-driven cell proliferation and are in the process of characterizing the functions of these transcripts.
---
Education
Ph.D. (Biology), University of Tübingen, 1959
B.S., Julius Maximilians University of Würzburg, 1955
---
Professional Experience
1993-2017 Professor, Molecular and Experimental Medicine (MEM), Scripps Research
1993-2017 Head, Division of Oncovirology, Molecular and Experimental Medicine (MEM), Scripps Research
2012-2015 Executive Vice President & Chief Scientific Officer, Scripps Research
1971-1993 Hastings Distinguished Professor of Microbiology, Keck School of Medicine, University of Southern California
1971-1993 Chairman, Department of Microbiology, Keck School of Medicine, University of Southern California
1967-1971 Associate Professor and Professor of Microbiology, UW School of Medicine, University of Washington
1962-1967 Assistant and Associate Professor of Pathology, CU School of Medicine, University of Colorado Denver
1959-1962 Postdoctoral Associate, Virus Laboratory, University of California, Berkeley
---
Awards & Professional Activities
Awards (selected)
Alexander von Humboldt Award, Federal Republic of Germany (1984)
Ernst Jung Prize for Medicine (1985)
Robert J. and Claire Pasarow Award (1987)
Paul-Ehrlich and Ludwig-Darmstaedter Prize (1988)
ICN International Prize in Virology (1989)
Bristol Myers Award (1989)
Charles S. Mott Prize, General Motors Cancer Research Foundation (1991)
Gregor Johann Mendel Medal, National Academy of Sciences of the Czech Republic (2008)
Loeffler-Frosch Medal, German Society of Virology (2010)
Albert Szent-Györgyi Prize for Progress in Cancer Research (2010)
Einstein Professorship, Chinese Academy of Sciences (2013)
Pezcoller Foundation-AACR International Award for Cancer Research (2013)
IHV Lifetime Achievement Award for Scientific Contributions (2016)
Prize for Scientific Excellence in Medicine, American Italian Cancer Foundation (2017)
Louisa Gross Horwitz Prize, Columbia University (2019)

Academies
National Academy of Sciences USA (since 1980)
American Philosophical Society (since 1991)
American Academy of Microbiology (since 1992)
Leopoldina - German National Academy of Sciences (since 1998)
National Academy of Medicine (formerly the Institute of Medicine; since 2003)
American Academy of Arts and Sciences (since 2004)
AACR Academy (since 2013)

---
Selected References
An MXD1-derived repressor peptide identifies noncoding mediators of MYC-driven cell proliferation. (2020) Raffeiner P, Hart JR, García-Caballero D, Bar-Peled L, Weinberg MS, Vogt PK. Proc Natl Acad Sci USA, 117(12):6571-6579. PMID: 32156728.
PIK3CA cooperates with KRAS to promote MYC activity and tumorigenesis via the bromodomain protein BRD9. (2019) Bell CM, Raffeiner P, Hart JR, Vogt PK. Cancers, 11(11):1634. PMID: 31652979.
From Viruses to Genes to Cells. (2019) Vogt PK. Annu Rev Virol, 6(1):31-47. PMID: 31567064.
The Importance of Being Non-defective - A minireview dedicated to the memory of Jan Svoboda. (2019) Vogt PK. Viruses, 11(1):80. PMID: 30669277.
Isoform-specific activities of the regulatory subunits of phosphatidylinositol 3-kinases – potentially novel therapeutic targets. (2018) Ito Y, Hart JR, Vogt PK. Expert Opin Ther Targets, 22(10):869-877. PMID: 30205700.
Synthetic molecules for disruption of the MYC protein-protein interface. (2018) Jacob NT, Miranda PO, Shirey RJ, Gautam R, Zhou B, de Orbe Izquierdo ME, Hixon MS, Hart JR, Ueno L, Vogt PK, Janda KD. Bioorg Med Chem, 26(14):4234-4239. PMID: 30037753.
Domain analysis reveals striking functional differences between the regulatory subunits of phosphatidylinositol 3-kinase (PI3K), p85α and p85β. (2017) Ito Y, Vogt PK, Hart JR. Oncotarget, 8:55863-55876. PMID: 28915558.
The Butterfly Effect in Cancer: a Single Base Mutation can Remodel the Cell. (2015) Hart JR, Zhang Y, Liao L, Ueno L, Du L, Jonkers M, Yates III JR, Vogt PK. Proc Natl Acad Sci USA, 112(4):1131-6. PMID: 25583473.
MYC regulates the non-coding transcriptome. (2014) Hart JR, Roberts TC, Weinberg MS, Morris KV, Vogt PK. Oncotarget, 5(24):12543-12554. PMID: 25587025.
In vivo quantification and perturbation of Myc-Max interactions and the impact on oncogenic potential. (2014) Raffeiner P, Rock R, Schraffl A, Hartl M, Hart JR, Janda KD, Vogt PK, Stefan E, Bister K. Oncotarget, 5(19):8869-78. PMID: 25326649.
Retroviral oncogenes: a historical primer. (2012) Vogt PK. Nat Rev Cancer, 12(9):639-48. PMID: 22898541.
Helical domain and kinase domain mutations in p110alpha of phosphatidylinositol 3-kinase induce gain of function by different mechanisms. (2008) Zhao L, Vogt PK. Proc Natl Acad Sci USA, 105(7):2652-7. PMID: 18268322.
Rare cancer-specific mutations in PIK3CA show gain of function. (2007) Gymnopoulos M, Elsliger MA, Vogt PK. Proc Natl Acad Sci USA, 104(13):5569-74. PMID: 17376864.
Oncogenic transformation induced by the p110beta, -gamma, and -delta isoforms of class I phosphoinositide 3-kinase. (2006) Kang S, Denley A, Vanhaesebroeck B, Vogt PK. Proc Natl Acad Sci USA, 103(5):1289-94. PMID: 16432180.
Transformation of chicken cells by the gene encoding the catalytic subunit of PI 3-kinase. (1997) Chang HW, Aoki M, Fruman D, Auger KR, Bellacosa A, Tsichlis PN, Cantley LC, Roberts TM, Vogt PK. Science, 276(5320):1848-50. PMID: 9188528.
For a complete list of publications, please visit our laboratory website.

---
Links