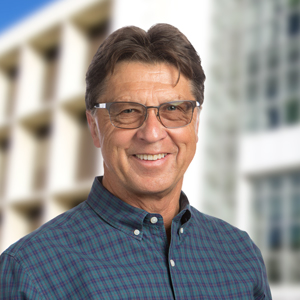 Bruce Torbett, PhD
---
Scripps Research Joint Appointments
---
Other Joint Appointments
Adjunct Associate Professor, UCSD Department of Pathology
---
Research Focus
Our research interests include the regulation of normal and abnormal myeloid development and function by PU.1 transcription factor regulated pathways; hematopoietic stem and T cell gene delivery strategies to block HIV-1 entry and limit infection; and, evolution of HIV-1 protease inhibitor resistance.


Defining PU.1 Transcription Factor Regulated Pathways in Myeloid Cells
We have shown that PU.1 is a master regulator of myeloid development and function. To uncover cellular pathways regulated by PU.1 that promote myeloid development and function, we have utilized PU.1 gene-disrupted hematopoietic cells and PU.1 domain-mutants to restore PU.1 function. This approach has identified new genes and pathways necessary for differentiation and function of monocytes/granulocytes. These newly identified genes and pathways are currently under investigation.

Gene-Delivery To Control HIV-1 Infection
Disruption of host cellular pathways utilized by HIV-1 has been shown to limit entry and viral spread. We continue to evaluate the biological and virological effects of genomic modification to disrupt expression of CXCR4 and CCR5, chemokine receptors used by HIV-1 for entry, in hematopoietic and CD4 T cells. Viral vectors are used for cellular delivery of zinc finger nucleases and RNAi to modify chemokine receptor expression. However, hematopoietic CD34+ stem cells are partially refractory to gene delivery via lentiviral vectors, as well as by other methods, resulting in low frequency cell targeting and gene disruption. To improve genomic modification of hematopoietic stem cells, we are determining what cellular pathways limit lentiviral gene delivery and how to overcome this limitation and increase the frequency of stem cell gene delivery.

Evolution of HIV-1 Resistance to Inhibitors
Protease inhibitor treatment in HIV-1 infected individuals can result in resistance to treatment. Mutations arise in protease and its substrate, gag-pol, which promotes resistance and alters both biochemical and viral fitness. We utilized inhibitors identified from small molecule libraries as chemical probes to drive viral resistance. To mechanistically understand how drug resistance mutations contribute to fitness changes, biophysical, biochemical, and structural studies of protease and Gag are undertaken. Our findings continue to provide insights into enzymatic function, adaptation of viral proteins and function to promote drug resistance, and predication of viral drug resistance.
---
Education
Ph.D. (Biology), University of California, Los Angeles, Department of Cellular, Molecular & Developmental Biology, 1988
M.P.H. (Public Health), University of California, Los Angeles, 1982
B.S. (Biology), Colorado State University, 1978
---
Professional Experience
2001-2017 Associate Professor, Molecular and Experimental Medicine (MEM), Scripps Research
---
Awards & Professional Activities
New Investigator Award, University of California AIDS Taskforce, 1995-1997
Member, National Arthritis Foundation Review Panel, Chair of Molecular Immunology, 1999-2002
Center for Biologics Evaluation and Research Response, Food and Drug Administration, States as Certifiers
Executive Committee, Center for AIDS Research, U.C.S.D., 2001-2005
Member, AIDS Molecular and Cellular Biology Study Section, 2004 – 2008
NIAID Study Section for Novel HIV Therapies and Integrated Preclinical/Clinical Programs, 2002-2003
Director, Molecular Basis of Viral Pathogenesis Training Grant, 2009-Present
Chairman of the Scientific Advisory Board, VaxDesign, 2004-Present
Virology, Editorial Board
Faculty of 1000
---
Selected References
Miyoshi, H., Smith, K.A., Mosier, D.E., Verma, I.M. and Torbett, B.E. HIV vectors efficiently transduce human CD34+ cells that mediate long-term engraftment of NOD/SCID mice. Science, 283:682, 1999.
Swan, C.H., Bühler, B., Steinberger, P., Tschan, M.P., Barbas, C. F. III, and Torbett, B.E. T-Cell Protection and Enrichment through Lentiviral CCR5 Intrabody Gene Delivery. Gene Therapy, 13(20):1480-92, 2006.
Chang, M.W., Giffin, M.J., Muller, R., Savage, J., Lin, Y. C., Hong, S., Jin, W., Whitby, L.R., Elder, J.H., Boger, D.L., and Torbett, B.E. Identification of Broad-Based HIV-1 Protease Inhibitors from Combinatorial Libraries. Biochem. J. 429:527-532, 2010. (PMCID: PMC3084599)
Chang, M.W., Ayeni, C., Breuer, S., and Torbett, B.E. Virtual screening for HIV protease inhibitors: a comparison of AutoDock 4 and Vina. PLoS One, Aug 4;5(8). Pii: e11955, 2010. (PMCID: PMC2915912)
Breuer, S., Sepulveda, H., Chen, Y., Trotter, J., and Torbett, B.E. A cleavage enzyme - cytometric bead array provides biochemical profiling of resistance mutations in HIV-1 Gag and protease. Biochemistry 50(20):4371-81, 2011. (PMCID: PMC319576)
Chang, M.W. and Torbett, B.E. Accessory Mutations Maintain Stability in Drug Resistant HIV-1 Protease. J Mol Biol. 410(4):756-760, 2011. (PMCID: PMC3139113)
---
Links
A Vaccine Factory Inside Each Cell