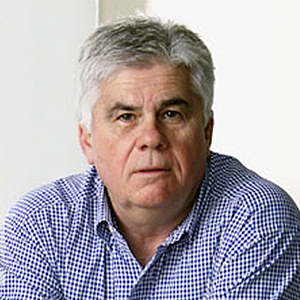 J. Sutcliffe, PhD
Email
---
Research Focus
Molecular Neurobiology

Our laboratory uses genomics-based tools to identify brain-specific proteins and to elucidate their functions. We recently described the hypocretins, two neuroexcitatory peptides expressed in a few thousand neurons of the dorsolateral hypothalamus. The hypocretins modulate the waking state and suppress rapid eye movement (REM) sleep. Disruption of the hypocretin signaling circuitry results in the sleep disorder narcolepsy. In collaboration with Digital Gene Technologies, Inc., we developed an automated, high throughput cDNA display technology called TOGA. We used this technology to study the mechanism of action of antipsychotic medications. Chronic administration of clozapine to rodents causes a significant increase in the accumulation of apolipoprotein D (apoD) in subsets of neurons and glia within the brain. In post-mortem samples of schizophrenic and bipolar subjects, apoD concentrations were significantly elevated over control levels in regions of pathophysiology. There is anatomical overlap in schizophrenia and bipolar disorder, as well as areas that distinguish the disorders. These data suggest a focal compensation that antipsychotic drug regimens augment. The hypothesis that schizophrenia and related illnesses are disorders of lipid metabolism provides an explanation for the diversity of symptoms associated with psychiatric disorders, and a means by which a number of different genetically, or otherwise, determined biochemical deficits could result in behavioral abnormalities. We are using mice carrying knockout mutations in neural genes to elucidate aspects of their functions, including the role of the postsynaptic, calmodulin-binding protein kinase C substrate RC3/neurogranin in postsynaptic neuroplasticity, and the role of the serotonin 5-HT7 receptor in circadian rhythms and thermoregulation.
---
Education
Ph.D. (Biology), Harvard University, 1978
---
Professional Experience
2012-2017 Professor Emeritus, Cell and Molecular Biology (CMB), Scripps Research
1978-2012 Professor, Molecular Biology, Scripps Research
---
Awards & Professional Activities
Jacobaeus Award, 2001; Burroughs Wellcome Visiting Professor, 2000; Society for Neuroscience Grass Traveling Lecturer, 1998; Tarbox Distinguished Neuroscientist Award, 1985; Director and Chairman of Scientific Advisory Board, Digital Gene Technologies; Council, American Society for Neurochemistry; Editorial Boards: DNA and Cell Biology; Molecular Neurobiology Reviews, Journal of Neuroscience Research, Journal of Molecular Neuroscience, Advances in Neuroscience, Journal of Neurochemistry
---
Selected References
Thomas, E.A., Dean, B., Pavey, G., Sutcliffe JG. Increased CNS levels of apolipoprotein D in schizophrenic and bipolar subjects: implications for the pathophysiology of psychiatric disorders. Proc. Natl. Acad. Sci. U S A 98:4066-4071, 2001.
Sutcliffe, J.G. Open-system approaches to gene expression in the CNS. J. Neurosci. 21:8306-8309, 2001.
Sutcliffe, J.G., Foye, P.E., Erlander, M.G., Hilbush, B.S., Bodzin, L.J., Durham, J.T., Hasel, K.W. TOGA: an automated parsing technology for analyzing expression of nearly all genes. Proc. Natl. Acad. Sci. U S A 97:1976-1981, 2000.
Sutcliffe, J.G., de Lecea, L. The hypocretins: integrators of the arousal set point. Nature Reviews Neurosci. 3:339-349