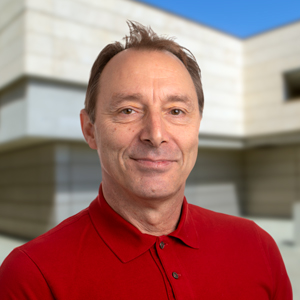 Paul Schweitzer, PhD
Email
---
Research Focus
Cellular and Molecular Physiology of Brain Cannabinoids and Peptides
Research in our laboratory focuses on the cellular and molecular mechanisms of action of substances of abuse and their interaction with endogenous transmitter systems in the brain. Our work is centered on cannabinoids and the modulatory role of neuropeptides. To uncover the cellular actions and molecular effectors implicated, we perform electrophysiological recordings from neurons in various brain regions including the hippocampus, the neocortex and the amygdala. Our physiological approach focuses on the modulation of synaptic transmission, synaptic plasticity and ion channels.

Cannabinoid substances contained in marijuana have psychoactive properties, but the brain produces its own cannabinoid ligands to properly function. Our objective is to uncover the mechanisms underlying the central effects of marijuana and determine the role played by the brain natural system of cannabinoid transmitters. Neuropeptides are found throughout the brain and modulate neuronal activity. We have been studying the mechanisms of action of the sleep-regulating peptide cortistatin on ion channels in hippocampal tissue, and we also work on the interaction of the peptide Corticotropin Releasing Factor with alcohol on synaptic transmission in the central amygdala, a brain region prominently involved in alcohol dependence.
---
Education
Ph.D. (Biology), University of Paris Diderot (Paris VII), 1992
---
Professional Experience
1991-2017 Associate Professor of Neurobiology of Addiction, Committee on the Neurobiology of Addictive Disorders (CNAD), Scripps Research
---
Selected References
Schweitzer P, Madamba SG and Siggins GR. The sleep-modulating peptide cortistatin augments the h-current in hippocampal neurons. Journal of Neuroscience, 23: 10884-10891 (2003).
Nie Z, Schweitzer P, Roberts AJ, Madamba SG, Moore SD and Siggins GR. Ethanol augments GABAergic transmission in the central amygdala via CRF1 receptors. Science, 303: 1512-1514 (2004).
Slanina KA and Schweitzer P. Inhibition of cyclooxygenase-2 elicits a CB1-mediated decrease of excitatory transmission in CA1 hippocampus. Neuropharmacology, 49: 653-659 (2005).
Slanina KA, Roberto M and Schweitzer P. Endocannabinoids restrict hippocampal long-term potentiation via CB1. Neuropharmacology, 49: 660-668 (2005).
---
Links
Scientists Describe Dangerous Cocktail of Alcohol, Brain Peptides, and Neurotransmitters