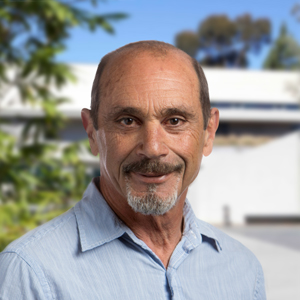 Steven Reed, PhD
---
Scripps Research Joint Appointments
---
Research Focus
Research Focus
Phosphorylation and proteolysis in cell cycle control, cancer and neuorodegenerative disorders.

Research in our laboratory focuses on the molecular basis for regulation of cell cycle progression and how proteins that normally regulate cell proliferation contribute to carcinogenesis when they become dysregulated. Our investigations center around a family of conserved enzymes known as cyclin-dependent kinases (and proteins that regulate them), which have been shown to be central to control of cell division in all eukaryotic organisms. For these studies we use model systems ranging from yeast, to mice to human cells in culture and methodologies ranging from genetic analysis, to cytological analysis and biochemistry. Much of our recent work has focused on the role of regulated proteolysis in cell cycle control and how defects in the proteolytic machinery can promote carcinogenesis, as well neurodegenerative disease. We are using this information to develop novel therapeutic strategies.
---
Education
Ph.D. (Biology), Stanford University, 1976
B.S. (Biology), Yale University, 1970
---
Professional Experience
1970 - 1976: Graduate School, Stanford University, RA and TA positions. Research supervised by Dr. George Stark
1976 - 1979: Postdoctoral Fellow, University of Washington - American Cancer Society Fellow. Laboratory of Dr. Leland Hartwell
1979 - 1986: Associate Professor, Department of Biological Sciences, University of California Santa Barbara
1986 - 1991: Associate Member, Department of Molecular Biology, The Scripps Research Institute, La Jolla, CA
7/91- present: Professor, Department of Molecular Biology, The Scripps Research Institute, La Jolla, CA
7/05 - present: Joint-Appointment, Department of Cell Biology, The Scripps Research Institute, La Jolla, CA
2013-2017 Professor, Cell and Molecular Biology (CMB), Scripps Research
2005-2012 Professor (Joint Appointment), Cell Biology, Scripps Research
1991-2012 Professor, Molecular Biology, Scripps Research
1986-1991 Associate Member, Molecular Biology, Scripps Research
1979-1986 Associate Professor, Department of Biological Sciences, University of California, Santa Barbara
---
Awards & Professional Activities
AWARDS:
NIH Merit Award, 2000
American Cancer Society Faculty Research Award, April 1983 - March 1988
NIH Research Career Development Award, (Declined) September, 1983 - August, 1988
American Cancer Society Postdoctoral Fellowship, September, 1976 - August, 1978
Yale, Magna Cum Laude, 1970


ACTIVITIES:
Member of American Association for Cancer Research (AACR)
Editorial Board, Cell Cycle
Ad hoc reviewer for journals:
Genetics, Cell, Proc. Natl. Acad. Sci., Exp. Cell Res., J. Biol. Chem., Nature, Science, Genes and Dev., Current Biol.
---
Selected References
For a complete list of publications: http://www.scripps.edu/reed/publications.html
Ekholm-Reed S, Goldberg MS, Schlossmacher MG, Reed SI. Parkin-dependent degradation of the F-box protein Fbw7β promotes neuronal survival in response to oxidative stress by stabilizing Mcl-1. Mol Cell Biol. 2013 Sep33(18):3627-43.
Bhaskaran N, van Drogen F, Ng HF, Kumar R, Ekholm-Reed S, Peter M, Sangfelt O,Reed SI. Fbw7α and Fbw7γ collaborate to shuttle cyclin E1 into the nucleolus for multiubiquitylation. Mol Cell Biol. 2013 Jan;33(1):85-97.
Liberal V, Martinsson-Ahlzén HS, Liberal J, Spruck CH, Widschwendter M,McGowan CH, Reed SI. Cyclin-dependent kinase subunit (Cks) 1 or Cks2overexpression overrides the DNA damage response barrier triggered by activatedoncoproteins. Proc Natl Acad Sci U S A. 2012 Feb 21;109(8):2754-9.
Chuang LC, Teixeira LK, Wohlschlegel JA, Henze M, Yates JR, Méndez J, Reed SI. Phosphorylation of Mcm2 by Cdc7 promotes pre-replication complex assembly during cell-cycle re-entry. Mol Cell. 2009 Jul 31;35(2):206-16.
Olson BL, Hock MB, Ekholm-Reed S, Wohlschlegel JA, Dev KK, Kralli A, Reed SI. SCFCdc4 acts antagonistically to the PGC-1alpha transcriptional coactivator bytargeting it for ubiquitin-mediated proteolysis. Genes Dev. 2008 Jan15;22(2):252-64.
Ekholm-Reed S, Méndez J, Tedesco D, Zetterberg A, Stillman B, Reed SI. Deregulation of cyclin E in human cells interferes with prereplication complexassembly. J Cell Biol. 2004 Jun 21;165(6):789-800.
Spruck CH, de Miguel MP, Smith AP, Ryan A, Stein P, Schultz RM, Lincoln AJ,Donovan PJ, Reed SI. Requirement of Cks2 for the first metaphase/anaphasetransition of mammalian meiosis. Science. 2003 Apr 25;300(5619):647-50.
Strohmaier H, Spruck CH, Kaiser P, Won KA, Sangfelt O, Reed SI. Human F-boxprotein hCdc4 targets cyclin E for proteolysis and is mutated in a breast cancer cell line. Nature. 2001 Sep 20;413(6853):316-22.