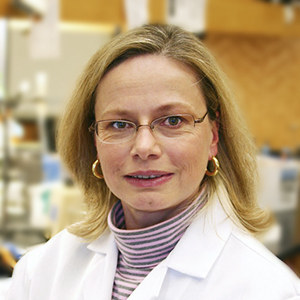 Marta Perego, PhD
Email
---
Research Focus
Regulation of bacterial signal transduction
in development and pathogenesis

Research in our laboratory focuses on understanding the mechanisms controlling signal transduction systems involved in bacterial development and in pathogenesis of Gram-positive microorganisms with a special emphasis on Enterococcus faecalis, Bacillus anthracis and Clostridium difficile. Genetics, molecular biology, biochemistry and structural biology are used to understand the mechanism of action of regulators, their targets and the physiological events that activate them, particularly the role of the environment and metabolism on the activation of bacterial virulence factors.

Gram-positive microorganisms are among the organisms that pose great threats to human health due to the increasing rate of antibiotic resistance in the United States and around the world. Our laboratory focuses on understanding the mechanisms of bacterial infection, with the aim of finding new targets for antimicrobial intervention, and for developing tools in high-throughput screening of the extensive chemical and natural product libraries available in our Institute.

---
Education
Ph.D., University of Pavia, 1982
---
Professional Experience
2017-2017 Associate Professor, Molecular Medicine, Scripps Research
2007-2017 Associate Professor, Molecular and Experimental Medicine (MEM), Scripps Research
---
Awards & Professional Activities
Fellow, American Academy of Microbiology; Member, American Society of Microbiology;
Editorial Board, Journal of Bacteriology.
---
Selected References
Perego, M. Forty years in the making: understanding the molecular mechanism of peptide regulation in bacterial development. PLoS Biol.11(3):e1001516. Epub Mar 19, 2013.
Diaz AR, Core LJ, Jiang M, Morelli M, Chiang CH, Szurmant H, Perego M. Bacillus subtilis RapA phosphatase domain interaction with its substrate, phosphorylated Spo0F, and its inhibitor, the PhrA peptide. J Bacteriol. 194(6):1378-88, 2012.
Baker KA, Perego M. Transcription antitermination by a phosphorylated responseregulator and cobalamin-dependent termination at a B₁₂ riboswitch contribute to ethanolamine utilization in Enterococcus faecalis. J Bacteriol. 193(10):2575-86, 2011.
Chiang C, Bongiorni C, Perego M. Glucose-dependent activation of Bacillus anthracis toxin gene expression and virulence requires the carbon catabolite protein CcpA. J Bacteriol. 193(1): 52-62, 2011.
Stranzl GR, Santelli E, Bankston LA, La Clair C, Bobkov A, Schwarzenbacher R, Godzik A, Perego M, Grynberg M, Liddington RC. Structural insights into inhibition of Bacillus anthracis sporulation by a novel class of non-heme globin sensor domains. J Biol Chem. 286(10):8448-58, 2011.
Lehmann M, Noack D, Wood M, Perego M, Knaus UG. Lung epithelial injury by Bacillus anthracis lethal toxin is caused by MKK-dependent loss of cytoskeletal integrity. PLoS One. 2009;4(3):e4755. Epub Mar 9, 2009.
Perego, M. and Hoch, J.A. Commingling regulatory systems following acquisition of virulence plasmids by Bacillus anthracis. Trends Microbiol. 16(5):215-21. 2008
Del Papa, M.F., Hancock, L., Thomas, V. and Perego, M. Full activation of Enterococcus faecalis gelatinase by a C-terminal proteolytic cleavage. J. Bacteriol. 189(24):8835-43. 2007
Tsvetanova, B., Wilson, A.C., Bongiorni, C., Chiang, C., Hoch, J.A. and Perego, M. Opposing effects of histidine phosphorylation regulate the AtxA virulence transcription factor in Bacillus anthracis. Mol. Microbiol. 63(3):644–655. 2007
Hancock, L. and M. Perego. Two-component signal transduction in Enterococcus faecalis. J. Bacteriol. 184(21):5819-5825. 2002