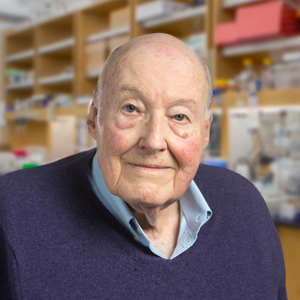 Michael Oldstone, MD
Email
---
Scripps Research Joint Appointments
---
Other Joint Appointments
Adjunct Professor, Department of Neurosciences, UCSD School of Medicine
Resident Scholar (Professor), University of Alabama College of Arts and Sciences, Tuscaloosa, Alabama
---
Research Focus
Virus-Immune System Interactions and Viral Pathogenesis
The principle objectives of this laboratory are to understand how and what diseases are caused by acute and persistent virus infections and the role the immune response plays in protection against or causation of the disease. Included are studies on how viruses escape from immune recognition and attack to establish a persistent infection. Our focus is primarily on how virus affects the immune and central nervous systems. To understand these events we use molecular, cell biologic, and genetic approaches for analysis of virus virulence and host susceptibility. We study how viruses cause immunosuppression on one hand and autoimmunity and cytokine storm on the other.
*Pioneered the development of the field of viral pathogenesis and has been a leader in the area of viral immunity for the past four decades.
*Known for work studying arenaviruses, specifically lymphocytic choriomeningitis virus infection in its natural murine host as a model system and the pathogenesis, innate and immune response to African hemorrhagic viruses Lassa and Ebola. In addition, investigations of measles virus and cytokine storm with influenza virus.
*Provided evidence for the concept of viral-induced immunopathology by showing that chronically infected hosts can mount a humoral and cellular immune response to persistent viral infection and such hosts infected early in life were not tolerant to the infecting microbe.
*Showed that persistently infecting viruses can non-cytolytically alter the differentiation or "luxury" function of cells without killing them, leading to a disorder in homeostasis and disease of the nervous, immunologic, and endocrine systems. This is a departure from existing dogma that viral diseases reflected destruction of infected cells.
*Provided the evidence and concept for virus-induced autoimmune disease caused by cross-reactive molecular mimics between microbe and host sequences leading to antibody or T cell-induced disease.
*Isolated and characterized immunosuppressive viral variants that co-op host generated negative regulators of the immune response (NIR) that function to keep the immune response in check so it does not harm healthy tissues. By hijacking immunodominant NIR, IL-10 and PD-L1, T cells become exhausted. IFN-1 made within the first 12-18 hrs. of infection by immunosuppressive virus variants was the master regulator of IL-10 and PD-L1, and the disorganizer of secondary lymphoid organs, mechanisms responsible for viral persistence.
*Dissected role of various type 1 interferons in causation or prevention of disease.
---
Education
M.D. (Medicine), University of Maryland, College Park, School of Medicine, 1961
Ph.D. (Biochemistry), Johns Hopkins University, Pratt Institute of Biochemistry, 1959
B.A. (English and History), The University of Alabama (Tuscaloosa), 1954
---
Professional Experience
2008-2017 Professor, Immunology and Microbial Science (IMS), Scripps Research
2004-2017 Adjunct Professor of Virology, Department of Infectology, Scripps Florida, Scripps Research
1989-2008 Professor, Molecular and Integrative Neurosciences (MIND), Scripps Research
1972-1976 Associate Member, Department of Immunopathology, Scripps Clinic and Research Foundation
1969-1971 Assistant Member, Department of Experimental Pathology,, Scripps Clinic and Research Foundation
---
Awards & Professional Activities
National Academy of Sciences, 2008
Member, National Academy of Sciences, Institute of Medicine, 1996
Excellence in Mentoring Award, American Association of Immunologists, 2011
Excellence in Mentoring Award, The Scripps Research Institute, 2015
Pioneer in NeuroVirology Award, International Society for NeuroVirology, 2003
R.E. Dyer Lectureship and Directors Award (NIH) (contributions in viral pathogenesis), 2000
J. Allyn Taylor International Prize in Medicine (host-virus interactions), 1997
Biomedical Science Award, Karolinska Institute, Sweden (contributions virus/autoimmune diseases), 1994
Rous-Whipple Award (contributions in experimental pathology), 1993
Abraham Flexner Award (contributions in biomedical research), 1988
Cotzias Award (contributions in research of CNS), 1986
Burroughs Wellcome Professorship Award to work with J. Skehel, MRC, Mill Hill, UK
Elected Member, Scandinavian Society of Immunology
World Health Organization Committee for the Eradication of Poliomyelitis and Measles Virus
American Association of Physicians
American Clinical and Climatological Association
American Society for Clinical Investigation
Fellow, American Academy of Microbiology
Fellow, American Associaton for the Advancement of Science
Member, National Advisory Committee, The PEW Scholars Program in the Biomedical Sciences
Editor, Virology; Current Topics in Microbiology and Immunology
Editorial Board, Proceedings of the National Academy of Sciences USA; Cell Host & Microbe; Immunity
---
Selected References
Teijaro, J.R., S. Studer, N. Leaf, W.B. Kiosses, N. Nguyen, K. Matsuke, H. Negishi, T. Taniguchi, M.B.A. Oldstone, and H. Rosen. S1PR1-mediated IFNAR1 degradation modulates plasmacytoid dendritic cell interferon-α auto-amplification. Proc. Natl. Acad. Sci. USA 113:1351-1356, 2016. PMCID: PMC4747766
Oldstone, M.B.A. The anatomy of a career in science. DNA and Cell Biol. 35:109-117, 2016.
Ng, C.T., J.L. Mendoza, K.C. Garcia and M.B.A. Oldstone. Alpha and beta type 1 interferon signaling: passage for diverse biologic outcomes. Cell 164:349-352, 2016. PMCID: PMC4733246
Oldstone, M.B.A. An odyssey to viral pathogenesis. Annu. Rev. Pathol. Mech. Dis. 11:1-19, 2016.
Ng, C.T., B.M. Sullivan, J.R. Teijaro, A.M. Lee, M. Welch, S. Rice, K.C.F. Sheehan, R.D. Schreiber and M.B.A. Oldstone. Blockade of interferon beta, but not interferon alpha, signaling controls persistent viral infection. Cell Host & Microbe 17:653-661, 2015. PMCID: PMC4432251
Baccala, R., M. Welch, R. Gonzalez-Quintial, K.B. Walsh, J.R. Teijaro, A. Nguyen, C. Ng, B.M. Sullivan, A. Zarpellon, Z.M. Ruggeri, J.C. de la Torre, A.N. Theofilopoulos and M.B.A. Oldstone. Type I interferon is a therapeutic target for virus-induced lethal vascular damage. Proc. Natl. Acad. Sci. USA 111:8925-8930, 2014. PMCID: PMC4066519
Oldstone, M.B.A. and H. Rosen. Cytokine storm plays a direct role in the morbidity and mortality from influenza virus infection and is chemically treatable with a single sphingosine-1-phosphate agonist molecule. Curr. Topics Microbiol. Immunol. 378:129-147, 2014.
Teijaro, J.R., C. Ng, A.M. Lee, B.M. Sullivan, K.C.F. Sheehan, M. Welch, R.D. Schreiber, J.C. de la Torre and M.B.A. Oldstone. Persistent LCMV infection is controlled by blockade of type I interferon signaling. Science 340:207-211, 2013. PMCID: PMC3640797
Teijaro, J.R., K.B. Walsh, S. Cahalan, D.M. Fremgen, E. Roberts, F. Scott, E. Martinborough, R. Peach, M.B.A. Oldstone and H. Rosen. Endothelial cells are central orchestrators of cytokine amplification during influenza virus infection. Cell 146:980-991, 2011. PMCID: PMC3176439
Oldstone, M.B.A. and K.P. Campbell. Decoding arenavirus pathogenesis: Essential roles for alpha-dystroglycan-virus interactions and the immune response. Virology 411:170-179, 2011. PMCID: PMC3071849
Sullivan, B.M., S.F. Emonet, M.J. Welch, A.M. Lee, K.P. Campbell, J.C. de la Torre and M.B.A. Oldstone. Point mutation in the glycoprotein of lymphocytic choriomeningitis virus is necessary for receptor binding, dendritic cell infection, and long-term persistence. Proc. Natl. Acad. Sci. USA 108:2969-2974, 2011. PMCID: PMC3041138
Brooks, D.G., M.J. Trifilo, K.H. Edelmann, L. Teyton, D.B. McGavern and M.B.A. Oldstone. Interleukin-10 determines viral clearance or persistence in vivo. Nature Med. 12:1301-1309, 2006. PMCID: PMC2535582
Sevilla, N., S. Kunz, A. Holz, H. Lewicki, D. Homann, H. Yamada, K.P. Campbell, J.C. de la Torre and M.B.A. Oldstone. Immunosuppression and resultant viral persistence by specific viral targeting of dendritic cells. J. Exp. Med. 192:1249-1260, 2000.
Cao, W., M.D. Henry, P. Borrow, H. Yamada, J.H. Elder, E.V. Ravkov, S.T. Nichol, R.W. Compans, K.P. Campbell and M.B.A. Oldstone. Identification of α-dystroglycan as a receptor for lymphocytic choriomeningitis virus and Lassa fever virus. Science 282:2079-2081, 1998.
Oldstone, M.B.A. Molecular mimicry and immune-mediated diseases. FASEB J. 12:1255-1265, 1998.