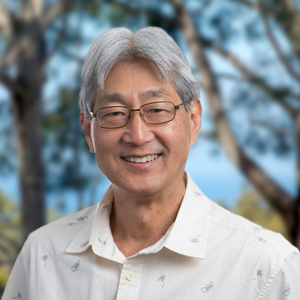 Dwight Kono, MD
---
Scripps Research Joint Appointments
---
Research Focus
Our laboratory seeks to define the etiopathogenesis of systemic lupus erythematosus (SLE) and to identify potential therapeutic targets using lupus susceptible mice strains as model systems. Areas of interest related to lupus include systemic autoimmunity, tolerance, normal immune function, and genetics. A major focus is the identification of susceptibility genes in spontaneous lupus-prone mouse strains and in an induced model. Defining the genetic basis for lupus is critical for understanding lupus pathogenesis, as genetic susceptibility appears to be a prerequisite for disease development. Classical genetics approaches are being used to identify loci, narrow intervals with congenic mice, and identify genes. A second area of research seeks to identify the essential effector genes in SLE using both forward and reverse genetics approaches. These, in contrast to susceptibility genes, are typically normal genes that have non-redundant functions in disease pathogenesis. As such, their identification should yield important insights into disease processes and is also likely to have therapeutic implications. A third general area of interest is the study of specific pathways in lupus pathogenesis. Recent studies have investigated interferons, nucleic acid-recognizing toll-like receptors, actin cytoskeleton regulation, and mechanisms of B cell tolerance as they relate to systemic autoimmunity.
---
Education
M.D. (Medicine), 1977
---
Professional Experience
1977-1981 Medicine Res/Chief Res., University of Hawaii, Honolulu, HI
1981-1984 Postdoctoral Fellow, Rheumatology, University of California, Los Angeles, CA
1984-1985 Adjunct Instructor of Medicine, Co-Director, Arthritis Clinic, UCLA, Los Angeles, CA
1985-1986 Adjunct Assist. Prof. of Medicine, Co-Director, Arthritis Clinic, UCLA, Los Angeles, CA
1986-1988 Senior Res. Fellow, California Institute of Technology, Div Biology, Pasadena, CA
1988-1998 Assist. Prof., Dept. of Immunol., The Scripps Research Institute (TSRI), La Jolla, CA
1998-2007 Assoc. Prof., Dept. of Immunol., TSRI, La Jolla, CA
2008-pres Prof. of Immunology, Dept. of. Immunology and Microbial Science, TSRI, La Jolla, CA
2008-pres Faculty, Skaggs Graduate School of Chemical and Biological Sciences, TSRI, La Jolla, CA1988-2017 Professor of Immunology, Immunology and Microbial Science (IMS), Scripps Research
---
Awards & Professional Activities
1973 B.S. with distinction, Cum laude, Phi Beta Kappa, University of Washington; 1976 Medical Student Research Training Stipend, University of Washington; 1978 Silver Hammer Award (Intern Neurology Award), University of Hawaii; 1980 Third Year Resident of the Year, University of Hawaii; 1980 American Board of Internal Medicine; 1984 American Board of Internal Medicine; Subspecialty Rheumatology; 1986 Arthritis Foundation New Investigator Award; 1995 Reviewer, American Lupus Society Research Grants; 1995, 1999, 2001, 2002, 2014 External Reviewer, VA Merit Review; 1996-pres. Ad hoc Reviewer for NIH Study Sections (IMS, GMA-1, HAI, III, AMS), LRP, SEP, BIRT V, PP, F07, T81, T32; 1999-2006 External Advisory Board Member, Program Project; 2001-pres. Member, Henry Kunkel Society; 2001-2002 Member, Amer. Heart Assoc., Western Peer Review Committee, Western 3B; 2001-2003 Member/Chair, Amer. Coll. of Rheumatol., Abstract Rev. Committee; 2001-2006 Member/Vice Chair/Chair, Arthritis Foundation, Molecular Immunology Study Section; 2002-2003 Member, Independent Review Panel, Abbott Scholar Award; 2000-2004 Section Editor, Journal of Immunology; 2004-2009. Editorial Board, Clinical Immunology; 2004-2005 Member, ACTS NIH Study Section; 2005-2006 Chair, Alliance for Lupus Research Study Sections; 2007 Member, Alliance for Lupus Research Study Section; 2008-pres. Member, Faculty of 1000, Medicine; 2008-2012 Member, HAI NIH Study Section; 2008-pres. IACUC Committee Member TSRI; 2008-2013 Reviewer, American Institute of Biological Science; 2008-2010, 2012, 2014 Reviewer, ACR Abstract Selection Committee; 2009 Reviewer, Arthritis Research Campaign; 2009-2014 Reviewer, Pennsylvania Performance Review; 2010 Committee Member, NIEHS Autoimmunity Workshop-Animal Models; 2011-2014 Reviewer Lupus Foundation of America; 2011-2015 Reviewer Lupus Research Institute Grants; 2012-present Editorial Board, Faculty 1000Research, 2013 Team Leader, Arthritis Foundation Molec. Biol., Immunol., Gene Regulation. Study Section; 2014 Reviewer, COBRE III Pilot Grant Program; 2014 Reviewer, CDMRP Discovery Award Review Panel; 2015, 2018 Reviewer, Sci. Found. Ireland; 2015-2017 Editorial Board Sci. Rep.; 2015-2017 Co-chair, ACR Abstract Selection Committee, SLE-Animal models; 2015 Reviewer MRC Research Grant; ; 2016-17 Reviewer, PRMRP pre-grant review panel; 2016 Reviewer, Lupus Research Institute Distinguished Innovator Award; 2016 Reviewer, Arthritis Foundation; 2017 Reviewer, Lupus Research Alliance Distinguished innovator Award and Novel Research; 2018 Reviewer, DOD CDMRP Lupus Research Program Study Section; 2018 Reviewer, LRA Study Section.
---
Selected References
Pollard, K. M., P. Hultman, and D. H. Kono. Using single-gene deletions to identify checkpoints in the progression of systemic autoimmunity. Ann N Y Acad Sci 987:236-239, 2003.
Haraldsson, M. K., N. G. dela Paz, J. G. Kuan, G. S. Gilkeson, A. N. Theofilopoulos, and D. H. Kono. Autoimmune alterations induced by the New Zealand Black Lbw2 locus in BWF1 mice. J Immunol 174:5065-5073, 2005.
Santiago-Raber, M.-L., M. K. Haraldsson, A. N. Theofilopoulos, and D. H. Kono. Characterization of reciprocal Lmb1-4 interval MRL-Faslpr and B6-Faslpr congenic mice reveals significant effects from Lmb3. J Immunol 178:8195-8202, 2007.
Haraldsson, M. K., C. A. Louis-Dit-Sully, B. R. Lawson, G. Sternik, M. L. Santiago-Raber, N. R. Gascoigne, A. N. Theofilopoulos, and D. H. Kono. The lupus-related Lmb3 locus contains a disease-suppressing Coronin-1A gene mutation. Immunity 28:40-51, 2008.