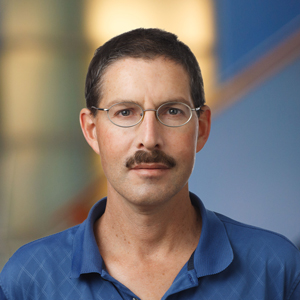 Theodore Kamenecka, PhD
Email
---
Scripps Research Joint Appointments
---
Research Focus
Medicinal Chemistry and Drug Discovery

The research interest in my group is in the design, synthesis and evaluation of novel compounds of biological and therapeutic interest. Currently, we are involved in the design and synthesis of novel small molecule modulators of nuclear hormone receptors, GPCR's, ion channels, and kinases for the therapeutic treatment of diabetes and obesity, sleep, schizophrenia, and addiction. Working closely with other departments such as molecular biology, pharmacology, and drug metabolism, we optimize lead compounds for potency, ADME (absorption, distribution, metabolism, and excretion), safety pharmacology, and toxicology in order to generate compounds suitable for preclinical development.
---
Education
Ph.D. (Chemistry), University of California, Irvine, 1996
B.S. (Chemistry), University of Rochester, 1990
---
Professional Experience
2015-2017 Associate Professor of Molecular Therapeutics, Molecular Therapeutics, Scripps Research
2013-2015 Assistant Professor, Molecular Therapeutics, Scripps Research
2004-2015 Associate Scientific Director II, Translational Research Institute, Scripps Research
2004-2012 Senior Staff Scientist (Joint Appointment), Chemistry, Scripps Research
---
Selected References
Synthesis of 2-aryl-2H-tetrazoles via a regioselective [3+2] cycloaddition reaction. Patouret R, Kamenecka TM. Tetrahedron Lett. 2016 Apr 6;57(14):1597-1599.
Nuclear receptor RORα regulates pathologic retinal angiogenesis by modulating SOCS3-dependent inflammation. Sun Y, Liu CH, SanGiovanni JP, Evans LP, Tian KT, Zhang B, Stahl A, Pu WT, Kamenecka TM, Solt LA, Chen J. Proc Natl Acad Sci U S A. 2015 Aug 18;112(33):10401-6. doi: 10.1073/pnas.1504387112. Epub 2015 Aug 4.
Design, Synthesis, and Biological Evaluation of Indole Biphenylcarboxylic Acids as PPARγ Antagonists. Asteian A, Blayo AL, He Y, Koenig M, Shin Y, Kuruvilla DS, Corzo CA, Cameron MD, Lin L, Ruiz C, Khan S, Kumar N, Busby S, Marciano DP, Garcia-Ordonez RD, Griffin PR, Kamenecka TM. ACS Med Chem Lett. 2015 Aug 4;6(9):998-1003. doi: 10.1021/acsmedchemlett.5b00218. eCollection 2015 Sep 10.
Pharmacological repression of PPARγ promotes osteogenesis. Marciano DP, Kuruvilla DS, Boregowda SV, Asteian A, Hughes TS, Garcia-Ordonez R, Corzo CA, Khan TM, Novick SJ, Park H, Kojetin DJ, Phinney DG, Bruning JB, Kamenecka TM, Griffin PR. Nat Commun. 2015 Jun 12;6:7443. doi: 10.1038/ncomms8443.
An Accessory Agonist Binding Site Promotes Activation of α4β2* Nicotinic Acetylcholine Receptors. Wang J, Kuryatov A, Sriram A, Jin Z, Kamenecka TM, Kenny PJ, Lindstrom J. J Biol Chem. 2015 May 29;290(22):13907-18. doi: 10.1074/jbc.M115.646786. Epub 2015 Apr 13.