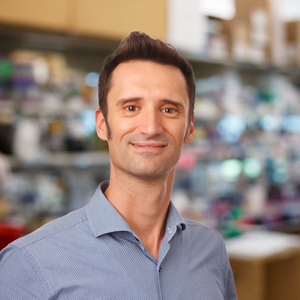 Brock Grill, PhD
---
Scripps Research Joint Appointments
---
Research Focus
The Grill lab studies candidate intracellular coordinators of neuronal development. By unraveling the mechanisms by which these molecules function, we will gain insight into how neurons integrate and manage numerous signals from their environment to form a neural network. We also hope to identify key molecular functions that can be stimulated to trigger new synapse and axonal growth. Such knowledge has tremendous potential to aid in generating new therapies to treat neurodegenerative diseases, and injury to the central nervous system from stroke.

---
Education
Ph.D., Experimental Medicine, University of British Columbia, Vancouver, BC, Canada, 2003
B.Sc., Microbiology, University of Alberta, Edmonton, AB, Canada, 1998
---
Professional Experience
1999 - 2004 Graduate Student, the University of British Columbia, Vancouver,
Canada; Thesis Mentor: John Schrader
2004 - 2007 Postdoctoral Fellow, University of California, Santa Cruz;
Mentor: Dr. Yishi Jin HHMI
2007 - 2009 Postdoctoral Fellow, Stanford University, Palo Alto;
Mentor: Dr. Craig Garner
2009 - 2012 Assistant Professor, Department of Pharmacology,
University of Minnesota, Minneapolis
2012 - 2014 Assistant Professor, Department of Neuroscience,
The Scripps Research Institute – Florida
2014 - Associate Professor, Department of Neuroscience,
Scripps Research – Florida
---
Awards & Professional Activities
1998 Dean's Silver Medal in Science, University of Alberta
1999 - 2000 Postgraduate Scholarship National Science and Engineering
Research Council (NSERC)
2003 Postgraduate Scholarship, Canadian Institutes of Health Research
(CIHR)
2003 Travel Award, Canadian Society for Immunology
2004 - 2007 Post-doctoral Fellowship CIHR
2015 Cutting Edge Basic Research Award (NIDA)
---
Selected References
Desbois M, Crawley O, Evans PR, Baker ST, Masuho I, Yasuda R, Grill B. PAM forms an atypical SCF ubiquitin ligase complex that ubiquitinates and degrades NMNAT2. J Biol Chem. 2018 Jul 11. pii: jbc.RA118.002176. doi: 10.1074/jbc.RA118.002176. [Epub ahead of print] PubMed PMID: 29997255.

Crawley O, Giles AC, Desbois M, Kashyap S, Birnbaum R, Grill B. A MIG-15/JNK-1 MAP kinase cascade opposes RPM-1 signaling in synapse formation and learning. PLoS Genet. 2017 Dec 11;13(12):e1007095. doi: 10.1371/journal.pgen.1007095. eCollection 2017 Dec. PubMed PMID: 29228003; PubMed Central PMCID: PMC5754208.

Opperman KJ, Mulcahy B, Giles AC, Risley MG, Birnbaum RL, Tulgren ED, Dawson-Scully K, Zhen M, Grill B. (2017) The HECT Family Ubiquitin Ligase EEL-1 Regulates Neuronal Function and Development. Cell Rep. 2017 Apr 25:19(4):822-835. doi: 10.1016/j.celrep.2017.04.003. PMID: 28445732

Borgen MA, Wang D, Grill B. RPM-1 regulates axon termination by affecting growth cone collapse and microtubule stability. Development. 2017 Dec 15;144(24):4658-4672. doi: 10.1242/dev.154187. Epub 2017 Oct 30. PubMed PMID: 29084805; PubMed Central PMCID: PMC5769622.
Baker, ST, Grill, B (2016) Defining minimal binding regions in Regulator of Presynaptic Morphology 1 (RPM-1) using C. elegans neurons reveals differential signaling complex. J Bio Chem. 2017 Feb 10;292(6):2519-2530. doi:10.1074/jbc.M116.748004. Epub 2016 Dec 15. Pubmed PMID:27979965; PubMed Central PMCID:PMC5313118.
Grill B, Murphey RK, Borgen MA (2016) The PHR proteins: intracellular signaling hubs in neuronal development and axon degeneration. Neural Dev. Mar 23;11 (1) ):8. doi: 10.1186/s13064-016-0063-0.
Giles AC, Opperman KJ, Rankin CH, Grill B (2015) Developmental Function of the PHR Protein RPM-1 Is Required for Learning in Caenorhabditis elegans. G3 (Bethesda). 2015 Oct 13;5(12):2745-57. doi: 10.1534/g3.115.021410.
Baker S, Turgeon S, Tulgren E, Wigant J, Rahimi O, Opperman K and Grill B. (2015) Neuronal development in Caenorhabditis elegans is regulated by inhibition of an MLK MAP kinase pathway. Genetics 199:151-156.
Sharma J, Baker S, Turgeon S, Gurney A, Opperman K, Grill B. (2014) Identification of a peptide inhibitor of the RPM-1/FSN-1 ubiquitin ligase complex. Journal of Biological Chemistry 289:34654-34666.

Baker ST, Opperman KJ, Tulgren ED, Turgeon SM, Bienvenut W, Grill B. RPM-1 uses both ubiquitin ligase and phosphatase-based mechanisms to regulate DLK-1 during neuronal development. PLoS Genet. 2014 May 8;10(5):e1004297. doi: 10.1371/journal.pgen.1004297. eCollection 2014 May. PubMed PMID: 24810406; PubMed Central PMCID: PMC4014440.
Tulgren E, Turgeon S, Opperman K, and Grill B. (2014) The Nesprin family member ANC-1 regulates synapse formation and axon termination by functioning in a signaling pathway with RPM-1 and beta-Catenin. PLoS Genetics e1004481. doi: 10.1371/journal.pgen.1004481.

Opperman KJ, and Grill B. (2014). RPM-1 is localized to distinct subcellular compartments and regulates axon length in GABAergic motor neurons. Neural Development doi: 10.1186/1749-8104-9-10.

Tulgren ED, Baker ST, Rapp L, Gurney AM, Grill B. (2011). PPM-1, a PP2C alpha/beta phosphatase, regulates axon termination and synapse formation in Caenohabditis elegans. Genetics 189:1297-1307.
---
Links