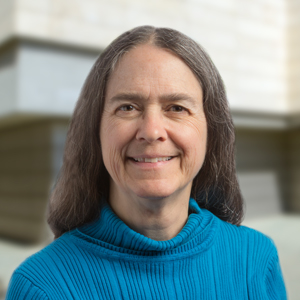 Elizabeth Getzoff, PhD
Email
---
Scripps Research Joint Appointments
---
Research Focus
We study functionally important protein conformational changes pertinent to protein recognition, interaction and catalysis to provide a detailed understanding of how proteins work. Major research areas include protein photosensing, enzymatic control of reactive oxygen species, the coupling of metal-site chemistry and electron transfer for catalysis, and metalloprotein design. We use multi-wavelength anomalous diffraction; time resolved Laue crystallography; ultra high-resolution protein crystallography; free trapping; femtosecond and nanosecond laser initiation; rapid single-crystal spectroscopy computational and computer graphics analysis; and protein design cycles to test and integrate results from x-ray crystallography, molecular biology, biochemistry, and spectroscopy.
---
Education
Ph.D. (Biochemistry), Duke University, 1982
B.S. (Chemistry), Duke University, 1976
---
Professional Experience
2017-2019 Professor (Joint Appointment), Immunology and Microbiology, Scripps Research
2013-2019 Professor, Integrative Structural and Computational Biology (ISCB), Scripps Research
1983-2018 Faculty Member, Skaggs Graduate School of Chemical and Biological Sciences, Scripps Research
2012-2017 Professor (Joint Appointment), Immunology and Microbial Science (IMS), Scripps Research
1983-2012 Professor, Molecular Biology, Scripps Research
---
Selected References
Barondeau, D.P., Kassmann, C.J., Tainer, J.A., Getzoff, E.D. (2002). Structural chemistry of a green fluorescent protein Zn biosensor, J. Am. Chem. Soc. 124, 3522-3524.
Forest, K.T., Langford, P.R., Kroll, J.S., and Getzoff, E.D. (2000) Cu,Zn superoxide dismutase structure from a microbial pathogen establishes a class with a conserved dimer interface, J. Mol. Biol., 296, 145-153.
Brudler, R., Rammelsberg, R. Woo, T.T., Getzoff, E.D., and Gerwert, K. (2001) Stucture of the I1 early intermediate of photoactive yellow protein by FTIR spectroscopy. Nature Structural Biology, 8, 265-270.
Aoyagi, M., Arvai, A.S., Ghosh, S., Stuehr, D.J., Tainer, J.A. & Getzoff, E.D. (2001) Structures of tetrahydrobiopterin binding-site mutants of inducible nitric oxide synthase oxygenase dimer and implicated roles of Trp457, Biochemistry, 40, 12826-12832.
---
Links
The Skaggs Institute Scientific Report