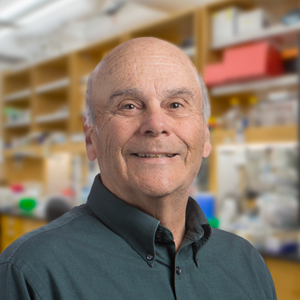 John Elder, PhD
Email
---
Scripps Research Joint Appointments
---
Research Focus
Feline Immunodeficiency Virus

Our research centers around the molecular and biological characterization of feline immunodeficiency virus, FIV. This virus is a lentivirus similar to human immunodeficiency virus (HIV), the virus that causes AIDS in humans. FIV causes an AIDS-like disease in the domestic cat and thus provides a valuable small animal model for developing intervention therapies that may be employed to treat virus infections in both man and cat. Potential approaches include development of drug treatments through structure-based rational drug design as well as vaccine development using defined recombinant target antigens. Both approaches demand that we first understand the molecular structure of the virus as well as the virus life cycle. To this end, we have embarked on a series of projects to determine the molecular structure of certain viral enzymes as well as to define regulatory mechanisms that control FIV expression.
---
Education
Ph.D. (Biochemistry), Purdue University, 1975
M.S. (Cell Physiology), Purdue University, 1973
B.S. (Biological Education), Purdue University, 1971
---
Professional Experience
2013-2017 Professor (Joint Appointment), Cell and Molecular Biology (CMB), Scripps Research
2012-2017 Professor, Immunology and Microbial Science (IMS), Scripps Research
1993-2012 Professor, Molecular Biology, Scripps Research
1991-1993 Associate Professor with tenure, Molecular Biology, Scripps Research
1982-1991 Associate Professor with tenure, Dept. of Molecular Biology, Research Institute of Scripps Clinic
1978-1982 Assistant Professor II, Dept. of Cellular and Developmental Immunology, Research Institute of Scripps Clinic
1977-1978 Assistant Professor I, Dept. of Cellular and Developmental Immunology, Research Institute of Scripps Clinic
1977-1977 Research Associate, Dept. of Cellular and Developmental Immunology, Research Institute of Scripps Clinic
1975-1977 Research Fellow, Dept. of Immunopathology, Scripps Clinic and Research Foundation
---
Awards & Professional Activities
Reviewing Member, AIDS and Related Research Review Group 2, National Institutes of Health; Editorial Boards,
Journal of Virology, Virology
. Clinical and Celular Immunology
---
Selected References
172) Hu QY, E. Fink, Y. Hong, C. Wang, CK Grant, JH Elder (2010) Fine definition of the CXCR4-binding region on the V3 loop of feline immunlodeficiency virus surface glycoprotein. PLoSONE 18,5(5):e10689. PMCID: PMC2872658
173) Chang MW, M.J. Giffin, R. Muller, J. Savage, Y.C. Lin, S. Hong, W. Jin, L.R. Whitby, J.H. Elder, D.L. Boger, B.E. Torbett (2010) Identification of broad-based HIV-1 protease inhibitors from combinatorial libraries. Biochem J. 1;429(3):527-32. PMCID: PMC3084599
174) Hu QY, E. Fink, M. Happer, J.H. Elder (2011) Identification of Amino Acid Residues Important for Heparan Sulfate Proteoglycan (HSPG) Interaction within Variable Region 3 of the Feline Immunodeficiency Virus Surface Glycoprotein J. Virol. 84(14):7108-17. PMCID: PMC3126603
175) Lin YC, A.L. Perryman, A.J. Olson, B.E. Torbett, J.H. Elder, C.D. Stout. (2011) Structural basis for drug and substrate specificity exhibited by FIV encoding a chimeric FIV/HIV protease Acta Cryst. D67, part 6, 540-548 PMCID: PMC3107052
176) Miller C., H. Bielefeldt-Ohmann, M. Macmillan, S. Huitron-Resendiz, S. Henriksen, J.H. Elder , S. Vandewoude (2011) Strain-specific viral distribution and neuropathology of feline immunodeficiency virus Vet Immunol Immunopathol. PMCID:PMC3167954
177) Bucy D.S., M. S Brown, H. Bielefeldt-Ohmann, J. Thompson, A.M. Bachand, M. Morges, J.H. Elder, S. VandeWoude (2011) Early detection of neuropathophysiology using diffusion-weighted magnetic resonance imaging in asymptomatic cats with feline immunodeficiency viral infection J. Neurovirol. 17(4) 341-52 PMID 21786078 In press
178) Thompson J. MacMillan M, Boegler K, Wood C, Elder JH, VandeWoude S (2011) Pathogenicity and rapid growth kinetics of feline immunodeficiency virus are linked to 3' elements PLoS One 6(8)e24020 PMID 21887365 in process
179) Hu Q.-Y., Fink, E., Elder, (2012) J. Mapping of Receptor Binding Interactions with the FIV Surface Glycoprotein (SU); Implications Regarding Immune Surveillance and Cellular Targets of Infection, Retrovirology (4): 1-11 PMCID:PMC3523734
180) Tiefenbrunn, T., Forli, S., Baksh, M.M., Chang, M.W., Happer, M., Perryman, A.L., Torbett, B.E., Olson, A.J., Elder, J.H., and Stout, C.D. (2012) Small Molecule Regulation of Protein Conformation by Binding inthe Flap of HIV Protease ACS Chemical Biology (8): 1223- 1231 PMCID:PMC3769432

181) Lin, Y.-C., Happer, M., Elder, J.H. (2013) Selection of Drug-resistant Feline Immunodeficiency Virus (FIV) Encoding FIV/HIV Chimeric Protease in The Presence of HIV-specific Protease Inhibitors, J. Virology. 87(15):8524-34. PMICD: PMC3719837

182) Troyer, R.M., Thompson, J., Elder, J.H., VandeWoude, S. (2013) Accessory Genes Confer a High Replication Rate to Virulent Feline Immunodeficiency Virus, J. Virology, 87(14):7940-51. PMCID: PMC3700203
183) Wood, B.A., Carver, S., Troyer, R.M., J., Elder, VandeWoude, S. (2013) Domestic cat microsphere immunoassays: detection of antibodies during feline immunodeficiency virus infection, J. of Imm. Methods, 396(1-2):74-86 yet PMCID: PMC3823060

184) Tefenbrunn, T., Forli, S., Happer, M., Gonzalez, A., Teal ,Y., Soltis M., Elder J.H., Olson, A.J., Stout, D.C. (2013) Crystallographic Fragment-Based Drug Discovery: Use of a Brominated Fragment Library Targeting HIV Protease, Chem. Biol. Drug Des., 83(2):141-8 PMCID: PMC3898673
185) Hu, Q-Y., Fink, E., Grant, C.K., Elder, J.H. (2014) Selective Interaction of Heparin with the Variable Region 3 within Surface Glycoprotein of Laboratory-adapted Feline Immunodeficiency Virus PLoS One 18;9(12):e115252. PMCID: PMC4270745.
186) Logan, C., Todorof, K., Fiorillo, S.P., Campbell,T.B., Elder, J.H., Borok, M., Gudza, I., Gwanzura, L., Ndemera, B., Lochhead, M.J., Benson, C.A., Schooley, R.T., (2016) Rapid Multiplexed Immunoassay for Detection of Antibodies to Kaposi's Sarcoma-Associated Herpesvirus,PLOS ONE DOI:10.1371/journal.pone.0163616 PMCID: PMC5036886.
187) Fink, E., Fuller, K., Agan, B., Berger, Saphire, A, Quinnan, G.V., Elder, J.H., (2016) Humoral Antibody Responses to HIV Viral Proteins and to CD4 Among HIV Controllers, Rapid and Typical Progressors in an HIV-Positive Patient Cohort, AIDS Research & Human Retroviruses Dec;32(12):1187-1197. PMID: 27771962.
188) Bashratyan R, Regn D, Rahman MJ, Marquardt K, Fink E, Hu WY, Elder JH, Binley J, Sherman LA, Dai YD.(2017) Type 1 diabetes pathogenesis is modulated by spontaneous autoimmune responses to endogenous retrovirus antigens in NOD mice, European Journal of Immunology. March;47(3):575-584. PMID:28083937

---
Links