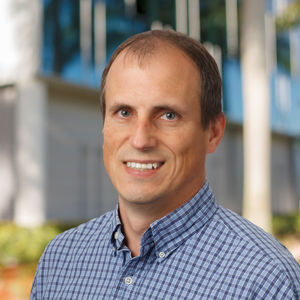 Michael Cameron, PhD
Email
---
Scripps Research Joint Appointments
---
Research Focus
The Cameron Laboratory works on a variety of independent and collaborative projects centered on the metabolic fate of new chemical compounds. We explore the role of drug metabolism in chemical induced toxicity and drug-drug interactions. Current projects include evaluation of reactive metabolites and their role in drug induced toxicity, time and mechanism based inhibition of cytochrome P450, and the development of chemical tools to differentiate CYP3A4 and CYP3A5 activity in biological samples. The lab is also involved in several translational projects focused on the development of clinical candidates or molecular probes for the study of biological pathways. The lab offers Drug Metabolism and Pharmacokinetics (DMPK) expertise, collaborating with medicinal chemistry, biology and pharmacology groups. The lab evaluates such factors as chemical and metabolic stability, solubility, oral absorption, rat and mouse pharmacokinetics, tissue distribution, protein binding, P450 inhibition, reactive intermediate formation, and metabolite identification to help refine molecules. Current projects include optimization of neuropeptide Y Y2 receptor antagonists, orexin-1 receptor antagonists, (GABA) B receptor positive allosteric modulators, neurotensin 1 receptor agonists, a5* nicotinic acetylcholine receptors, positive allosteric modulators, kappa opioid receptor antagonists, and functionally biased mu opioid receptor agonists.
---
Education
Ph.D. (Biochemistry), Utah State University, 2000
B.S. (Chemistry), Gonzaga University, 1994
---
Professional Experience
2013-2017 Associate Professor, Molecular Therapeutics, Scripps Research
2007-2013 Assistant Professor of Molecular Therapeutics (Joint Appointment), Molecular Therapeutics, Scripps Research
2003-2005 Senior Scientist, CellzDirect
---
Selected References
Eno MR, El-Gendy BE, Cameron MD. P450 3A Catalyzed O-dealkylation of Lapatinib Induces Mitochondrial Stress and Activates Nrf2. Chem Res Toxicol. 2016 Mar 9. [Epub ahead of print] PMID:26958860.
Eno MR and Cameron MD. Guaging Reactive Metabolites in Drug-Induced Toxicity. Curr Med Chem. 2015;22(4):465-89.
Chang MR, He Y, Khan TM, Kuruvilla DS, Garcia-Ordonez R, Corzo CA, Unger TJ, White DW, Khan S, Lin L, Cameron MD, Kamenecka TM, Griffin PR. Antiobesity Effect of a Small Molecule Repressor of RORγ. Mol Pharmacol. 2015 Jul;88(1):48-56.
Li X, Jeso V, Heyward S, Walker GS, Sharma R, Micalizio GC, Cameron MD. Characterization of T-5 N-oxide Formation as the First Highly Selective Measure of CYP3A5 Activity. Drug Metab Dispos 2014 Mar;42(3):334-42.
---
Links