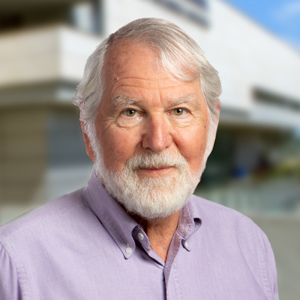 Joel Buxbaum, MD
Email
---
Scripps Research Joint Appointments
---
Research Focus
Molecular Basis of Acquired and Hereditary Human Disease

In the human amyloidoses, soluble proteins, synthesized and secreted from the cell, become insoluble in tissues with resultant organ compromise. The serum protein transthyretin is the precursor to the deposited protein in late-onset hereditary and acquired forms of neurologic, heart and kidney amyloidosis. We have established a disease model by creating a strain of mice carrying the human gene. In humans, amyloid deposition requires many years for initiation and progression. In our transgenic mice, by two years of age, a majority develop age-dependent deposition of the human protein in the heart and/or kidneys, a delay consistent with the late onset seen in humans. Prior to the appearance of Congophilic fibrils, the animals display less structured deposits that appear to be precursors to the amyloid fibrils. Analysis of this apparent in vivo folding intermediate should provide insight into the pathologic process responsible for the human disease. Our studies are designed to determine why deposition is age-dependent and what factors modulate the changes in protein conformation from the non-fibrillar to the fibrillar state.
---
Education
M.D. (Medicine), Tufts University, School of Medicine, 1962
B.S., Union College, 1958
---
Professional Experience
2016-2017 Professor Emeritus, Molecular and Experimental Medicine (MEM), Scripps Research
2010-2016 Professor, Molecular and Experimental Medicine (MEM), Scripps Research
---
Awards & Professional Activities
1980-1981, American Cancer Society Scholar in Cancer Research
1997-2000, Frank G. Spencer Fellow New York Affiliate American Heart Association
2000, Edward Bierman Lecturer Mid-Winter Conference on Controversies in Medicine
2011, Ellison Medical Foundation Senior Scholar Award
2013, Dart-NYU Biotechnology Award
---
Selected References
Wang,X.; Cattaneo,F.; Ryno,L.; Hulleman,J.; Reixach,N.; Buxbaum,J.N. The Systemic Amyloid Precursor Transthyretin (TTR) Behaves as a Neuronal Stress Protein Regulated by HSF1 in SH-SY5Y Human Neuroblastoma Cells and APP23 Alzheimer's Disease Model Mice. J Neurosci. 2014 May:34 (21) 7253-65. PMID:24849358.
Cascella,R.; Conti,S.; Mannini,B.; Li,X.; Buxbaum,J.N.; Tiribilli,B.; Chiti,F.; Cecchi,C. Transthyretin suppresses the toxicity of oligomers formed by misfolded proteins in vitro Biochim.Biophys.Acta. 2013 Sept. 1832:(12):2302-14. PMID:24075940
Li, X, Zhang X, Yadav JK, Du D, Wright PE, Kelly JW, Buxbaum, JN. Mechanisms of transthyretin inhibition of β-amyloid aggregation: the roles of the thyroxine binding site and tetramer stability J Neurosci. 2013 Dec 11;33(50):19423-33. PMID:24336709.
Zhao L, Buxbaum JN, Reixach Natàlia, Age-related oxidative modifications of transthyretin increase its amyloidogenicity. Biochemistry 2013 Mar 19;52(11):1913-26. PMID:23414091.
Buxbaum, Joel N., Tagoe, C., Gallo, G., Walker, J.R., Kurian, S., Salomon, D.R. Why are some amyloidosis systemic? Does hepatic "chaperoning at a distance: prevent cardiac deposition in a transgenic model of human senile systemic (transthyretin) amyloidosis? FASEB J. 2012 Jun;26 (6):2283-93. PMID:22362898.
Li, X., Masliah E., Reixach N., Buxbaum, Joel N.The systemic amyloid precursor transthyretin inhibits Alzheimer neurotoxicity in vivo and in tissue culture. J Neurosci 31:12483-90, 2011. PMCID: PMC3172869
Jacobson D, Tagoe, C, Schwarzbard, A, Shah, A, Koziol, J, Buxbaum, JN. Relationship of Clinical, Echocardiographic and Electrocardiographic Features of Cardiac Amyloidosis to the Presence of the Transthyretin V122I Allele in Older African-American Males. Am J Cardiol 108:440-4, 2011. PMID:21600538.
Bourgault S, Choi S, Buxbaum JN, Kelly JW, Price JL, Reixach N. Mechanisms of transthyretin cardiotoxicity inhibition by resveratrol analogs. Biochem Biophys Res Commun 410:707-13, 2011. PMCID: PMC3145458.
Waalen J. and Buxbaum, JN. Is Older Colder or Colder Older? The Association of Age with Body Temperature in 18,630 Individuals. J Gerontol A Biol Sci Med Sci , 2011 Epub. PMID:2132495
Buxbaum J, Alexander A, Koziol J, Tagoe C, Fox E, Kitzman D. Significance of the amyloidogenic transthyretin Val 122 Ile allele in African Americans in the Arteriosclerosis Risk in Communities (ARIC) and Cardiovascular Health (CHS) Studies. Am Heart J. 2010 May; 159(5):864-70. PMID: 20435197.
Soares ML, Coelho T, Sousa A, Batalov S, Conceição I, Sales-Luís ML, Ritchie MD, Williams SM, Nievergelt CM, Schork NJ, Saraiva MJ, Buxbaum JN. Susceptibility and modifier genes in Portuguese transthyretin V30M amyloid polyneuropathy: complexity in a single gene disease. Hum. Mol. Gen. 14(4):543-553, 2005.
Reixach N, Deechongkit S, Foss T, Jiang X, Kelly JW, Buxbaum JN. Tissue damage in the amyloidoses: Transthyretin monomers and nonnative oligomers are the major cytotoxic species in tissue culture. Proc Natl Acad Sci (USA) 101(9):2817-2822, 2004.
Buxbaum JN. Diseases of protein conformation: what do in vitro experiments tell us about the in vivo diseases? Trends in Biochemical Sciences 28 (11):585-92, 2003.
Teng MH, Yin J, Vidal R, Ghiso J, Tagoe C, Gallo G and Buxbaum JN: Amyloid and non-fibrillar tissue deposits in animals transgenic for wild type human transthyretin: A possible model for senile systemic amyloidosis. Laboratory Investigation 81:385-396, 2001.