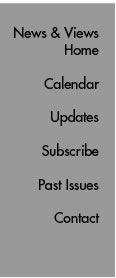 Scripps Research Hosts Breast Cancer Research Advocates
By Cindy Brauer
More than 60 breast cancer research advocates from across the country—many of them cancer survivors—recently came to Scripps Research Institute's California campus to learn about the science of the disease. In particular, they came to hear of the work being done in Associate Professor Brunhilde Felding-Habermann's lab.
The "field trip" to Scripps California was part of the five-day Project LEAD Institute, an intensive science course for breast cancer research advocates covering the basics of cancer biology, genetics, epidemiology, research design, and advocacy. Project LEAD is presented by the National Breast Cancer Coalition, a nation-wide organization that offers diverse and substantive activities, programs, trainings, and events designed to educate and empower individuals to fight effectively to end breast cancer.
"Every day there is hope here," Felding told the Project LEAD participants in her welcoming remarks.
Felding's lab focuses on defining the molecular mechanisms that control tumor metastasis, the process by which cancer can spread from a tumor's primary site to other locations in the body. The afternoon program included break-out sessions presented by Felding and her lab colleagues and Associate Professor Vaughn Smider and his lab staff. Among the topics covered were new antibody formulations, tumor cell metabolism, the role blood vessels play in tumor metastasis, and the basics of breast cancer research "at the bench."
In addition to hosting the Scripps Research event, Felding was a study group faculty leader and provided presentations for Project LEAD's program, held at the nearby Estancia La Jolla Hotel.
For participants and breast cancer survivors Hannah Klein Connolly and Jennifer Wilson, the event's value extended beyond a greater understanding of science and vocabulary of breast cancer.
"[Felding] epitomizes translational science," said Connolly, who helps move research from the lab to the clinic as a breast cancer research advocate at the National Cancer Institute's Specialized Program of Research Excellence at the University of California, San Francisco. "Her research is ultimately about the patient. She knows the disease is about the person."
Wilson, who serves on the Florida Breast Cancer Foundation's Scientific Committee, characterized the Project LEAD program, including the Scripps Research event, as a win-win for advocates and scientists. "We got to see the scientist in the laboratory environment to better understand their work," she said. "And they got to see us as representatives of the patient's perspective and concerns."
Send comments to: mikaono[at]scripps.edu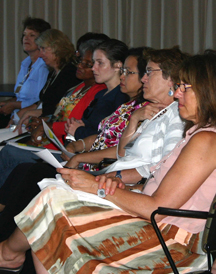 More than 60 breast cancer advocates learned about cancer research efforts at a special presentation hosted by Associate Professor Brunhilde Felding-Habermann and her colleagues. (Photos by Cindy Brauer.)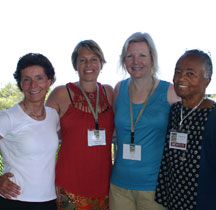 Felding (left) poses with advocates (second left to right) Hannah Klein Connolly, University of California, San Francisco; Jennifer Wilson, Florida Breast Cancer Foundation; and Beverly Canin, Project LEAD advocate mentor. (Photos by Cindy Brauer.)