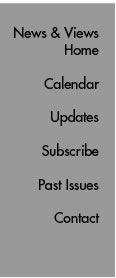 Letter from the President
Happy holidays! It is my pleasure as president of The Scripps Research Institute to wish you and your family the best of the season.
The end of the year is a time of reflection and offers us an opportunity to review our recent accomplishments. I am proud to report that the institute has much to celebrate. In 2010, a year that marked the one-year anniversary of the opening of our permanent facilities in Jupiter, Florida, our research teams on both coasts made remarkable advances.
Breakthrough Discoveries
The institute's scientific contributions in 2010 were outstanding. Here is a small sampling of achievements:
Associate Professor Paul Kenny and colleagues showed for the first time that compulsive eating shares the same molecular mechanisms as addiction to cocaine and heroin, providing new clues to the obesity epidemic. In other research, Kenny and colleagues uncovered a previously unknown natural mechanism that controls cocaine use.
Benjamin Cravatt, chair of the Department of Chemical Physiology and member of the Skaggs Institute for Chemical Biology at Scripps Research, and colleagues found cancer cells co-opt the fat metabolism pathway to become more malignant, providing insight into potential therapeutics for cancer and eye diseases. The Cravatt lab also developed a powerful new method for detecting functional sites on proteins, a technique that may have broad applications in basic research and drug development.
Professor Phil Baran, a member of the Skaggs Institute, and colleagues won the global race to achieve a landmark synthesis of a perplexing natural product that had confounded chemists since its discovery in 1993. The compound, Palau'amine, isolated from a sea sponge, has shown anticancer, antibacterial, and antifungal pharmaceutical promise.
Professor Ian Wilson, who is the Hansen Professor of Structural Biology and a member of the Skaggs Institute, and colleagues solved the structure of a key protein from the virus that caused the "swine flu" influenza epidemic. With Professor Dennis Burton and colleagues, the Wilson group also determined the structure of an immune system antibody molecule that effectively acts against most strains of human immunodeficiency virus (HIV), the virus that causes AIDS, advancing the effort to develop an AIDS vaccine.
Professor Ardem Patapoutian and colleagues identified molecules involved in touch and other mechanically activated systems. The findings could lead to new treatment approaches in pain, deafness, and cardiac function.
Sandra Schmid, chair of the Department of Cell Biology, and colleagues solved the structure of the protein dynamin, helping answer many longstanding questions about how vesicles form, advancing knowledge of a process critical to cell survival, and opening the door to designing better ways to deliver drugs.
Professor Glen Nemerow and Associate Professor Vijay Reddy unveiled the structure of adenovirus, the largest high-resolution complex ever found, after a decade pursuing this goal. The results about the virus, which causes respiratory, eye, and gastrointestinal infections, may lead to more effective gene therapy and to new anti-viral drugs.
Professor Elizabeth Winzeler and colleagues discovered a new type of anti-malarial compound. Clinical trials for the promising new drug candidate are planned.
Professor Raymond Stevens and colleagues reported the molecular structure of dopamine receptor. Knowing the structure of this and other key cell receptors will help scientists understand brain disorders and may accelerate drug discovery. In other work, the Stevens lab determined the structure of a protein that helps guide blood-forming (hematopoetic) stem cells.
Charles Weissmann, chair of the Department of Infectology, and colleagues showed that "lifeless" prions, bits of infectious protein devoid of DNA or RNA that can cause fatal neurodegenerative disease including "mad cow disease," were capable of evolutionary change and adaptation. In related research, Weissmann and colleagues showed that infectious prions can arise spontaneously in normal brain tissue in contact with metal surfaces.
Even though outstanding research is published in many different journals, it is provocative to note that in the last 12 months alone Scripps Research scientists led some 20 studies published in the high-impact journals Science, Nature, and Cell.
Significant New Grants and Generous Gifts
Despite the difficult environment overall for research funding, Scripps Research investigators were successful winning a variety of grants in 2010.
In an acknowledgment of the institute's leadership in structural studies, four groups of Scripps Research scientists won a total of about $65 million in five-year grants from the National Institutes of Health (NIH) to determine the shapes and functions of proteins and protein complexes important in biology and medicine. These grants include $37.6 million to the Joint Center for Structural Genomics consortium, led by Professor Ian Wilson; $16.8 million to a center led by Professor Raymond Stevens, together with Assistant Professor Vadim Cherezov, Associate Professor Peter Kuhn, Professor Hugh Rosen, and Professor Kurt Wüthrich; $5.8 million to a group led by Professor James Williamson and Associate Professor Daniel R. Salomon; and $5 million to the portion of a collaboration (with the California Institute of Technology and University of Colorado) led by Associate Professor Geoffrey Chang.
Professor Peter Schultz, who holds the Scripps Family Chair and is a member of the Skaggs Institute, was awarded $6.8 million from the California Institute for Regenerative Medicine (CIRM), the state stem cell agency created by proposition 71. The grant will enable the Schultz lab to focus on developing a stem cell therapy for osteoarthritis, which currently affects more than 40 million Americans.
Professor Claes Wahlestedt won a pair of NIH grants totaling $6 million to develop new therapeutic approaches to alcohol addiction and Fragile X syndrome, a form of inherited mental retardation often linked to autism.
Professor Reza Ghadiri, a member of the Skaggs Institute, was awarded a four-year, $5.1 million grant as part of an NIH initiative to spur the development of the next generation of DNA sequencing technologies, which could enable biomedical researchers and health care workers to routinely sequence a person's DNA.
Ronald Davis, chair of the Scripps Research Department of Neuroscience on the Florida campus, won a three-year, $3.2 million NIH grant to identify the full spectrum of genes involved in learning and memory in Drosophila, the common fruit fly. The research could lead to a number of new therapeutic targets for several major cognitive and neurological disorders, including Alzheimer's disease.
Professor Carlos F. Barbas III, who holds the Janet and W. Keith Kellogg II Chair in Molecular Biology and is a member of the Skaggs Institute, won an NIH Director's Pioneer Award, an honor that includes up to $2.5 million in research funding over five years. The award is given to exceptionally creative scientists who take innovative approaches to major challenges in biomedical research. The funding will support a project concerning chemically programming immunity, research that could lead to "instant immunity" vaccines for the flu, HIV-1, and cancer.
Associate Professor and Skaggs Institute member Geoffrey Chang, whose work focuses on the transport of substances across the cell membrane, was awarded a EUREKA (for Exceptional, Unconventional Research Enabling Knowledge Acceleration) award from the National Institutes of Health (NIH) "for exceptionally innovative research projects that could have an extraordinarily significant impact on many areas of science."
Many other Scripps Research investigators also won funding in 2010.
In addition, many generous donors contributed to the institute's support in 2010. We are grateful for all our donors and their contributions to our cutting-edge research.
In May, the institute dedicated the Dorris Neuroscience Center on the La Jolla campus. The event launched the newly consolidated research center and honored long-time Scripps Research supporter Helen Dorris, whose gifts include an endowment to support neuroscience research. Scientific investigations at the Dorris Neuroscience Center will deepen our understanding of the nervous system and set the stage for breakthroughs in the treatment of neurological diseases.
Also in the last 12 months, Miami physician, businessman, and philanthropist Phillip Frost and his wife, Patricia Frost, long-time supporters of the arts and education, gave $1 million to Scripps Florida. This gift follows the Frosts' first generous million-dollar donation in 2008.
The institute also received a bequest of nearly $1 million to support cancer research from longtime donor Elizabeth Lowell Sutton of Palm Desert, who passed away in October. We appreciate her benevolence and foresight in remembering Scripps Research in her will.
Awards and Honors
As has become the norm, Scripps Research scientists at all levels were recognized with awards and honors, a few of which are highlighted here.
K. C. Nicolaou, who is chair of the Department of Chemistry, Aline W. and L.S. Skaggs Professor of Chemical Biology, Darlene Shiley Chair in Chemistry, and member of the Skaggs Institute, was awarded the Benjamin Franklin Medal in Chemistry. Franklin Institute Awards are given for outstanding achievements that have enhanced the quality of human life and deepened our understanding of the universe.
Charles Weissmann, chair of the Department of Infectology, received the Great Cross of Merit with Star of the Federal Republic of Germany, a general state decoration awarded by the Federal President for outstanding achievements in the political, economic, cultural, and other fields.
Professor Phil Baran won the Thieme-IUPAC Prize, a prestigious award given every two years to a scientist under the age of 40 whose research has had a major impact on the field of organic chemistry.
Professor Gerald Joyce, a member of the Skaggs Institute, was selected by the National Academy of Sciences (NAS) to receive the first Stanley Miller Medal of the NAS Award for Early Earth and Life Sciences.
Professor James Williamson, dean of graduate and postgraduate studies and member of the Skaggs Institute, was elected a member of the American Academy of Arts and Sciences, an honorary society that recognizes achievement in the natural sciences, social sciences, arts, and humanities.
Professor Peter Vogt was awarded the Szent-Györgyi Prize for Progress in Cancer Research from the National Foundation for Cancer Research, for contributing to outstanding, substantial research to the fight against cancer and helping improve treatment options for cancer patients.
Professor Dale Boger, who is Richard and Alice Cramer Professor of Chemistry and a member of the Skaggs Institute, was named a new fellow of the American Chemical Society, in honor of his outstanding achievements in and contributions to the science, the profession, and service to the society.
Professor Kurt Wüthrich, a Nobel laureate who is Scripps Research's Cecil H. and Ida M. Green Professor of Structural Biology and a member of the Skaggs Institute, was named a foreign member of The Royal Society, a 350-year-old independent academy in the United Kingdom promoting the natural and applied sciences.
Professor Julius Rebek, Jr., director of the Skaggs Institute for Chemical Biology, won the 2011 Nichols Award from the New York Section of the American Chemical Society, awarded to a chemical scientist for original research. He was also made an honorary member of the faculty of the Department of Mathematics and Natural Sciences of the University of Bonn, Germany.
Associate Professor Paul Kenny won the Jacob P. Waletzky Memorial Award for Innovative Research in Drug Addiction and Alcoholism.
Assistant Professor Changchun Xiao, whose work focuses on small RNAs, was named a 2010 Pew Scholar in the Biomedical Sciences by the Pew Charitable Trusts.
In addition, I received an honorary degree from the University of Warwick in the United Kingdom in July.
The year will also be remembered for the Lasker Lecture at Scripps Florida, in which Nobel laureate and Lasker Award winner Jack Szostak and Scripps Research Assistant Professor Brian Paegel spoke to a full house in the Rodney B. Fink Education Pavilion. The pair addressed recent laboratory experiments that seek to recreate the formation of the first living cells from the basic chemical building blocks of nature.
The Work of Many
The institute's remarkable accomplishments this year were made possible by the dedication of many individuals—donors, trustees, faculty, technicians, postdoctoral fellows, students, and staff. Thank you for sharing your knowledge, resources, and talents with the institute.
Best wishes for a happy and healthy 2011!
Sincerely,
Richard A. Lerner
Send comments to: mikaono[at]scripps.edu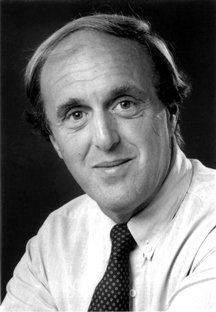 President Richard A. Lerner sends his holiday greetings.