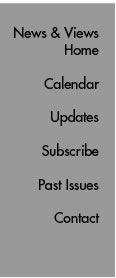 In Brief
Deposit Holiday Cheer with the Food Bank
ScrippsAssists, the Scripps Research employee volunteer club, will again be participating in a food drive for the San Diego Food Bank starting Monday, November 29.
Marked red bins will be coming soon to the following locations:
Beckman Building Lobby (2nd Floor)
Immunology Building
DNC Building (formerly ICND)
3377 Human Resources Building (2nd Floor)
MB Building (1st Floor)
3030 Science Park Building
CIMBio/CarrB Building
3301 Administration Building
San Diego County Credit Union Building
Gluck Childcare Center
Most-needed items include: canned meat and tuna, canned meals (chili, stew, ravioli, etc.), tomato products, canned fruits and vegetables (especially corn and green beans), canned soups and beans, peanut butter, dry cereal, powdered milk, macaroni and cheese, spaghetti, and rice.
The food bank can only accept non-perishable items labeled with ingredients and expiration dates. Due to food safety regulations, the food bank is unable to accept: home canned or baked products, glass containers, baby food in glass jars, or cans that are leaking or bulging.
MONETARY DONATIONS
Let ScrippsAssists do the shopping for you! For the challenge, volunteers will convert monetary donations into pounds. Every dollar converts into 10 pounds of food and enables the team to distribute enough food for three meals:
$10 converts into 100 pounds of food, which provides enough for 30 meals
$100 converts to 1,000 pounds of food, which provides enough for 300 meals
For further information, please contact: Taylor Cohen, at taycoh@scripps.edu. Checks should be made out to the San Diego Food Bank and sent to Taylor at BCC169. If you would prefer to make a donation with a credit card, watch for updates with information on the Virtual Food Drive.


Scripps Research Store Restocks
Just in time for the holidays, the Human Resources Department has received a new shipment of Scripps Research merchandise.
New this year are shoulder backpacks for $15, stainless steel water bottles for $5, and dark blue hoodies for $30. Additional merchandise includes:
Children's tee shirts in red, green, or yellow, $10
Women's fitted tee in light blue, navy, black, or white, $15
Women's polo shirt in pink, navy, black, or light blue, $25
Women's 3/4 sleeve v-neck tee in light blue, navy, black, or white, $20
Women's hooded sweatshirt in light blue and plum, $35
Women's 1/4" zip waffle shirt in taupe/beige, $40
Women's full zip ribbed jacket in bayberry and black, $40
Men's polo shirt in navy, white, or black, $25
Men's tee in white or black, $15
Men's sleeveless fleece vest in black, $35
Men's full zip ribbed jacket in dark blue, $40
Hats in blue or black, $15
Sale items available at the Fall Craft Fair (details below) on December 2 include:
Crew neck sweatshirts in white, $10
Women's crew neck sweatshirts in light blue, $10
Women's long-sleeve "moisture wicking" shirts in sage green, $10
To make a purchase, attend the ScrippsAssists Fall Craft Fair and Raffle or drop by the Human Resources Department on the California campus, 3377 N. Torrey Pines Court, second floor, between 8 AM and 5 PM. Cash or checks only.


Don't Miss the Fall Craft Fair and Raffle December 2
The annual ScrippsAssists Fall Craft Fair and Raffle will be held Thursday, December 2 from 11 AM to 1:30 PM on the Immunology Building breezeway, La Jolla, CA campus. The Craft Fair offers the opportunity to get some of your holiday shopping done and support the on-campus charitable efforts of ScrippsAssists, the Scripps Research employee volunteer group.
At the Craft Fair, about 30 Scripps Research employees/crafters will sell hand-made articles including: knitted and quilted items; jewelry; decoupage gift items; Jalapeno pepper jam; photo albums; crafts made from wood; painted sea shells; catnip toys; decorative bottles; photographs; amazing Amino Acid beads for making molecular jewelry; all-occasion and holiday cards; custom embroidery; beaded flatware serving pieces; landscape designs; illustrated children's books; pottery; hand-painted Christmas ornaments and other holiday decorations; out-of-this-world handmade chocolates; caramel apples; baked treats; and more. Scripps Research merchandise will also be available. You can see the location of your favorite exhibitors by viewing the Craft Fair flyer at: http://www.scripps.edu/dist/Fall_Floorplan_2010.pdf.
In addition, you will be able to buy $1 raffle tickets at the event for a chance to win prizes donated by vendors, including two grand prizes—two round-trip airline tickets for anywhere Southwest Airlines flies courtesy of Culinary Concepts, and, new this year, a $500 store gift card courtesy of Bowers Jewelers in La Jolla. Other prizes include: $25 gift cards from Vons, $25 gift cards from Ralphs, tickets to the Birch Aquarium, one-day passes to the San Diego Zoo, a jewelry pendant or necklace donated by Sue & Dave Revak, and a special donation from the San Diego County Credit Union.
Raffle tickets are only sold at the Craft Fair and there is no limit to the number of tickets you may buy. You need not be present to win a prize. Every dollar collected from the raffle is given to ScrippsAssists to continue their good work in the San Diego County community.


Upcoming Onsite Clinics
On Monday, November 22 and Wednesday, November 24, personnel from Sharp Rees-Stealy Medical Group will be onsite to conduct TB screenings, hepatitis B immunizations, serum draws, and tetanus immunizations.
The clinics will be conducted in the 3366 Building, in Room 325, on the third floor, from 11 AM to 2 PM on Monday and Wednesday. There will not be a clinic on Friday, due to the holiday.
No appointments are necessary. TB screening requires a 48 to 72 hour follow-up. Individuals receiving the TB screen on Monday will need to return on Wednesday. Initiation of the TB screening process will not be available on Wednesday, but hepatitis B immunization, serum draws, and tetanus immunizations will be. To learn more about these programs, see the Environmental Health & Safety Occupational Medicine web page.


News&Views Talks Turkey
News&Views will not be published next week due to the Thanksgiving holiday. Regular weekly publication will resume Monday, December 6.
Send comments to: mikaono[at]scripps.edu

ScrippsAssists CA Celebrates Its Volunteers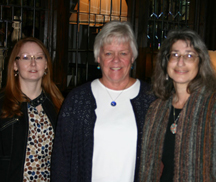 A luncheon on November 17 celebrated the efforts of ScrippsAssists California volunteers on a range of projects from feeding the homeless to maintaining the Torrey Pines State Reserve. Here, new ScrippsAssists co-chairs Mishelle Mcclanahan-Shinn (left) and Marcia McRae mingle with long-time ScrippsAssists chair Helen Plutner (right), now retired.