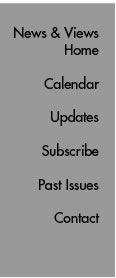 Scripps Research Books
Face Time
By Mika Ono
The Scripps Research Institute is now on Facebook, so you can become a "fan" or adopt it as a "cause" to help spread the word about the institute to the wider community.
"We want to build up our presence on Facebook to increase awareness of the institute nationally and internationally," said Melissa Wagoner, senior communications specialist at Scripps Research. "One advantage of Facebook is that it is set up for viral communication—when one person becomes a fan, that information can potentially be sent to hundreds of people."
Philanthropy Officer Elliot Wolf added, "Facebook especially appeals to a younger demographic—future friends of and donors to the institute. We want to reach out to the next generation to plant the seed for the institute's support in the coming decades."
Since the drive began last month to begin recruiting new Facebook fans for Scripps Research, the number of fans has increased from fewer than 100 to more than 1,200 at last count. In addition to people from the United States, fans include individuals from Germany, the United Kingdom, Canada, Italy, Spain, Australia, Switzerland, France, Greece, Taiwan, and other countries around the globe. One enthusiastic supporter invited 1,500 friends to become fans of the institute, noted Wolf.
The Scripps Research Facebook page is updated regularly with news about findings by the institute's scientists. The cause page also has a button that gives viewers the option to donate to the institute.
To become a fan of Scripps Research on Facebook, go to http://www.scripps.edu/scrippsfan. To make Scripps Research a Facebook cause, go to http://www.scripps.edu/scrippscausee.
Send comments to: mikaono[at]scripps.edu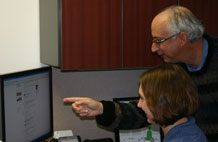 The Scripps Research Institute now has more than 1,200 fans on Facebook, thanks to an effort spearheaded by Senior Communications Specialist Melissa Wagoner and Philanthropy Officer Elliot Wolf.