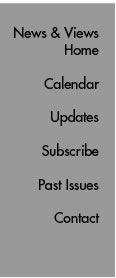 In Brief

'Tis (Always) the Season
ScrippsAssists sends out a big "thank you" to all those who participated in the holiday drives on the La Jolla campus.
Through the Adopt-a-Family Program, participants from Scripps Research adopted 20 families through the agency Home Start. One donor also gave a gift of $500 to the organization. "This year was a complete success," writes Laura A. Mustari, CEO of Home Start. "Through the combined efforts of you and other gracious donors, we were able to sponsor 102 families. Your gifts made all the difference to those in need."
Through the holiday food drive, Scripps Research employees donated 1,409 pounds of food, 200 pounds more than last year, as well as about $750 in cash, also an increase over last year. The San Diego Food Bank—whose slogan is "hunger has no season"—collected the donated food through the holiday season, as well as afterwards, as the food will serve the San Diego community for months to come.

Lunch & Learn: "Getting Fiscally Fit"
The Counseling Office and The Foundation for Personal Financial Education present "Getting Fiscally Fit: A Financial Planning Workshop for Employees," on Wednesday, February 11, from noon to 1 PM as part of the ongoing Lunch & Learn seminar series. In this workshop, participants will learn how to: overcome the roadblocks to financial success, create and maintain a financial blueprint, cultivate daily habits to positively influence your financial fitness, develop action steps to financial freedom, identify cash flow traps, put dollars back into your monthly cash flow through proper tax-planning. The event will be held in the Keck Amphitheater, Beckman Building, La Jolla campus.
Send comments to: mikaono[at]scripps.edu