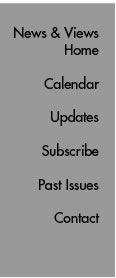 In Brief

Donations to United Way Support Local Communities
Over the next few days, Scripps Research employees have the chance to strengthen their local community. By giving $5, $10, $20 or more per pay period to the United Way, employees can make a difference in someone's life. Donations to the United Way support a network of services that together serve entire families and neighborhoods, investing in children and youth, strengthening families, empowering seniors and the disabled, promoting health and wellness, and meeting emergency needs. For information about the United Way, visit the United Way website. Look to your e-mail for information on how to sign up. The deadline is Friday, December 5. Questions can be directed to Jan Tuomainen, x48825 or jantt@scripps.edu, or the Scripps Research United Way representative, Randi Ludwick, at (858) 636-4143, or rludwick@uwsd.org.

Andrew's Café Closed Until January 5
The cafeteria in 3300 N. Torrey Pines Court will be closed for renovations from Monday, November 24, 2008, until Monday, January 5, 2009. The cafeteria at 3040 Science Park will remain open for service during this time. Catering orders are still welcome, but please call the 3040 Science Park Cafeteria, at (858) 784-7106, to place your order. For more information, contact Andrew Shih, at (858) 784-7106, or James Jaeger, Facilities Planning & Construction, at (858) 784-8183.

Upcoming Onsite Clinics
On Monday, December 1, Wednesday, December 3, and Friday, December 5, personnel from Sharp Rees-Stealy Medical Group will be onsite to conduct TB screenings, hepatitis B immunizations, serum draws, and tetanus immunizations.
The clinics will be conducted in the 3366 Building, in Room 325, on the third floor, from 11 AM to 2 PM on Monday, Wednesday, and Friday.
No appointments are necessary. TB screening requires a 48 to 72 hour follow-up. Individuals receiving the TB screen on Monday will need to return on Wednesday, and individuals screened on Wednesday, will need to return on Friday. Initiation of the TB screening process will not be available on Friday, but hepatitis B immunization, serum draws, and tetanus immunizations will be. To learn more about these programs, see the Environmental Health & Safety Occupational Medicine web page.

News&Views Pauses to Give Thanks
News&Views will not be published next week due to the Thanksgiving holiday. Regular weekly publication will resume with the Monday, December 8, 2008 issue.
Send comments to: mikaono[at]scripps.edu