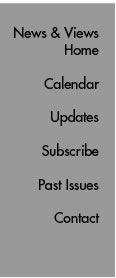 Etcetera
Scripps Research Hosts Stem Cell Course
Under the direction of Professor Jeanne Loring, The Scripps Research Institute hosted a dozen scientists this month for a 10-day course on stem cell research. Participants, who were chosen from around the world based on their potential to perform outstanding research in the field, received hands-on training on how to culture, manipulate, and differentiate embryonic stem cells from humans in vitro. Sponsored by the National Institutes of Health (NIH), the Embryonic Stem Cell Culture Training Course aims to ready participants to design and set up their own research projects.
"[The course was] a lot of work, but very exciting," says Loring, who directed the workshop with Philip Schwartz of the Children's Hospital of Orange County and Robin Wesselschmidt of Scripps Research. "We had a balance of academic and industry scientists, and an international group of participants."
This year's student roster included participants from as far away as Malaysia and Singapore, as well as researchers from institutions closer to home, such as the U.S. Food and Drug Administration, the Burnham Institute, and San Diego biotechnology companies.
Send comments to: mikaono[at]scripps.edu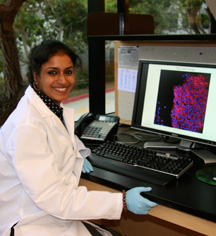 Kavita Mohan, a research scientist from Millipore, Inc. in Temecula, poses next to her photo of human embryonic stem cells labeled with antibodies to specific stem cell markers. Her image was one of five winners of a photo contest held in conjunction with the Embryonic Stem Cell Culture Training Course at Scripps Research this month. Photo by Jeanne Loring.