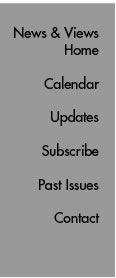 Generous Gifts Make Possible Merit Awards for Graduate Students
The Scripps Research Institute Office of Graduate Studies has announced the names of students at the Kellogg School of Science and Technology who have been selected to receive merit-based fellowships for the 2007-2008 academic year.
"Congratulations to the award winners," says Professor Jeffery Kelly, dean of graduate and postgraduate studies, "and many thanks to the donors of these fellowships. Because of their generosity, we have the opportunity to recognize and support outstanding students of biology and chemistry."
This year's awards include:
Achievement Rewards for College Scientists (ARCS) scholarships, which will fund Aaron Leconte, Kris Koudelka, Gabe Lander, Jackie Blankman, Gabe Simon, and Dena Marinucci, as well as continuing ARCS scholars Joie Garfunkle, Noah Burns, Amber Murray, and Craig Yoshioka. The ARCS® Foundation is an all-volunteer organization dedicated to helping the best and brightest students in science, engineering, and medicine nationwide.


The Bagel (pronounced "ba - jél") Graduate Student Fellowship, which will be held by Crystal Moran. The Bagel Fellowship was established by an anonymous gift in 2003 to endow funding for a student in his or her first critical year of study.


Norton B. Gilula Graduate Student Fellowships, which go to Kiyomi Komori and Sangyeul Lee. The Gilula Fellowship, primarily supported by contributions from Scripps Research faculty and administration, honors the late Norton Gilula, cell biologist and first dean of the Scripps Research graduate program.


Fletcher Jones Fellowships, which will be held by Brad Charette and Ashley Pratt. These fellowships are supported by 1993 and 2003 grants from The Fletcher Jones Foundation to endow graduate scholarships at the Kellogg School. The Fletcher Jones Foundation, established in 1969 by mathematician, businessman, and computer science visionary Fletcher Jones, specializes in grants to private colleges and universities, particularly those in California.


The Novartis Graduate Fellowship in Organic Chemistry for Minorities and Women, which will be held by Amira Moreno Vera. The fellowship from the Novartis Institutes of Biomedical Research, Inc. for a student of "high quality and high potential" aims to encourage women and minorities to continue in the field of organic chemistry.


Pfeiffer Foundation Scholarships, which go to Peter Watson, Emily Plummer, and Jonathan Lam. The Gustavus and Louise Pfeiffer Research Foundation makes grants to tax exempt institutions for projects or programs carried out in the United States for advancement of medicine and pharmacy, including scientific research, post-graduate scholarship and fellowship assistance, and studies in nutrition, blindness, deafness, and other physical disabilities.


A San Diego Foundation scholarship from the Norman & Margaret Lassey Fund, which will be held by Florina Voica. The San Diego Foundation is a community resource for receiving, managing, and distributing charitable funds to support organizations within the San Diego area.


The Delia Baxter Fellowship, which will be held by Erin Anderson, and the Donald Baxter Fellowship, which will be held by Miller Tran. The Donald and Delia Baxter Foundation was established to advance charitable, scientific, and educational purposes, primarily at medical and scientific schools of higher learning in California.
The selection criteria for these fellowships are primarily based on excellence in research as demonstrated by publications and contributions to the graduate program.
Send comments to: mikaono[at]scripps.edu

---
"Congratulations to the award winners and many thanks to the donors of these fellowships."
—Jeffery Kelly
---