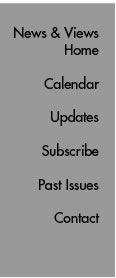 In Brief

SOF Announces Postdoc Symposium Winners
The Scripps Research Institute Society of Fellows (SOF) has announced the winners for top oral and poster presentations at the October 4 Fall Postdoc Research Symposium. The winners are:
ORAL PRESENTATIONS
Chemistry and Structural Biology: Andrew Udit, first place; Aaron Wright, second place
Cell & Molecular Biology: Timothy Huang, first place; Marcel Mettlen, second place; Ian Schneider, third place; Jessica Williams, fourth place
Molecular and Experimental Medicine and Neurosciences: Roberto Clemente and Li (Leyna) Zhao, tied for first place
Immunology: Jason Smith, first place; Philippe Krebs, second place; Nicolas Fazilleau and Kenji Yoshida, tied for third place
POSTERS
Chemistry and Structural Biology: Judith Denery, first place; Carlos Valdez, second place
Cell & Molecular Biology: Jesus Torres-Bacete, first place; Davide Gianni, second place
Immunology: Lucile Garidou, first place; Elise Landais, second place

Bob Turner's Image Wins Honorable Mention
BioMedical Graphics Director Bob Turner has brought home another honor for his work, this time an Honorable Mention in the Nikon Small World Photomicrography Competition for his photomicrograph, "Quartz Sample." Small World is a leading forum for showcasing the beauty and complexity of life as seen through the light microscope. For more information on the competition, see http://nikonsmallworld.com/index.php.

Library Tip: Nature News
The news@nature.com website has been relaunched as Nature News. Nature News will still bring the same content as the previous website—daily science news, features, business news stories, and opinion columns from Nature as well as new content.
New content includes:
The Great Beyond, a new blog, offering an "up-to-the minute digest" of science news from around the globe
In the Field, another new blog with reports from conferences and other science events
Increased focus on "investigative journalism" into science issues
Comment! Post your opinions on a story
Sign up with the Nature News RSS feed to have this resource delivered to your desktop via your news aggregator.
Send comments to: mikaono[at]scripps.edu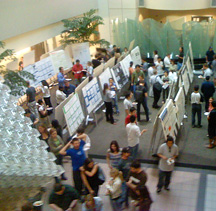 The Fall Postdoc Research Symposium held October 4 attracted hundreds of scientists from around the La Jolla campus. Photo by Ryan Wheeler.