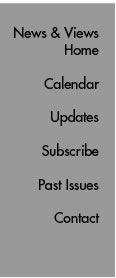 Pardon Our Dust
By Mika Ono
If you've been on the west side of the La Jolla campus recently, you might have been wondering what all the workers, bulldozers, and cranes are doing there. It's all part of a project by The Muller Company, which leases 44,500 square feet of space to The Scripps Research Institute, to renovate and revitalize its office park.
The current activity at the entrance to North Torrey Pines Court centers around providing more accessible parking, native Southern California-inspired landscaping, and new, pedestrian-friendly walkways.
"The crews seem to be making good progress," says Facilities Coordinator John Conde, one of the Scripps Research employees attending quarterly meetings with the Muller Company. "The workers have already poured concrete for the new parking lot entranceways."
The renovated parking lots will have a more open design, so drivers won't have to navigate as many twists and turns to approach the buildings. The remaining work to the North Torrey Pines Court entrance, scheduled to be completed by May, will include irrigation and planting.
These changes are part of a larger effort by The Muller Company that extends into 2008. Currently, extensive reconstruction of 10350, 3333, and 3344 North Torrey Pines Court buildings is ongoing. The company is recruiting tenants for this space, currently vacant, through real estate firm Colliers International, which is emphasizing the advantages of the location on the biotech-dense Torrey Pines Mesa.
Muller Company buildings 3366 and 3377 North Torrey Pines Court—occupied by a number of Scripps Research departments including Human Resources, Research Computing, Environmental Health & Safety, Communications, Postdoctoral Services, and Counseling and Psychological Services—are scheduled for a "facelift" in the second quarter of 2008. The work will include painting and stonework on the exterior, modifications to the breezeways, and upgrades to restrooms and corridors.
While the construction work poses some temporary inconvenience to Scripps California employees and visitors as pedestrians are routed on detours, dust swirls around campus, and bulldozers rev their engines, there will be advantages in the long run. In addition to an attractive entranceway, walkways for pedestrians, and upgraded facilities, a new outdoor patio eating/meeting area between the 3301 and 3333 buildings will provide space to take a break and enjoy the view of the Torrey Pines Golf Course and Pacific Ocean.
Questions? Contact the Muller Company at (858) 587-9955.
Send comments to: mikaono[at]scripps.edu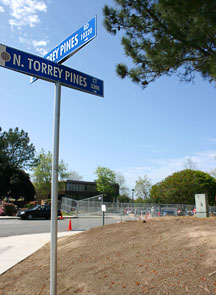 The remaining work to the La Jolla campus's North Torrey Pines Court entrance is scheduled to be completed by May.