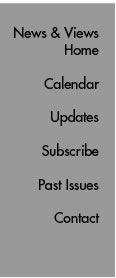 Laugh the Stress Away
By Mika Ono
"The human race has only one effective weapon—and that is laughter."

—Mark Twain
We're now in that familiar danger zone for stress, the holiday season. How can we cope? A recent Lunch & Learn seminar presented one answer—laugh.
"Laughter feels good and is good for you," said John Smith, a counselor with the Faculty and Staff Assistance Program at the University of California, San Diego. "Laughing helps you relax, gives your body a workout, and prevents the ill effects of stress."
How can we find something funny? Smith's answer is that we don't have to. We can simply laugh—even without a reason.
Participants in the Lunch & Learn seminar found themselves being led through laughter exercises, where they practiced different types of laughs—roller coaster laughs, church laughs, lion laughs, apologetic laughs—both in their seats and walking around the room connecting with other participants.
Smith noted that's what happens in laughter clubs, in which people meet regularly to laugh. In fact, laughter clubs have been growing, and, according to the World Laughter Tour, thousands of laughter clubs around the world are spreading "health, happiness, and peace through laughter." A recent San Diego Union-Tribune article reports on one of these clubs, the San Diego Laughter Club, which meets Sundays at 8 AM in Balboa Park (behind the Reuben H. Fleet Museum) for laughter yoga.
Laughter clubs dovetail with recent research showing that our facial expressions can influence our mood. They also build on therapeutic movements in the United States (represented by, for example, the Association for Applied and Therapeutic Humor) and traditional healing practices in India.
One important benefit of laughing is that it helps shift our perspective and keeps us open to new ways of looking at things.
The importance of a perspective was emphasized by a film shown in the workshop, "Celebrate What's Right with the World," about National Geographic photographer Dewitt Jones who was able to take stunning photographs inspired by his conviction that fabulous shots were there to be discovered. Instead of the motto "seeing is believing," the photographer realized that "believing is seeing." If he looked hard enough, he could find beauty and wonder, and celebrate them.
In concluding the workshop, Smith advised participants to use the power of perspective to their own advantage. "Set a simple daily intent," advised Smith. "For example, when you wake up in the morning, tell yourself, 'I'm going to have the best day possible.'"
For more information on the Lunch & Learn seminar series, see the Counseling and Psychological Services Department web site. For more information on laughter clubs, see http://www.worldlaughtertour.com/, and for the San Diego Laughter Club, see http://www.laughteryoga.org.
Send comments to: mikaono[at]scripps.edu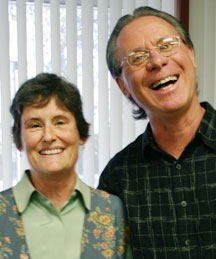 Lunch & Learn speaker John Smith (right) of the University of California, San Diego, laughs with Jan Hill, director of the Scripps Research Counseling and Psychological Services Department . Photo by Kevin Fung.