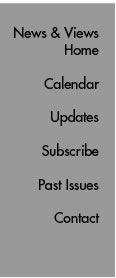 Snapshot:
Jesse Stumpp
Title: Software Trainer.
Duties: Helping members of the Scripps Research community take full advantage of desktop software by providing resources such as classes, one-on-one tutoring, on-line training, and information tips.
Started at Scripps Research: October 2005, as a training assistant; March 2006, as software trainer.
Background: A native of Ohio, Stumpp initially pursued a career in film, earning a degree from Kent State University in Cinematography and Studio Art. Drawn by the movie industry and the weather, she moved to California in [year]. By the early '90s, Stumpp found herself working for the Los Angeles County Museum of Natural History, overseeing the institution's audio visual exhibits. Fascinated by their educational potential, Stumpp returned to school at California State University, Los Angeles for a master's in Instructional Technology.
After graduation, Stumpp launched a new chapter in her career, consulting as a trainer for a variety of companies, including Hyundai Motor America; California State University, Los Angeles; and Avalon Media. She also spent five years as technical support manager and training manager for Acuscape International, Inc., a company that was developing three-dimensional digital interactive patient-specific models for orthodontists. No matter what the setting, she has found it helpful to begin with a needs analysis. "I start by asking, 'What are the training needs for the staff to accomplish their specific tasks.?'"
Favorite Part of Training: Helping people. "It is very rewarding to remove a roadblock for someone who is struggling. Computers are supposed to be tools to help you."
Biggest Challenge: Keeping up with changing technology, including new operating systems for Mac and Windows and updates to numerous software programs.
Immediate Goal: Developing classes based on feedback from the Scripps Research community. While Dreamweaver, Photoshop, Illustrator, and Acrobat classes are in the works, Stumpp is encouraging people to submit additional requests. "Please let me know what you need!" says Stumpp, who can be reached at jstumpp@scripps.edu.
Extracurriculars: Sketching, digital photography, Photoshop projects, tennis, and hiking with her two dogs, Katie and Jackson.
Send comments to: mikaono[at]scripps.edu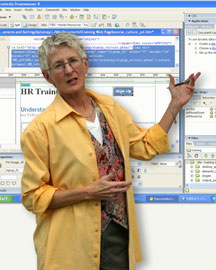 "Please let me know what you need!" says Software Trainer Jesse Stumpp, who can be reached at jstumpp@scripps.edu or x4-8268.