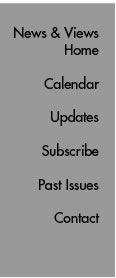 Snapshot:
Pete Herold
Title: Director, Facilities Design.
Duties: Overseeing construction of new buildings as well as renovations on the Scripps Research campuses, working with Scripps Research staff and architectural, engineering, and building contractors.
Arrived at Scripps Research: January 2006.
First Impressions of the Institute: "I'm happy to be here. The people seem friendly and the Planning and Construction staff are all pros."
Background: B.S. in mechanical engineering from Cal Poly, San Luis Obispo. Work in the construction industry; in heating, ventilation, and air conditioning design; and in consulting for engineering firm TKG. Before coming to Scripps Research, Pete was director of facilities for a research institute down the street from Scripps Research's La Jolla campus, The Burnham Institute, for 11 years.
What He Enjoys Most About the Field: "It's exciting to see projects being built."
Family Life: Lives in Alpine with his wife, daughter (age 10), son (age 12), two cats, one dog, and a rabbit. Recently finished rebuilding a house damaged by the fires.
Other Extracurriculars: Surfing, skiing, and water skiing.
Send comments to: mikaono[at]scripps.edu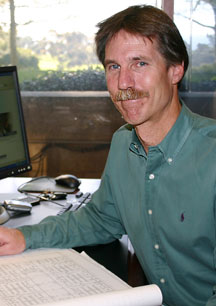 "It's exciting to see projects being built," says Facilities Design Director Pete Herold.