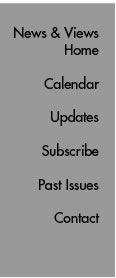 In Brief
Bloom Wins Sarnat Prize in Mental Health
Scripps Research Institute Professor Emeritus Floyd E. Bloom has won the Institute of Medicine of the National Academies' 2005 Rhoda and Bernard Sarnat International Prize in Mental Health. The Sarnat Prize is being given to Bloom, who is also chairman, CEO, and chief scientific officer of La Jolla's Neurome Inc., "in recognition of the international scope and significance of his contributions to biological sciences, neuroscience in particular." Consisting of a medal and $20,000, the prize will be presented at the Institute of Medicine's annual meeting.

Schimmel Named Member of Institute of Medicine
Paul Schimmel, who is Hahn Professor and member of the Skaggs Institute for Chemical Biology at The Scripps Research Institute, has been named a member of the Institute of Medicine (IOM) of the National Academies. "Election recognizes those who have made major contributions to the advancement of the medical sciences, health care, and public health. It is considered one of the highest honors in these fields," said IOM President Harvey V. Fineberg. This year marks the 35th anniversary of the Institute of Medicine, which was established in 1970 by the National Academy of Sciences to honor professional achievement in the health sciences and to serve as a national resource for independent analysis and recommendations on issues related to medicine, biomedical sciences, and health. Also members are Scripps Research investigators Ernest Beutler, Floyd E. Bloom, Francis V. Chisari, Thomas F. Deuel, Thomas S. Edgington, Michael B.A. Oldstone, Peter G. Schultz, and Peter K. Vogt.

Mayfield to Speak in Faculty Lecture Series
Associate Professor Steven Mayfield will speak on "Regulation of chloroplast translation: what we learned on our way to making therapeutic proteins in eukaryotic algae" as part of the Faculty Lecture Series on Wednesday, November 9. The lecture will be held at 5 PM in the Timken Amphitheater, Scripps Clinic, 10666 North Torrey Pines Road, La Jolla.

Sir Speedy Supplies Scripps Research Cards and Stationery
After competitive bidding, Procurement has selected Sir Speedy to be Scripps Research's supplier of printed business cards, letterhead, and other stationery. Plain letterhead, second sheets, envelopes, and labels will continue to be stocked in Central Stores, these products and ordering methods will remain the same. However, employees can now order business cards, personalized letterhead, and note cards with matching envelopes online directly through Sir Speedy's custom web site for Scripps Research. To log on to the institute's custom page, go to www.sirspeedy.com/custom, enter "TSRI" as the Log In and "Print" for the Password. Click on the appropriate folder for the printed item(s) you wish to order.
A purchase order number, which can be obtained from Procurement by submitting a purchase requisition via fax, is needed to complete an order online. Pricing is available on the Sir Speedy web site. Sales tax is additional, and there is no charge for normal delivery. Custom quotes can also be requested on the web site for other printing needs. Proofs will be available online for approval. Be aware that on-screen proofs are FINAL, so be sure to correct spelling, placement, etc., before approving your order. Standard turnaround time is three to four days. Contact Sandy Dierdorff, x4-9717 or sandyd@scripps.edu, with questions or comments.

Lunch and Learn: "The Seven Habits of Highly Creative People"
Award-winning author Lee Silber will present "The Seven Habits of Highly Creative People" as part of the ongoing Lunch & Learn seminar series on Wednesday, November 9, from noon to 1 PM. This interactive seminar will focus on teaching participants how to do more with less, shine under pressure, and apply creative thinking to all areas of life. The workshop, arranged by Counseling & Postdoctoral Services, will be in the W.M. Keck Amphitheater, The Beckman Center for Chemical Sciences. No reservations necessary. Feel free to bring your lunch to the talk.

Library Tip: Drinking From a Firehose
Need help keeping up with the flood of new journal issues? Let the Kresge Library's new TDNet e-mail alerting service help you keep track of your favorite journals. First-time users need to register once and select a list of journals to monitor. TDNet will then send you an email when new issues are published. A key feature of the email alerts is the "SFX@TSRI" button, which allows you to go directly to the article (in subscribed journals) or to automatically fill out an ILLiad interlibrary loan request form (for non-subscribed journals). For a complete description of TDNet and other alerting resources, visit the library's new Keep Up-To-Date webpage.
For more information, contact the Kresge Library Help Desk, x4-8705 or helplib@scripps.edu.
Send comments to: mikaono[at]scripps.edu

Benefits Fair Helps Kick Off Open Enrollment


A Benefits Fair provides information to Scripps Research California employees. Scripps Florida will host its benefits fair on Friday, November 4, from 11: 30 AM to 2:20 PM. For more information on benefits events, see the Open Enrollment Calendar.