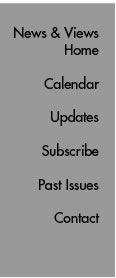 In Brief

Faculty Lecture Series: Waterman-Storer to Speak
Associate Professor Clare Waterman-Storer will speak on "Cytomechanical Systems Integration in Directed Cell Migration" as part of the Faculty Lecture Series Wednesday, October 19. The lecture will be held at 5 PM in the Timken Amphitheater, Scripps Clinic, 10666 North Torrey Pines Road.

Lunch and Learn: Dealing with Loss and Grief
The September 7th Lunch and Learn, "Dealing with Loss and Grief," has been rescheduled to Wednesday, October 12, from noon to 1 PM. Clinical psychologist Jeff Jones, of the Scripps Research Counseling and Postdoctoral Services Department, will lead the seminar on loss, identifying various types of loss and their expected grief reactions, increasing your understanding of the grief process, and providing guidelines for appropriate support in personal and professional arenas. The seminar will be held in the W.M. Keck Amphitheater, Beckman Center for Chemical Sciences. No reservations are necessary.

Library Tip: Message of the Day
Check out the Message of the Day in ELLeN, the Library's online catalog to learn about new and/or free journals, database trials, known e-journal problems, and changes in library hours and services. For more information, contact the Kresge Library Help Desk, x4-8705 or helplib@scripps.edu.

Upcoming Onsite Clinics
On Monday, October 17, Wednesday, October 19, and Friday, October 21, personnel from Sharp Rees-Stealy Medical Group will be onsite to conduct TB screenings, hepatitis B immunizations, serum draws, and tetanus immunizations. The clinics will be conducted at the CVN Building in Room 209, from 11 AM to 2 PM. No appointments are necessary. TB screening requires a 48 to 72 hour follow-up. Individuals receiving the TB screen on Monday will need to return on Wednesday, and individuals screened on Wednesday, will need to return on Friday. Initiation of the TB screening process will not be available on Friday, but Hepatitis B immunization, serum draws, and tetanus immunizations will be. To learn more about these programs, see the Environmental Health & Safety Occupational Medicine web page, which includes a map and patient information sheets.
Send comments to: mikaono[at]scripps.edu