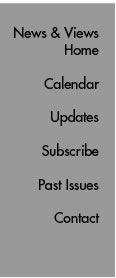 In Brief

Yates Wins Distinguished Achievement Award in Proteomics
Professor John Yates of The Scripps Research Institute was awarded the Distinguished Achievement Award in Proteomics at the 2005 Human Proteome Organization meeting last week in Munich, Germany. The award is given in recognition of indispensable contributions to the field of proteomic science. Yates was recognized for contributions to the large scale analysis of protein mixtures including the development of database searching methods using tandem mass spectrometry data and multi-dimensional liquid chromatography tandem mass spectrometry of complex protein mixtures. These approaches are now widely used throughout the world for the analysis of cells, organelles, and protein complexes.

Industry Recruiters Come to Campus
The Second Annual Scripps Research-Industry Recruitment Day for postdocs and graduate students will be held on Wednesday, September 14. Hiring personnel from industry will discuss their companies' goals, products, and future directions, as well as career opportunities, placement strategies, and typical candidate qualifications in the following sessions, open to all Scripps Research postdocs and graduate students:
Amgen: 1 – 1:45 PM, Keck Amphitheater, Beckman Building
Eli Lilly: 2 – 2:45 PM, Keck Amphitheater, Beckman Building
Novartis: 3 – 3:45 PM, Keck Amphitheater, Beckman Building
Amylin: 3 – 3:45 PM, The Committee Lecture Hall, MBB
Additionally, companies will pre-select a number of biological sciences postdocs for informational interviewing throughout the day. Invited interview candidates will be notified by September 9.
The Scripps Research-Industry Recruitment Day was arranged by Associate Professor Luc Teyton and the Counseling and Postdoctoral Services Department.

SOF Invites Fall Poster Symposium Entries
The Society of Fellows invites Scripps Research postdocs, graduate students, and research assistants to present a poster of their research at this year's Fall Poster Symposium, to be held in the Beckman Galleria Wednesday, October 26, from 3 to 5 PM. Posters will be accepted in four research categories: (1) Chemistry; (2) Immunology/Cell Biology; (3) Molecular Biology/Molecular & Experimental Medicine; (4) Neurobiology/Neuropharmacology. The deadline for entry is September 30. All poster presenters will receive a $20 UCSD Book Store gift card. Winners in each of the categories will receive travel scholarships. Send abstracts or questions about this event to rpanto@scripps.edu. For details of the required abstract format, please visit: http://www.scripps.edu/services/sof/.

Women's Self-Defense Workshop
The Network for Women in Science and Postdoctoral Services Department have organized a women's self-defense workshop to be held Tuesday, October 25, from 5:30 to 7 PM in the Shiley Gymnasium. The class is free to any female employee of Scripps Research and every student will be required to sign a liability waiver to take the class. Attendance in the class, which is limited to The 25 students, is on a first-come, first-served basis. For more information, see http://www.scripps.edu/services/nwis/NWiS_News.htm. To enroll, contact Holly Heaslet Soutter, at x4-8751 or hheaslet@scripps.edu.

Library Tip: Want to Learn About Computer Topics? Go on Safari
Need a quick tutorial on PowerPoint? Want to learn more about Photoshop? Safari Tech Books Online contains nearly 200 online books on computer topics such as bioinformatics, desktop publishing, networking, and programming, plus manuals for a variety of operating systems including Linux, Mac, UNIX, and Windows, which are great for quick look-ups of keyboard shortcuts or finding out how to resolve a given error message. Prefer the printed page? The Kresge Library has copies of most Safari titles available for you to check out. For more information, contact the Kresge Library Help Desk, x4-8705 or helplib@scripps.edu.

Upcoming Onsite Clinics
On Monday, September 12, Wednesday, September 14, and Friday, September 16, personnel from Sharp Rees-Stealy Medical Group will be on-site to conduct TB screenings, hepatitis B immunizations, serum draws, and tetanus immunizations. The clinics will be conducted at the CVN Building in Room 209, from 11 AM to 2 PM. No appointments are necessary. TB screening requires a 48 to 72 hour follow-up. Individuals receiving the TB screen on Monday will need to return on Wednesday, and individuals screened on Wednesday, will need to return on Friday. Initiation of the TB screening process will not be available on Friday, but Hepatitis B immunization, serum draws, and Tetanus immunizations will be. To learn more about these programs, see the Environmental Health & Safety Occupational Medicine web page, which includes a map and patient information sheets.
Send comments to: mikaono[at]scripps.edu