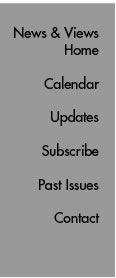 In Brief

Library Tip: Electronic Journals—Access Denied?
Take a moment to contact the Kresge Library whenever you encounter a problem with an online journal, such as an "access denied" or "subscription on hold" message. With hundreds of electronic journal subscriptions, occasional problems are inevitable, but they can be resolved more quickly with your help. Use the "Report an Electronic Journal Problem" links on the library's home page, journal list, or online catalog, or send a message to helplib@scripps.edu.

Wellness Benefit: Weight Watchers Tuition Reimbursement
Weight Watchers is no longer meeting on-site on the Scripps Research La Jolla campus due to low enrollment. However, as part of the Tuition Reimbursement Wellness Benefit, eligible employees will continue to be reimbursed up to $125 per year for attending Weight Watchers off-site. Proof of attendance of 10 consecutive meetings is required with the Request for Reimbursement (i.e., a copy of an initialed and date-stamped Membership Book). Benefits Administration will continue to monitor interest in the Weight Watchers program to determine if on-site meetings can be brought back in the future. Please contact Benefits Administration at x4-8487 with any questions.

Calendar Office to Accept 2006 Room Reservations
In the coming weeks, the Calendar Office will begin the two-part process of accepting 2006 Scripps Research conference room reservations.
RENEWALS: From now to Wednesday, September 7, the Calendar
Office will accept standing reservation renewal requests. If your lab or group has a standing reservation for a particular Scripps Research conference room, you must renew it if you plan to keep the same day/time in 2006. Standing reservations in 2005 will not be rolled over to 2006 automatically. If the Calendar Office does not receive a renewal request for a particular time/day slot by Wednesday, September 7, that slot will be open for new/individual reservations.
NEW OR ONE-TIME RESERVATIONS: Beginning Monday, September 12, the Calendar Office will accept one-time and new standing reservations for 2006. Reservations are first-come first-served. Sorry, one-time and non-renewal requests cannot be processed prior to Monday, September 12. Requests sent prior to Monday, September 12 will not be kept.
To submit a room reservation, complete the form at http://www.scripps.edu/calendar/calendarform.phtml. If you are renewing a standing reservation, put "Renewal Request" in the "Additional Notes" box. Please allow three to five days for confirmation. After receiving a confirmation, double check the online calendar to make sure your information is correct. For further information, email calendar@scripps.edu.
Send comments to: mikaono[at]scripps.edu


Arnold LaGuardia Retires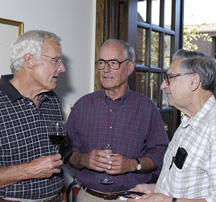 Friends and colleagues gathered at a reception on Thursday, August 25 to give Executive Vice President Arnold LaGuardia their best wishes in his retirement. Here, LaGuardia (left) chats with investigators Charles Cochrane (center) and Ernest Beutler. Photo by Bob Turner.