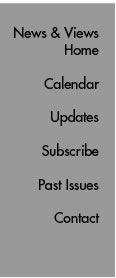 NeoRx Joins Scripps Research in First Scientific Collaboration at Scripps Florida

The Scripps Research Institute and NeoRx Corporation (NASDAQ: NERX), a cancer therapeutics development company, have announced the first collaboration at Scripps Florida, focusing on discovering novel, small-molecule, multi-targeted, protein kinase inhibitors as therapeutic agents, including cancer treatments.
"The choice of NeoRx as Scripps Florida's first partner in biotech research is truly exciting, and is only the beginning of the many scientific collaborations sure to come," said Florida Governor Jeb Bush. "This partnership with Scripps Florida will surely strengthen our state's position as a world leader in curing disease and improving the human condition."
NeoRx is the first biotechnology company to enter into a research alliance with Scripps Florida, the newly established division of Scripps Research in Palm Beach County. NeoRx will provide $2.5 million over 26 months, approximately $140,000 of which will be paid in 2005, to support the research and will have the option to negotiate a worldwide exclusive license to any compounds developed through the collaboration.
"We are excited to have selected NeoRx as our first biotech partner at Scripps Florida and to move forward with this collaboration to identify potential cancer treatments," said Richard A. Lerner, Scripps Research president. "This is a significant opportunity, the first of many to come at Scripps Florida, for collaboration between leading scientists to do world-class science and discovery, ultimately leading to improvements in human health."
"We are pleased to have entered into a research agreement with this premier research institution and are hopeful that our collaboration will lead to novel and unprecedented cancer products for our pipeline," said Jerry McMahon, chairman and chief executive officer of NeoRx. "While we are currently focusing our resources on the clinical development of picoplatin, a next-generation intravenous platinum compound, we are committed to broadening our cancer portfolio to include agents with various mechanisms of action, including targeted cancer therapies such as protein kinase inhibitors. It is becoming clear that the use of both platinum-based chemotherapeutics and kinase inhibitors either in combination or sequentially may provide important clinical benefit to patients."
"Scripps Florida's selection of NeoRx as its first biotech partner reflects NeoRx's experience and focus in oncology," said Thomas J. Pritzker, chairman and co-founder of Bay City Capital and chairman and CEO of The Pritzker Organization. "As a NeoRx investor, I am excited about the promise of this research partnership."
The research collaboration will be led by Chris Liang, director of medicinal chemistry at Scripps Florida. Liang's research focuses on the discovery of novel pharmaceuticals for the treatment of cancer, arthritis, and asthma. He previously served as director of chemistry at SUGEN, Inc., a biopharmaceutical company focused on the discovery and development of novel, targeted small-molecule drugs. SUGEN, where McMahon previously served as president, was acquired by Pharmacia in 1999, which subsequently was acquired by Pfizer in 2003.
While at SUGEN, Liang and McMahon were involved in the discovery and development of SUTENT (SU11248), a novel, oral multi-targeted tyrosine kinase inhibitor, currently in registrational trials with Pfizer for the treatment of advanced cancers. Liang also developed a novel computational model for predicting kinase selectivity of inhibitors by analyzing the entire human kinase genome, or the kinome. In addition, he was a key participant in the discovery of several additional drug candidates currently in various stages of development by Pfizer.
Send comments to: mikaono[at]scripps.edu

---
"The choice of NeoRx as Scripps Florida's first partner in biotech research is truly exciting, and is only the beginning of the many scientific collaborations sure to come."
—Governor Jeb Bush
---