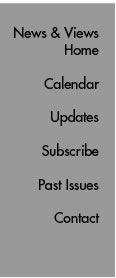 No Tall Tale: Fishing Joins Sports@Scripps
By Mika Ono
Opportunities to enjoy the summer abound for Scripps Research employees. Some compete in the employee softball league. Others dedicate their efforts to soccer. Now, for the first time this year, fishing is among the official offerings of the La Jolla campus's Sports@Scripps.
"One of the best parts about the fishing trips is seeing people when they are not at work," says B.J. Stacey of Procurement, who organizes the expeditions. "Everyone is so focused when on campus, but when we're out on the water, everyone lets down their guard."
Looking out for marine life—dolphins, sharks, and whales—is another draw. And, of course, there's the fish. "This year has been great so far," says Stacey. "Everyone has caught at least one fish every time we've gone out."
While Stacey himself is a lifelong fisherman, having pursued the sport since his childhood on the East Coast, the expeditions cater to those of all levels of expertise. "Beginners are not only welcome, they're encouraged," he notes, "and all our trips are family-friendly. In fact, our most recent outing was geared specifically toward children."
Novices can rent their gear and listen to a mini-seminar on basic fishing techniques from a member of the crew on the way out to sea, and Stacey himself is available to help during the trip. Veterans, on the other hand, can bring their own gear and, instead of attending the seminar, can sit back and trade tales of their greatest fishing exploits.
Claude Harris of Security is one former novice who tried out a fishing trip—then signed up for more. "The fishing experience that I have had on these trips has been wonderful," he says. "Crew members go that extra mile to make sure everyone has a pleasant experience, the ride can be breathtaking, and I enjoy meeting co workers that I don't get a chance to meet or see since I work at night."
Stacey works with the crew to select the target fishing grounds for each trip. This is an art, involving some knowledge of the conditions which particular fish favor—yellowtail, for example, prefer different water conditions than mahi-mahi—some logistics—day trips present different possibilities than overnighters—and a lot of luck. "Everyone goes crazy when the first person catches a fish, because that means we're in a prime location," says Stacey. "It's really exciting."
While the chase is as much part of the experience as the catch, there are perks for those who manage to reel in a big one. All the fishing boats carry soy sauce and wasabi for those who have the desire and opportunity to sample the freshest of fresh sashimi on the way home.
Of course, raw fish, or even fishing, is not for everyone. Stacey's wife, Michaeleen Trimarchi of the Scripps Research Kresge Library, has not yet been able to conquer her susceptibility to sea sickness. And she prefers her fish cooked.
"We're still working on ways to overcome the sea sickness," says Stacey. "In the mean time, I bring home the fresh fish, cook up one of our favorite dishes—Pescado Veracruz with olives and capers, for example—and we sit down and enjoy a nice meal together."
To learn more about the fishing expeditions, including a list of scheduled trips, costs, and how to sign up, see http://oceanfinatic.net/fishing_orphan.htm or contact Stacey at x4-8710.
Send comments to: mikaono[at]scripps.edu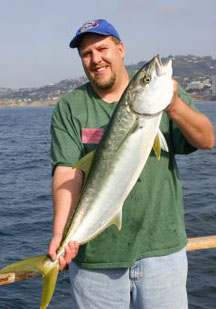 "I love being out on the water," says B.J. Stacey of Procurement, who organizes fishing trips for Scripps Research employees and their friends and families.