Snapshot:


Richard Milner

Position: Senior Research Associate, del Zoppo lab

Duties: Research on the blood-brain barrier-how it works, why it sometimes breaks down (such as in the case of stroke and multiple sclerosis), and how it might be controlled.

"In particular, we are trying to understand how cell adhesion receptors work to maintain the blood-brain barrier. In addition to having potential for developing stroke and multiple sclerosis therapies, the research could point the way to a new class of pharmaceuticals that enable drugs to get into the brain. This would be a big step toward being able to treat such conditions as brain tumors, Alzheimer's, and Parkinson's."

Background: Undergraduate degree from the University of Leeds, graduate and medical degrees from Cambridge University. Postdoctoral work at Scripps Research (in the Campbell lab), Cambridge, and now Scripps Research again.

Why the Del Zoppo Lab: "I have experience working in cell culture systems and Greg [del Zoppo] has expertise in vivo. There's good synergy. We play to each other's strengths."

Comments on Scripps Research: "Many leaders in my field of research (adhesion receptors) are based at Scripps, which creates a stimulating environment and offers great potential for future scientific collaboration."

Aspiration: "By the time I'm gray-haired, I want to know that someone in the clinic is benefiting from something I've done."

What He Likes Most About San Diego: The outdoor lifestyle. "It's probably the best place in the world to raise kids. People are active and the environment is positive."

What He Misses Most About England: Tea time. "Tea time encourages exchange among colleagues. Many collaborations are born over tea and a biscuit."

Extracurriculars: Playing with his four children—ages 13, 12, and 3 years, and 6 months—and running. Milner has completed five marathons, most recently the San Diego Rock and Roll Marathon, where his 3:01 time placed in the top 100 out of 17,000 participants. He also participates in shorter races, such as the annual Carlsbad 5000 Meter. "In any part of life, it's great to vary your goals a bit, isn't it? That way you don't get bored."

Send comments to: mikaono[at]scripps.edu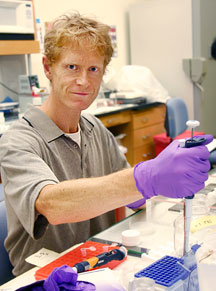 "By the time I'm gray-haired, I want to know that someone in the clinic is benefiting from something I've done," says Richard Milner. Photo by Kevin Fung.