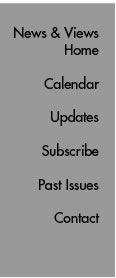 In Brief

Scripps Research Team Places Fourth in "Race for Literacy"
The Scripps Research Institute team placed fourth out of 42 teams on Sunday, May 8 in the Union-Tribune 8K Race for Literacy in San Diego, one of the largest 8K races in the country. Top runners on the Scripps Research team included Sara Haman, Matthew Ross, David Lin, Dan O'Malley, and Raymond Stevens (see race results.) All proceeds from the run, which started in Balboa Park and finished downtown, benefited the San Diego Council on Literacy, an organization that provides services to more than 50,000 people in an effort to make San Diego a more literate community.

Health Fair Heads Up
The Scripps Research annual Health Fair will be held on Tuesday, May 24, from 11 AM to 1 PM on the walkway in front of the Immunology building. A variety of health and wellness topics will be addressed, including fitness, nutrition, and safety. There will be health and wellness screenings, fitness and recreation demonstrations, chair massages, giveaways, and food samples from your favorite local restaurants. All Scripps Research employees and graduate students are invited to participate in this fun and educational event.

New English-as-a-Second-Language Classes Begin
A new series of English-as-a-Second-Language classes will begin on Tuesday, May 31. Instructor Cassandra Wadkin's class meets from 6:30 to 8:30 PM every Tuesday evening in the Immunology Building West Conference Room. The price for three months (12 classes) is $60.
Each intermediate-level English class is divided into speaking and listening, idioms and vocabulary, and reading and writing. If you would like to improve your English and your understanding of your friends and colleagues, movies, television shows, and the news, this class is for you. The class uses movies, games, television shows, grammar books, songs, drawing and novels to teach standard American English. Have fun and learn English at the same time!
For more information, please leave a message at x4-2176.

Upcoming On-Site Clinics
On Monday, May 23, Wednesday, May 25, and Friday, May 27, personnel from Sharp Rees-Stealy Medical Group will be on-site to conduct TB screenings, Hepatitis B immunizations, serum draws, and tetanus immunizations. The clinics will be conducted at the CVN Building in Room 209, from 11 AM to 2 PM. No appointments are necessary. TB screening requires a 48 to 72 hour follow-up. Individuals receiving the TB screen on Monday will need to return on Wednesday, and individuals screened on Wednesday, will need to return on Friday. Initiation of the TB screening process will not be available on Friday, but Hepatitis B immunization, serum draws, and tetanus immunizations will be. To learn more about these programs, see the Environmental Health & Safety Occupational Medicine web page, which includes a map and patient information sheets.

News&Views to Begin Summer Publication Schedule
News&Views will not be published next week due to the Memorial Day holiday. From Monday, June 7 to Monday, August 29, News&Views will be published on its summer schedule, every other week. The deadline for announcement and calendar submissions is Wednesday at noon for the following Monday's issue.
Send comments to: mikaono[at]scripps.edu