Scripps Florida Launches "Science Saturday"
By Mika Ono
It was a Saturday in May and the day of their prom, but that didn't stop 30 students from South Fork High School in Martin County from coming to Scripps Florida to learn about forensic DNA fingerprinting.
Their teacher, Donna Fitzpatrick, holds a Ph.D. in chemistry and had started an international baccalaureate chemistry class at South Fork High School. She helped arrange the trip to The Scripps Research Institute because her students were interested in seeing science in action.
Once at the Scripps Research facility, temporarily located on the Florida Atlantic University Jupiter campus, the students broke into five groups of six students and two Scripps Florida scientists. Students swabbed their cheeks and then precipitated out their own DNA.
Next, the students readied themselves to solve a forensic "mystery" by checking DNA samples from five "suspects." Scripps Research provided safety glasses, gloves, and disposable lab coats for the South Fork students, who threw themselves into successfully solving the mystery.
Pizza and drinks were served at the end to cap off an engaging morning.
While the May 14 "Science Saturday" event was initially conceived as a pilot program, feedback from the students on a follow-up survey was overwhelmingly positive. Remarks included:
"It was cool how they explained it as we were doing the experiment rather than before or after. Plus DNA is cool."
"It was relevant to what's in the media."
"We don't usually get hands-on time with expensive equipment."
"I felt like a real scientist and all professional and stuff."
Individuals from Scripps Florida who helped to make the Science Saturday program possible included: Candace Walker, Teresa Reyes, Brandon Young, Julie Baggs, Scott Busby, Jennifer Busby, Tony Smith, Kevin Hayes, Gina Zastrow-Hayes, Mat Pletcher, Trey Sato, Amiee Weiser, and Jeanne Geskes.
"We were impressed that the students were willing to come for the entire morning, given their prom was that evening," says Walker. "While the students did receive extra credit for the next exam, their participation exemplified interest in higher scientific knowledge."

Send comments to: mikaono[at]scripps.edu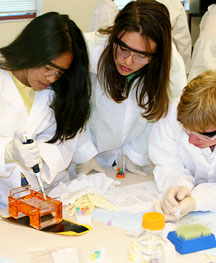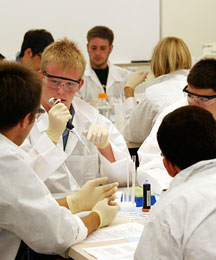 Students from South Fork High School see science in action.