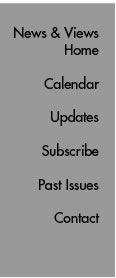 In Brief

SOF Distinguished Lecturer Series Features Reider
Paul J. Reider, vice president for Chemistry Research at Amgen, Inc., will speak on "Chemistry, Selectivity, and the Biological Interface" on Monday, May 16, at 4 PM as part of the Scripps Research Society of Fellows (SOF) Distinguished Lecturer Series. The event will be held in the Beckman Center's Keck Amphitheater. For more information, see the SOF Distinguished Lecturer Series web site.

SOF Hosts 2005 Vendor Show May 18
The Scripps Research Society of Fellows will present the 2005 Vendor Show on Wednesday, May 18, from 9 AM to 2:30 PM, on the La Jolla campus. More than 100 vendors will participate. Scripps Research employees have the opportunity to catch up on the latest technologies, test new products, collect free samples and goodies, enter raffles for prizes, and talk to the reps for advice and suggestions on making research easier, faster, and more effective. At the event, the SOF will also provide free Jamba Juice smoothies to those visiting booths and the opportunity to enter a drawing to win one of five $100 gift cards to a Westfield Shoppingtown Center. For more information, see the SOF web site.

Lunch & Learn: Healthy Eating
Andrea Harrison will speak on "Steps to a Healthier You: Making Sense of the New Dietary Guidelines" on Tuesday, May 17, from 12:30 to 1:30 PM, as part of the ongoing Lunch & Learn seminar series. Topics will include: making smart choices from every food group; finding your balance between food and physical activity; and getting the most nutrition out of your calories. The event, which was arranged by Jan Hill and Ryan Wheeler of Counseling & Postdoctoral Services, will be held in the Keck Amphitheater, Beckman Center. No reservations are necessary. Please feel free to bring your lunch to the talk.

Upcoming On-Site Clinics
On Monday, May 23, Wednesday, May 25, and Friday, May 27, personnel from
Sharp Rees-Stealy Medical Group will be on-site to conduct TB screenings, Hepatitis B immunizations, serum draws, and tetanus immunizations. The clinics will be conducted at the CVN Building in Room 209, from 11 AM to 2 PM. No appointments are necessary. TB screening requires a 48 to 72 hour follow-up. Individuals receiving the TB screen on Monday will need to return on Wednesday, and individuals screened on Wednesday, will need to return on Friday. Initiation of the TB screening process will not be available on Friday, but Hepatitis B immunization, serum draws, and tetanus immunizations will be. To learn more about these programs, see the Environmental Health & Safety Occupational Medicine web page, which includes a map and patient information sheets.
Send comments to: mikaono[at]scripps.edu



The Art of Crafts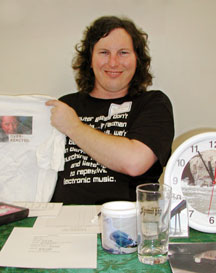 Research Associate Andrew Ray was among the many Scripps Research employees showing their hidden talents at the Spring Craft Fair. Ray, who customizes an array of items by applying a photo of the customer's choice, is still accepting orders for t-shirts, key chains, mugs, clocks, bumper stickers, and refrigerator magnets. "People especially like using photos of their kids," says Ray. Photo by Kevin Fung.