Intern to Intern
By Jennifer Bardi
Anand Parekh knew about The Scripps Research Institute long before Scripps Research knew about him.
Parekh, a junior at Atlantic Community High School in Delray Beach, Florida, is one of four high school students recently selected to participate in the Scripps Florida High School Student Summer Internship Program with the institute's new operations in Palm Beach County. His biology teacher, Scott Morone, spent last summer in an internship on the La Jolla, California campus of Scripps Research. Morone shared many of his experiences with his students upon his return.
"Mr. Morone showed us pictures of the technology he used and told us all about the cool stuff he did. He also talked about this genius scientist he worked with," says Parekh, who jumped at the chance to submit an application when the Florida program was announced. Included in his application was a letter of recommendation from Morone.
"My students are self-driven—many of them took it upon themselves to apply," says Morone. "I obviously encouraged all of them at that point. Anand is a very good student and one of the nicest kids you'll ever meet."
In total, three teachers and four students, all from schools in the Palm Beach County School District, were selected on a competitive basis to work in partnership with world-class scientists and their staffs at Scripps Research's temporary facility on the Florida Atlantic University MacArthur campus in Jupiter. The programs are based on the long-standing outreach programs at the institute's La Jolla, California, headquarters, where 18 high school students and five middle and high school science teachers will intern this summer.
The Florida internships, along with other Scripps Florida education outreach activities, are being funded this year and next by a $200,000 grant from the William R. Kenan, Jr. Charitable Trust. Interns in the 2005 "freshman class" will work full-time for seven weeks beginning in early June, when they will become a member of a Scripps Research laboratory, assist on projects, and gain a better understanding of the world of basic biomedical research. The Florida outreach programs are expected to grow in scope and participation over the coming years.
For Morone, the experience was intellectually rewarding and beneficial to his students. He developed a cloning project for an accelerated summer course and in general translated his experiences into better explanations, examples, and lessons.
"I have a tremendous respect for Scripps," he notes. "The people at Scripps exude an intelligence and competence that anyone would feel proud to be a part of. I think of [them] quite often."
While Morone's experience involved going from being a teacher to a student and then back again, Parekh will continue his rigorous pursuit of learning. The biggest transition for him will be adapting to the real-world environment.
"I've done lab work in AP Biology and Chemistry classes, but never in a working lab," he says, adding that the hour drive each way from Boynton Beach will be well worth it. With an interest in oncology, Parekh plans to attend a four-year university in his home state and then go on to medical school, after which he wants to focus on cancer research.
"[When I applied] I thought I had a pretty good shot at this," he says. "Now I'm excited!"

Send comments to: delasol@scripps.edu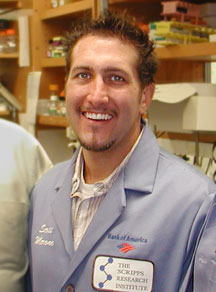 Biology teacher Scott Morone (above) interned at the Scripps Research La Jolla campus last summer. Now, his student Anand Parekh will be among the first to intern with Scripps Florida. Photo by Kevin Fung.