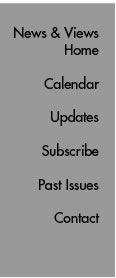 In Brief

Vogt Elected to American Academy of Arts and Sciences
Professor Peter K. Vogt of The Scripps Research Institute has been elected as a fellow of the American Academy of Arts and Sciences.
"It gives me great pleasure to welcome these outstanding leaders in their fields in this, the academy's 225th year," said Academy President Patricia Meyer Spacks. "Fellows are selected through a highly competitive process that recognizes individuals who have made preeminent contributions to their disciplines and to society at large."
Vogt's research is focused on molecular mechanisms of carcinogenesis. His laboratory studies the activities of viral and cellular oncoproteins, defining mechanisms and identifying targets for intervention. In high-throughput screens, the group looks for small molecules that can interact with oncoproteins and inhibit their carcinogenic activities.

Edelman to Speak in Faculty Lecture Series
Scripps Research Professor Gerald Edelman will speak on "From Brain Dynamics to Consciousness: How Matter Becomes Imagination" as part of the ongoing Faculty Lecture Series on Wednesday, May 11. The lecture will be held at 5 PM in the Timken Amphitheater, Scripps Clinic, 10666 North Torrey Pines Road.

SOF Distinguished Lecturer Series Features Reider
Paul J. Reider, vice president for Chemistry Research at Amgen, Inc., will speak on "Chemistry, Selectivity, and the Biological Interface" on Monday, May 16, at 4 PM as part of the Scripps Research Society of Fellows (SOF) Distinguished Lecturer Series. The event will be held in the Beckman Center's Keck Amphitheater. For more information, see the SOF Distinguished Lecturer Series web site.

SOF Hosts 2005 Vendor Show May 18
The Scripps Research Society of Fellows will present the 2005 Vendor Show on Wednesday, May 18, from 9 AM to 2:30 PM, on the La Jolla campus. More than 100 vendors will participate. Scripps Research employees have the opportunity to catch up on the latest technologies, test new products, collect free samples and goodies, enter raffles for prizes, and talk to the reps for advice and suggestions on making research easier, faster, and more effective. At the event, the SOF will also provide free Jamba Juice smoothies to those visiting booths and the opportunity to enter a drawing to win one of five $100 gift cards to a Westfield Shoppingtown Center. For more information, see the SOF web site.
Send comments to: mikaono[at]scripps.edu




Get Thee to a Winery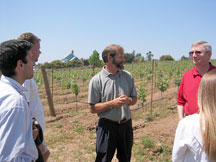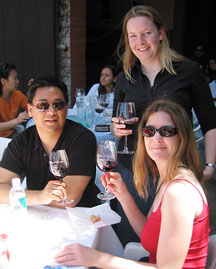 A winery tour and tasting organized by the Scripps Research Society of Fellows recently brought a group to the Fallbrook Winery. Top: Head wine maker Duncan Williams speaks about the winemaking process. Bottom: (clockwise) Research Associate Ron Nepomuceno, Research Associate Rebecca Fraser, and Research Assistant Tina Marie Mullen sample the vineyard's product.