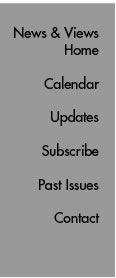 Kudos

Matthew Trifilo Wins Young Scientist Award
Matthew Trifilo, a second-year postdoctoral fellow in the Oldstone viral-immunobiology laboratory in the Department of Neurooharmacology, received the Young Scientist Award from Chiron in recognition of his work on "Extra Neural Disease Manifestations of Prion Infection" presented at the second International Symposium on The New Prion Biology: Basic Science, Diagnosis and Therapy earlier this month in Venice, Italy.

Ryan Shenvi Awarded Graduate Fellowship
Ryan Shenvi, a second-year graduate student in the Baran lab who is investigating a practical synthetic route to a class of marine alkaloid natural products, has been awarded a National Defense Science and Engineering Graduate Fellowship. This fellowship is awarded by the U.S. Department of Defense to "individuals who have demonstrated ability and special aptitude for advanced training in science and engineering.

Endeavor Wins Crystal Award of Excellence
Scripps Research's Endeavor magazine has won the top honor from the Communicator Awards, an international awards competition that recognizes outstanding work in the field. The Endeavor issues published in 2004 won the Crystal Award of Excellence in the category of nonprofit magazines. The 5,000 entries in the competition were judged by industry professionals looking for "companies and individuals whose talent exceeds a high standard of excellence and whose work serves as a benchmark for the industry." For more information, see the Communicator Award's web site.
Send comments to: mikaono[at]scripps.edu




French Charitable Trust/Wells Fargo Supports San Diego Outreach Program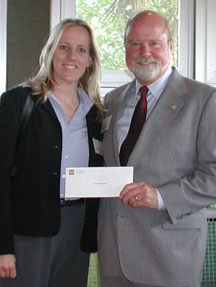 Scripps Research's Education Outreach Program received a $10,000 grant from the French Charitable Trust earlier this month to fund four local students in the La Jolla campus's 2005 High School Student Research Education Program. The grant is administered by Wells Fargo Bank, a long-time supporter of outreach activities at the institute. Here, program director Jennifer Bardi accepts the check at an awards ceremony hosted by Wells Fargo Vice President M. David Schmutz.