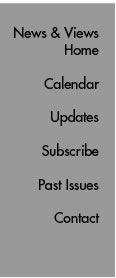 In Brief

Click Chemistry Draws Attention
CAS, a division of the American Chemical Society, recently published a list of the journal articles most frequently requested in 2004 by researchers using CAS electronic products. Three of the top ten in the chemistry and related science category were publications from The Scripps Research Institute that feature click chemistry, a new strategy for the rapid discovery of chemical function invented by Nobel laureate Professor K. Barry Sharpless. The publications are:
"The growing impact of click chemistry on drug discovery," by Hartmuth C Kolb and K. Barry Sharpless, Drug Discovery Today (2003), 8(24), 1128-1137.
"Click chemistry: diverse chemical function from a few good reactions," by Hartmuth C. Kolb, M. G. Finn, and K. Barry Sharpless, Angewandte Chemie (2001), 40(11), 2004-2021.
"A Potent and Highly Selective Inhibitor of Human alpha.-1,3-Fucosyltransferase via Click Chemistry," by Lac V. Lee, Michael L. Mitchell, Shih-Jung Huang, Valery V. Fokin, K. Barry Sharpless, and Chi-Huey Wong, Journal of the American Chemical Society (2003), 125(32), 9588-9589.
For more information, see CAS's "Spotlight Most Requested Hall of Fame."

Vasco Liberal Wins Lance Armstrong Foundation Award
Research Associate Vasco Liberal of the Reed lab has won a young investigator research grant from the Lance Armstrong Foundation to study the involvement of cyclin E in testicular cancer development and progression.
"We are thrilled to be partnering with top-notch institutions and researchers in the early stages of their careers like Dr. Liberal," said Suzanne Kho, associate director of research for the Lance Armstrong Foundation. "Though these scientists are exploring a variety of important topics, they all share a passion for helping people with cancer live strong."

Career Workshop: "Guidelines to Successful Postdoctoral Training at TSRI"
Professor and Cell Biology Department Chair Sandra Schmid will present a seminar "Guidelines to Successful Postdoctoral Training at TSRI" as part of the Career Workshop Series on Wednesday, April 27 from 1 to 2:30 PM. Topics will include: choosing a postdoctoral position, goal setting and expectations, time management, networking, education and opportunities to learn essential skills, when to move on, and Scripps Research (and other) resources. All Scripps Research faculty, postdocs, and graduate students are welcome to attend. The event will be held in the Keck Amphitheater of the Beckman Center. No RSVP required. For more information, contact Ryan Wheeler, x4-9740.

SOF and Postdoctoral Services Presents "Making Conversation for Scientists"
The Society of Fellows and Postdoctoral Services Department jointly present "Making Conversation for Scientists," a two-part communication and networking workshop for Scripps Research postdocs and graduate students. The seminars, led by Peggy Wallace, a corporate attorney, fundraiser, and financial services specialist, will help promote comfort and ease in communications and provide an opportunity to practice networking in a real-life situation. The workshops will be held on Wednesday, May 4, from 1 to 2:30 PM, and Thursday, May 12, from 1 to 3 PM, in the Human Resources Training Room. RSVP and commitment to attend both sessions is requested; space is limited to the first 30 registrants. Contact BinQing Wei (weibq@scripps.edu).

Discount Movie and Sea World Tickets on Sale in Human Resources
The front desk of Human Resources has movie and Sea World tickets for sale at discount prices. The prices are as follows:
Movie Theaters: AMC Gold (no restrictions) - $7.00; AMC Silver - $5.50; Regal Premiere Blue (no restrictions) - $7.00; Regal VIP Red - $5.50; UltraStar - $4.00
Sea World: Adult Admission - $37.50; Child Admission - $32.50
Payment is by check only. Checks should be made out to "TSRI." For more information, contact Benefits Administration, x4-8487.

Send comments to: mikaono[at]scripps.edu


Dave Loskutoff Retires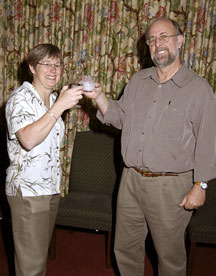 Sandy Schmid, chair of the Cell Biology Department, toasts with Professor Dave Loskutoff at a party in celebration of Loskutoff's retirement. Loskutoff, whose research focuses on vascular disease, has been with Scripps Research almost 30 years. For more information on Loskutoff and his many scientific contributions, see: News&Views article "PAI-1 at the Heart of Things," Loskutoff's faculty page, and Endeavor Vol. 7, No. 2, "Going Where the Science Takes You." Photo by BioMedical Graphics.