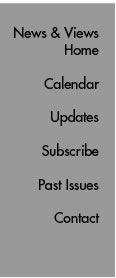 Snapshot:
Trey Sato

Title: Staff Scientist.
Laboratory: Cell-Based Screening, Department of Genome Technology, Scripps Florida.
Duties: Setting up the Scripps Florida Cell-Based Screening core facility, which Sato co-directs with Josephine Harada. Also, conducting research with cDNA and siRNA tools that aims to identify signal transduction pathways that cause cancer.
"We have made a lot of progress setting up the core facility, which will be available for Scripps Research investigators both on the Florida and La Jolla campuses and their collaborators," he says. "This high-throughput technology will be useful in identifying gene targets with implications for developing new therapies—not only for cancer but for a range of diseases."
Background: Sato earned his B.S. from the University of California, Davis, and his Ph.D. from the University of California, San Diego, where he focused on yeast cell biology. He went on to conduct postdoctoral work with Scripps Research Professor Steve Kay and John Hogenesch, now a professor with Scripps Research and then affiliated with the Genomics Institute of the Novartis Research Foundation. Sato moved to Scripps Florida late last year.
Favorite Part of the Job: "It's exciting to be part of a brand-new venture," he says. "It's rare to be responsible for such fundamental decisions about purchasing and management at this stage of my career. And it's a once-in-a-lifetime opportunity to work with state-of-the-art robotic technology and receive top-notch training from these manufacturers.
"I also greatly enjoy working with the other scientists here," he notes. "Right now, we are a small and tight-knit group. Everyone knows everyone else, especially on our floor. We depend on each other."
Extracurriculars: The outdoors, especially fishing. "Having lived on the West Coast for my whole life, it is a thrill to be on the other coast and catch snook, jacks, and tarpon. I'd never seen these fish before. I like walking on the beach, with the sun and the waves, and throwing out my lure. You can't do that in California. If you did, you'd get a swimmer or a surfer, not a fish."
Send comments to: mikaono[at]scripps.edu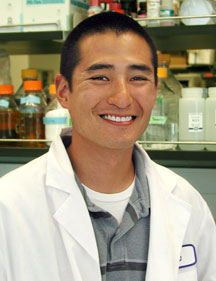 "It's exciting to be part of a brand-new venture," says Scripps Florida Staff Scientist Trey Sato. Photo by Kevin Fung.
From Palm Beach Post: Sato explains some of his lab's research to Governor Jeb Bush during the recent celebration and open house of Scripps Florida's temporary facilities in Jupiter.