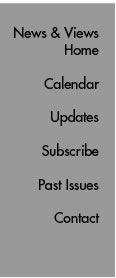 New Service Recruits Blood Donors to Support Science
By Mika Ono
Change is inevitable, and presents both challenges and opportunities. With the closing of the General Clinical Research Center (GCRC) last month, The Scripps Research Institute faced the question of how to continue to provide its investigators with a critical substance for their research relevant to human health—blood.
The answer has been the creation of a new core facility at the institute—the Normal Blood Donor Service, which provides normal human blood for scientific research on campus. Longtime Scripps Research employee Pricilla Crisler coordinates the new facility.
"We're focusing on making the blood donor service more user-friendly, both for investigators and for donors," says Crisler. "We're also in the process of recruiting more donors so we will have a larger pool of people to call on."
As part of this effort, the service has increased compensation for blood donations, and now pays a minimum of $25 and a maximum of $100 for a single draw, depending on the quantity of blood needed.
To qualify as a normal blood donor, individuals must:
Be between 18 and 65 years of age,
Weigh at least 110 pounds (50 kg),
Have blood pressure between 90-180 mm. Hg. systolic and 50-100 mm. Hg. diastolic,
Not have undergone major surgery within the past six months,
Score adequately on recent hemoglobin testing,
Screen negative for HIV and Hepatitis B and C, upon entry into the program and every year after that,
Not take aspirin or anti-inflammatory medication on a daily basis.
In general, the service is looking for blood donors who are healthy and who work on or near Scripps Research's La Jolla campus. "It works best if you work close by the facility, because donors are often called in on short notice," says Crisler.
Scripps Research investigators with approved protocols submit orders online, specifying the number of donors they need, the volume of blood, and any other criteria such as donors' gender, ethnicity, or blood type. Once Crisler receives the order, she searches through her database for matching candidates, then starts making her calls.
"Would you like to donate some blood tomorrow?" she asks one candidate over the phone. "Have you been healthy? Have you taken any medication?... Oh, Tylenol is OK. Great, we'll see you at 9 AM Thursday."
When donors arrive for their appointments, blood is drawn, juice and crackers are provided, and they are given a check on the spot. The blood is then labeled with scientifically relevant information, but the donor's identity is kept strictly confidential. When the samples are ready, a researcher picks them up and the science begins.
"Volunteers generally like getting their check immediately," says Crisler, "and they feel good about supporting research."
For more information or for a donor application form, go to the Normal Blood Donor Service web site. For questions about blood donation, contact Crisler, (858) 554-2284. For questions about medical or scientific issues, contact Professor Daniel Salomon at dsalomon@scripps.edu.
Send comments to: mikaono[at]scripps.edu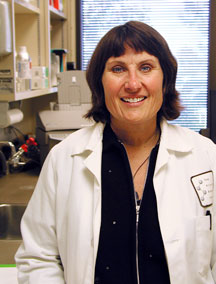 "We're focusing on making the blood donor service more user-friendly, both for investigators and for donors," says Pricilla Crisler, who coordinates the service. Photo by Kevin Fung.