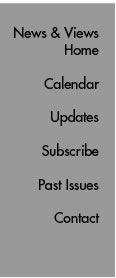 In Brief
Wong to Speak in Faculty Lecture Series
Scripps Research Professor Chi-Huey Wong will speak on "Protein Glycosylation: New Challenges and Opportunities" as part of the ongoing Faculty Lecture Series on Wednesday, February 9. The lecture will be held at 5 PM in the Timken Amphitheater, Scripps Clinic, 10666 North Torrey Pines Road.

Department of Chemistry Presents Frontiers in Chemistry Symposium
The Scripps Research Department of Chemistry presents the 16th annual Frontiers in Chemistry Symposium on Friday, February 18. Lectures, which will be held at the Neurosciences Institute Auditorium, 10640 John Jay Hopkins Drive and are open to the public, will include:
9 AM: Chair K.C. Nicolaou of Scripps Research will give the introduction and welcome.

9:10 – 10 AM: Professor Carolyn Bertozzi of the Howard Hughes Medical Institute and UC Berkeley will present the Amgen Lecture, "Chemistry in Living Systems: Applications to Glycomics."

10 – 10:50 AM: Professor Ei-Ichi Negishi of Herbert C. Brown Laboratories, Purdue University, will give the Pfizer Lecture, "Transition Metal-Catalyzed Organometallic Reactions for Organic Synthesis: Zirconium-Catalyzed Asymmetric Carboalumination of Alkenes (ZACA Reaction)."

11:30 AM – 12:20 PM: Professor Thomas A. Stetz of Yale University will give the Merck Lecture, "Motion in Macromolecular Machines."

12:20 – 1:10 PM: Professor David Liu of Harvard University will give the Celgene Lecture: "Synthesis and Discovery Through DNA-Templated Chemistry."
A lunch reception will follow from 1:10 – 2:30 PM in the Beckman atrium. For more information, contact Vicky Neilsen Armstrong, x4-2400 or vbn@scripps.edu.

Benefits Administration Introduces Life Event Resources Program
Benefits Administration would like to introduce the new Life Event Resources program, an additional service available to all benefit-eligible employees effective January 1, 2005. Offered through United Behavioral Health (UBH), Life Event Resources is designed to enrich and support you as you experience life changes. Because your needs vary throughout your lifetime, Life Event Resources offers information, consultation and referrals on a wide variety of subjects such as child/parenting support services, adult/elder support services, life learning, and chronic condition support. This innovative program provides the resources and expertise you need to deal with everything from the demands of everyday life to major life events. For example, Life Event Resources can help:
Locate an available childcare facility near your home,
Find housing or care giving options for an aging parent,
Find language tutors in your community,
Teach you to live with a chronic illness,
Answer questions about financial assistance for college tuition.
To access Life Event services, call UBH toll-free at 866-374-6061. We hope you find this resource a valuable addition to your benefits package. Please feel free to contact Benefits Administration at (858) 784-8487 or benefits@scripps.edu if you have any questions.

Lunch and Learn: "Redirecting Children's Behavior"
Parent Educator Hilde Gross, an instructor certified by the International Network for Children and Families, will speak on "Redirecting Children's Behavior: How to Avoid Everyday Power Struggles," on Wednesday, February 16, from noon to 1 PM as part of the ongoing "Lunch and Learn" seminar series. The workshop will teach effective parenting skills, including: how to prevent and respond to misbehavior, how to assist children in becoming more responsible, cooperative, self-confident, and respectful, and how to feel calmer, more confident, and create more time for yourself. The seminar, arranged by Ryan Wheeler and Jan Hill of Counseling and Postdoctoral Services, will be held in the W.M. Keck Amphitheater, The Beckman Center for Chemical Sciences No reservations necessary. Please feel free to bring your lunch to the talk. If there is enough interest in this introductory workshop, a Redirecting Children's Behavior course series may be offered on campus. For more information on Hilde Gross or the Redirecting Children's Behavior course series, visit http://www.hildercb.com.

The GCRC Is Looking for a Few Good Arms
The Scripps Research Normal Blood-Drawing Program is in need of employee/volunteers to provide fresh blood samples for Scripps Research investigators. Volunteers are paid for their participation. Especially needed are those who do not take medications routinely, including over-the counter medication (birth control is acceptable). Individuals from ethnic minorities are particularly encouraged to participate in order for the results of these studies to be meaningful to all populations.
If you are interested in participating or want more information, please call Priscilla Crisler, Green Hospital Core Laboratory, 554-2284, and leave your name, phone extension, and mail drop so she can send you an application.

Daffodil Days Are Here Again
The American Cancer Society's Daffodil Days 2005 fundraiser has begun. Volunteers will be collecting daffodil orders at Scripps Research, as well as at Scripps Green Hospital and Scripps Clinic Torrey Pines. New this year is an online order form at: http://www.scripps.edu/~lmadden/daffodil/FlowerOrderForm.pdf
Sales will run until Wednesday, February 23, with the expected delivery date of the flowers Tuesday, March 15
Daffodil Days is one of the Cancer Society's largest fundraisers of the year. Money goes toward cancer research and education in California. ScrippsAssists has consistently been one of the largest participants in the county during Daffodil Days.
There are various bouquets of flowers for sale. The "Basic" bouquet of 10 daffodils (no vase) is $10. The "Sunshine" is 10 daffodils with a green glass vase ($18). The larger "Vision" bouquet ($35) comes with 20 daffodils and a burgundy glass vase. The "Friendship" bouquet is the largest and comes prearranged in a cobalt blue glass vase with 40 daffodils and additional greenery ($75). Also, anonymous donations of any amount are welcome towards a "Gift of Hope" bouquet. Complete details and pictures are available with your order reps.
The following volunteers are available to take your daffodil orders:
Diane Ecker, Carr B, x4-9714,
Linda Horning, Carr B, x4-9049,
Jeanette Boerner, CVN, x4-7070,
Kathleen Alexander, Beckman, , x4-8079,
Julia Kim, Science Park, x4-8308,
Suzanna Lee, Science Park, x4-2263,
Jan Tuomainen, 3377 (Human Resources), x4-8825
Karina Lopez, 3301 (Legal office), x4-8842
Rachel Braithwaite, MEM, x4-8195
Kelly Dryden, MBB, x4-8837
Helen Plutner, MBB, x4-8257
Angela Glenn, ICND, x4-7298
Brigid, MEM Vivarium, x4-2321
Darlene Scarcella, Scripps Green Hospital, 554-2525.
For additional information, contact Leslie Madden, x4-2881 or lmadden@scripps.edu.

Cafeteria to Offer Chinese New Year Buffet
The Scripps Research cafeteria is offering a special buffet in honor of the Chinese New Year on Wednesday, February 9, from 11 AM to 2 PM. Come before noon to avoid the rush. The menu, offered at $4.95 plus tax, will include a variety of Chinese dishes and a red envelope surprise. "We are going into the year of the rooster," says the cafeteria's Andrew Shih. "Come celebrate with us."

On-Site Clinics Find New Home
On Monday, February 7, Wednesday, February 9, and Friday, February 11, personnel from Sharp Rees-Stealy Medical Group will be on-site to conduct TB screenings, Hepatitis B immunizations, serum draws, and tetanus immunizations. The clinics will be conducted at the CVN Building in Room 209, from 11 AM to 2 PM. No appointments are necessary.
TB screening requires a 48 to 72 hour follow-up. Individuals receiving the TB screen on Monday will need to return on Wednesday, and individuals screened on Wednesday, will need to return on Friday. Initiation of the TB screening process will not be available on Friday, but Hepatitis B immunization, serum draws, and Tetanus immunizations will be. To learn more about these programs, see the Environmental Health & Safety Occupational Medicine web page, which includes a map and patient information sheets.
Send comments to: mikaono[at]scripps.edu